Jim Bernard was elected Clackamas County Commission Chair in November 2016. He has served on the county commission since 2009. He previously served as Mayor of Milwaukie for eight years.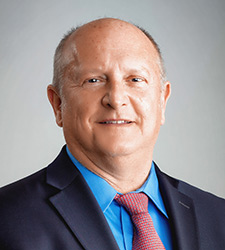 Jim is:
Reaching out to all residents, whether they live within one of Clackamas County's cities, hamlets, villages, or special districts, and hearing and listening to their concerns.
Ensuring that taxpayer dollars are being spent wisely and that county employees continue to provide outstanding customer service.
Supporting increased investment in public safety by focusing on the areas of greatest return: juvenile services, drug courts, probation and rehabilitation, safe and secure jails, increased community patrols, and re-entry councils.
Supporting the need to provide or partner with other organizations to offer adequate prenatal and health care for our most vulnerable residents.
Supporting Clackamas County veterans by increasing county investment in education, job training and coordination of benefits.
Supporting the unemployed, homeless, and hungry residents by enhancing county services and programs to meet their needs.
About Jim
In 2001 Jim was elected Mayor of Milwaukie, a position he held until his election as a County Commissioner. His father Joe also served as Mayor of Milwaukie in the early 1960s. Jim credits his success as a public servant to his understanding that any successful undertaking requires outstanding customer service and innovative partnerships.
In May of 2017, after 92 years in business, Bernard sold a 3rd generation family-owned auto repair business in Milwaukie.
One of his proudest accomplishments was the creation of the Milwaukie Sunday Farmers Market, in cooperation with the Milwaukie Downtown Development Association. He was president of the organization at the time and now serves as President of Celebrate Milwaukie Inc. that runs the Market. The Sunday Market provided Milwaukie residents an opportunity to access their Mayor and helped to bring the community together.
Jim has also served as treasurer, vice president, and president of the Automotive Service Association of Portland; president of the Milwaukie Downtown Development Association; chair of the Milwaukie Riverfront Board; and as a member of the North Clackamas Parks and Recreation Board, Clackamas County Coordination Committee, Complete Community Connections, Oregon Mayors Association Board, South Corridor Committee, Aquatic Center Task Force and the North Clackamas Chamber of Commerce Executive Board.
Jim's academic background includes a B.A. in Business Administration and Arts & Letters from Portland State University and a graduate certificate from the University of Oregon's Pacific Program in Leadership Development.
Commissioner Bernard has led multiple efforts to address the needs of the county.
County-Wide Housing Needs Assessment: County-Wide Housing Needs Assessment: As Co-Chair to C4 (Clackamas County Coordinating Committee), Bernard, together with Savas, was instrumental in the County moving forward with a request for proposals for a county-wide housing needs assessment (HNA). HNAs collect housing and land-use data to assist policy makers in addressing growth in their communities. Because housing issues are not limited to a single jurisdiction, a county-wide HNA would extend that study and enable more strategic partnerships and delivery of social services to every community throughout Clackamas County. A collaborative approach would also reduce the costs of attaining this information for every participating jurisdiction.
Equity Pilot Areas: In 2016, Bernard introduced the concept of establishing Equity Pilot Areas, which have been identified as areas where there is an intersection of three high poverty indicators, including (1) overall poverty, (2) high childhood poverty and (3) the number of SNAP recipients. The county has identified three "hot spots" of poverty with an intent to strategically focus resources in those areas.
Audit Committee (internal): It is the policy of Clackamas County to maintain an internal audit department as a means of providing the Board of County Commissioners, the County Administrator and all levels of management with information to assist in the control of operations and in evaluating the overall control over assets and the effectiveness of the system of internal control in achieving its broad objectives. In 2015, Bernard led the County in hiring an internal auditor and establishing an internal audit oversight committee. The purpose of an internal audit is to objectively obtain and evaluate evidence and communicate the results. Internal audit engagements include financial, performance, compliance, information technology, special investigations, follow-up audits, and consulting.
Small Grants Program: In 2009, at Bernard's recommendation, the County established the Small Grants Program, which now annually provides over $250,000 to fund local nonprofit projects that serve the most vulnerable populations of our community. In 2017, 46 groups received grants ranging from $1,600 to $15,000. Projects either demonstrate the ability to become self-supporting or are a much needed one-time expense, and grant recipients are required to show how the funds were used. Bernard sees the program as an outstanding example of partnership between government and the nonprofit community to provide assistance and support to our needy veterans, seniors, and others who face challenging times in their lives.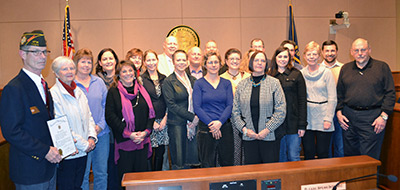 Audit Committee (external): In 2010, Bernard formed and served as Chair to the Audit Committee, which reviews and evaluates expenditures within the County's nearly $1 billion budget. The Audit Committee was formed to address issues of financial reporting, internal controls, and communication with other departmental finance managers, as well as preserve and enhance the objectivity and independence of the audit function by furnishing a forum in which independent auditors can candidly discuss audit-related matters.
Veterans Advisory Committee: In 2012, Bernard led the County in establishing a Veterans Advisory Committee (VAC) to better serve veterans from the Afghanistan War and the Iraq War. The VAC – comprised of veterans, family members, and service providers – has the goal of honoring our veterans, raising awareness, and increasing coordination with local agencies to improve veteran services. The VAC advises the Clackamas County Board of Commissioners and the Department of Health, Housing and Human Services on all matters relating to the timely provision of services to veterans, their families and dependents.
Public Safety: Bernard served as Co-Chair to the Association of Oregon Counties Public Safety Steering Committee from 2011 to 2017 and as a member of the State of Oregon Community Corrections Commission from 2010 to 2017. Due to his notable experience and reputation in the public safety field, the Governor appointed Bernard to the nine-member Justice Reinvestment Grant Review Committee in 2013. The purpose of the committee is to give local officials meaningful options that address some of the root causes of crime. The goals of Oregon's justice reinvestment are to reduce prison populations, reduce recidivism through evidenced-based programs, increase public safety, and increase offender accountability. Grants are to be awarded to evidence-based programs that establish a process to assess offenders and help them rehabilitate and live productive lives in society.
Transportation alternatives/Portland-Milwaukie Light Rail: Bernard, a believer in transportation alternatives and a long-time advocate of the Portland-Milwaukie Light Rail project—including during his tenure as mayor of Milwaukie from 2001 to 2008—is excited about its opening in September 2015. Bernard feels light rail is his legacy while serving as Mayor of Milwaukie and is proud to have brought it back to the table in Clackamas County.
Jim currently serves on the following committees:
Clackamas County Committees
Association of Oregon Counties (AOC)
Court Facilities Task Force
Statewide
Forest Trust Lands Advisory Committee
Regional Committees
Other Committees
Jim is a lifelong Clackamas County resident. In addition to serving the people of Clackamas County, he enjoys walking long distances, hiking, biking, golfing and traveling. He collects lapel pins and busts of presidents and other historic figures. His favorite travel destination in Oregon is the Mount Hood area and the Oregon Coast. In his spare time, he enjoys spending time with his wife Danielle and their two dogs, Frannie and Banjo, while raising cattle and chickens at their ranch on 6 acres in a rural area outside of Canby.