Sonya Fischer is serving her first full term on the Clackamas County Commission. She was originally appointed in 2017 and won reelection the following year.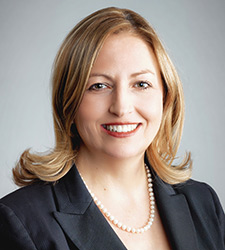 Priorities
Be a voice for all Clackamas County residents, including families, older citizens, local businesses and the community organizations that support us all.
Create more economic opportunities that work for everyone, in every part of the county.
Provide resources for high-quality health and human services that are both effective and efficient in helping those in need.
Deliver public safety with a focus on family justice and the prevention of domestic violence.
Work to forward housing policies that will permit Clackamas County residents to afford to live in the community they love.
Protect Clackamas County's unique quality of life, including livable cities, vital rural and natural areas, preservation of our rivers, farm and forest lands, and our important agricultural economy.
Committees and memberships
Vice Chair, Association of Oregon Counties Health and Human Services Committee
Member, National Association of Counties Human Services and Education Committee
HereTogether, Advisory Board
Member of Board of Directors, Oregon Trial Lawyers Association
Member, Clackamas Women Lawyers
Member, Oregon State Bar Association
Member, Clackamas County Bar Association
Member, Multnomah Bar Association
Past
President, Clackamas Women Lawyers
President, Oregon Trial Lawyers Association
Secretary, Clackamas County Bar Association
Member of Governmental Affairs Committee for Lake Oswego Chamber of Commerce
Member of Board of Directors, Disability Rights Oregon
Co-chair, Oregon Trial Lawyers Association Family Law Section
Member of Lake Oswego School District Configuration and Budget committees
Chair, Policy Committee for the Family Action Coalition Team
About Sonya
Sonya joined the County Commission in 2017 after a long history of community involvement as a local attorney, business owner, a legislative director for the Oregon Department of Human Services and as an advocate for people with disabilities. Growing up in unincorporated Multnomah County as the daughter of a produce buyer, Sonya was raised with a special appreciation of the rural and agricultural communities so important to the economy and culture of Clackamas County. She graduated from Centennial High School and earned degrees from Warner Pacific College, Portland State University and Lewis & Clark Law School.
Much of Sonya's life experience directly relates to the critical role county government plays in the life, health and safety of our community. As a young mother of a child with severe disabilities and with family members impacted by mental health issues, Sonya understands the importance of services that provide a community safety net for families and has made that one of her priorities. Sonya also owns the law firm Fischer Family Law, PC, giving her an understanding of the needs and priorities of small businesses, which create the greatest number of jobs in our county. And because her work involves reducing conflict while solving difficult problems, Sonya is focused on ways to make county government work effectively and respectfully, both internally and in its relationships with citizens and the 15 cities and unincorporated areas that make up Clackamas County. Sonya is married to Kirk Mouser and has three grown children and two grandchildren.