5th Annual Super Heart Hero Awards
Spreading hope and healing in the age of COVID-19
Every day, countless members of our community are showing up and fighting against the COVID-19 pandemic with support, kindness and big hearts. Every crisis has its heroes, every disaster its displays of selflessness and sacrifice. Read on to learn about the 2020 Super Heart Heroes, who have been working tirelessly to ensure our community receives the care and support to survive and see us through.
2020 Super Heart Hero Award Winners
There are 4 categories:
Health Provider Award
Recognizes an individual, organization, or institution that is working on the frontlines of the COVID-19 behavioral health care response, to offer positive and consistent supports to our isolated vulnerable citizens and greater community.
Employee Award
Recognizes an exemplary Clackamas County staff member who goes above and beyond, leading with their heart and supporting their colleagues and peers during this time of crisis.
Ambassador Award
Recognizes an individual, family, small group or business who has acted swiftly to raise awareness and bring supports to their community during COVID-19.
Neighbor Award
Recognizes a unique individual or family who is showing up each day to offer hope and connection through ordinary acts of kindness and compassion during the COVID-19 crisis.
Health Provider Award
Ritu Sahni, M.D.
Medical Director for Clackamas County Emergency Medical Services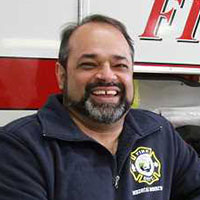 Nominations described Dr. Sahni's around-the-clock efforts to support patients and the community.
"Ritu is an emergency physician, so he has been on the front lines dealing with patients and staff in the hospital," one nominator wrote. "He is also the medical director for EMS in Clackamas County, so he has been hugely involved in planning, disseminating information, and responding to concerns since the outbreak of COVID-19. He has been on the phone and in Zoom meetings constantly when he is not in the ER. He has never flagged in his energy to do what is best for patients and communities. […] Because I live in the same house as Dr. Sahni, I can attest to the hours and hours that he has worked without respite or time off for the past 6 weeks...and he is not finished yet."
Employee Award
Vahid Brown
Clackamas County Health, Housing and Human Services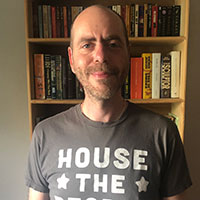 Mr. Brown is described as an indispensable co-worker and advocate for the county's vulnerable populations, especially during this time of crisis.
One nomination read, "Vahid works tirelessly to connect people experiencing homelessness (or at risk of becoming homeless) with the services and resources that they need. Not only does he do this during business hours at the county, his work extends into all hours of the day and night. […] In this time [of COVID-19], he has continued organizing around people experiencing homelessness and being the natural connector that he is. He has advocated for rent and mortgage moratoriums, housing options for people living outdoors, worked with service providers to ensure their safety and the safety of those they serve, and taken time to share information with the public on which nonprofits that they can support during this time. He truly deserves serious kudos for the amount of love that he generates in our communities."
Ambassador Award
LoveOne Laundry
Brandi and Tom Johnson and family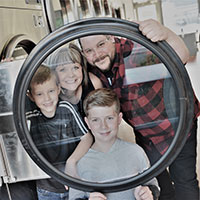 Numerous enthusiastic nominations described the Johnson family's efforts in response to COVID-19.
"The organization's primary mission is to provide laundry services, personal care resources and community connection to our neighbors in need. With the ever-changing landscape of COVID-19, the entire Johnson Family has ramped up their efforts to ensure that LoveOne can provide their services with safe modifications. Brandi and Tom's homeschooling efforts now include math lessons around laundry quarters and safe distribution of supplies as their family puts together care packages. While other organizations have slowed down under COVID-19, the Johnson family has not only found a solution to every challenge but has also challenged their organization to meet the gaps in services that are missing where other services have had to slow down."
Another nomination read, "I can't think of a family that is more deserving of this award. Serving others is at the heart of everything that they do. From finding solutions to deconstruct our laundry events to still be able to serve out neighbors safely to meeting individual needs and requests, this family does it all. The network with other county services and non-profits to maximize the impact we can all provide together. Tom, Brandi, Judah & and Gabe are making a huge impact during this difficult time and I'm so proud to know them."
Neighbor Award
Eric Cha
Engineer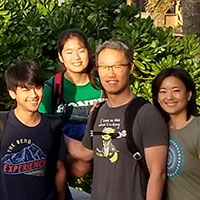 Nominations described the efforts of Mr. Cha and his family to provide face shields to those on the front lines of the COVID-19 pandemic.
"[Eric] knew that health care workers were in desperate need of personal protective gear. He designed and started producing face shields to help protect health care workers on the front line during the COVID-19 crisis. He has enlisted his entire family and several neighborhood families, including their teenagers to assemble the face shields. The face shields are provided for free with an option to donate. They have been distributed all over Portland and all over the country. They are now starting to supply workers at long-term care facilities as well as hospitals. Their family has worked sleepless nights to help protect front line workers who are in desperate need of life-saving PPE when traditional sources have failed them. He and his family have been tremendous and selfless helpers in this time of need."
One in four people will experience mental health challenges in their lifetime. That means mental health touches every single one of us, be it friends, family or yourself.
It's important to know that having a mental health challenge is part of your whole health package. With the right help, people can and do recover.
Talking about mental health can make people uncomfortable, and misconceptions about mental illness lead to discrimination toward people with anxiety, depression, or other ailments.
This is stigma.
People who experience stigma suffer from a loss of self-esteem, self-efficacy and hope. Stigma keeps people from seeking the help they need when they need it.
We are working hard to reduce the stigma surrounding mental illness. We strive to create an environment where people feel comfortable talking about their mental health and where people can seek help with a sense of hope toward feeling better.
Take a training
Do you know how to recognize the warning signs of someone in a mental or emotional health crisis? Learn the early warning signs and how to connect a person to resources and support that can help. Sign up for Mental Health First Aid and other trainings by visiting gettrainedtohelp.com.
Contact Us
Department Staff
Galli Murray
Suicide Prevention Coordinator
503-742-5373
Kathy Turner
Program Planner
503-742-5962