In the Spring of 2020, Clackamas County developed "Go Teams". These teams, made up of trained Psychological First Aid providers, go out into the community to help individuals and families who are struggling with anxiety, unemployment, grief and a host of other emotional and social problems that are becoming more and more common during this time since the global response to COVID-19.
We're here to help and support you
If you need immediate support, please call the 24/7 Crisis and Support Line at 503-655-8585. You are not alone in this.
If you would like to pass on a suggestion for the Go Teams, or to request support for yourself or a loved one, call the Crisis and Support Line at 503-655-8585. Go Teams operate Monday through Friday, 8:30 a.m. to 5 p.m.
Go Teams provide mental health support services in new ways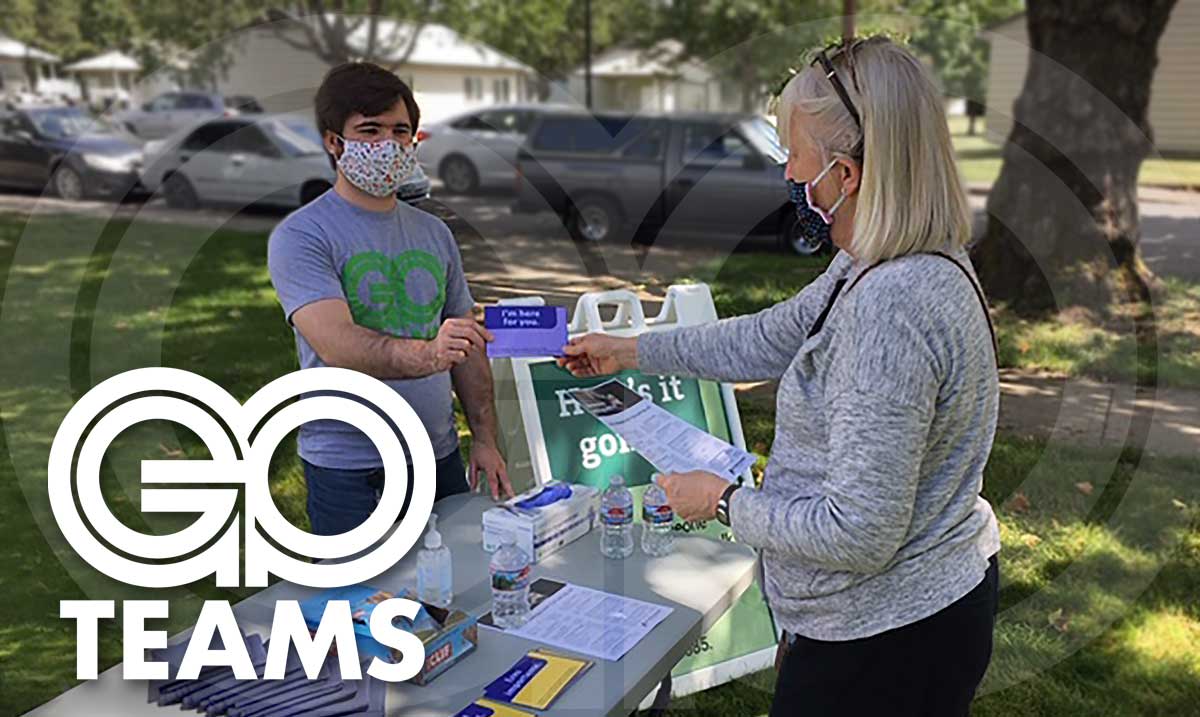 Sometimes uncertainty can bring feelings of loneliness, helplessness and defeat. This is a natural response to traumatic events regardless of your age, gender, race, or other identities you may hold.
If you are feeling alone or overwhelmed, or are experiencing thoughts of self-harm, please know that you are not alone in these feelings. The stress of everyday life can be the beginning of an emotional shut down. Add a global pandemic into the mix or remove the ability to access supports, and all your years of work can crumble. And that's not even touching on the basic needs like food, water and shelter necessary to survive.
As the world pivots to address the struggles of our current reality, we have taken a new approach to meeting your mental health needs, with "Go Teams". Go Teams meet people where they are and provide them with a listening ear and information about services. The idea is to make it easy for you to access vital mental health services, while reducing the spread of COVID-19.
"The idea behind Go Teams is that they are mobile, they provide psychological first aid rather than therapy or case management," said Dr. Jeffrey Anderson, a supervisor with the Behavioral Health Division. "They are able to meet people where they are at. The team helps by easing distress and ultimately seeking to prevent PTSD and suicide by assisting early on during this pandemic."
Weekly support
The Go Teams have several events and locations that they frequent each week. New outreach strategies are developed as information is gleaned from conversations related to community needs.