Do you have a quarantine plan if you or someone in your household becomes sick? Many people in Oregon are being asked to isolate themselves in their homes if they don't require immediate hospitalization. Planning ahead may help reduce the anxiety of this stressful situation.
If someone is ill or told to isolate themselves, the first step is to move them away from the other members of your household. A spare bedroom with an attached bathroom is the best option. If this is not a possibility, any bedroom will work. Just remember that they should not be able to leave and you won't be able to enter.
Updated Quarantine Guidance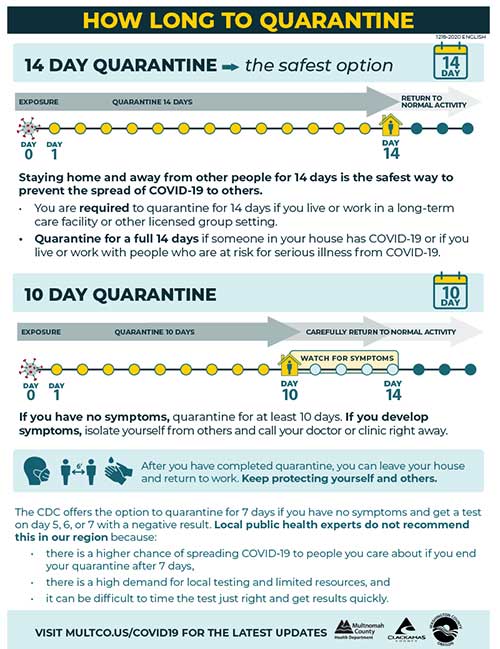 A 14-day quarantine is the safest way to prevent the spread of COVID-19 to others. You may quarantine for a minimum of 10 days if you have no symptoms, but 14 days is best. After 10 days, your risk of spreading the virus to others goes down. There is still a small chance you can get sick and spread COVID-19 to others during days 11–14, even if you felt well on day 10.
You are required to quarantine for 14 days if you live in a long-term care facility or other licensed group setting.
A shorter quarantine isn't for everyone. You should stick to a 14-day quarantine if someone in your house has COVID-19 or if you live or work with people who are at risk for serious illness from COVID-19.
If you end quarantine after 10 days, continue to monitor yourself for symptoms daily for the full 14 days. Wear a mask when outside your home. Wash your hands often. Limit your contact with people you don't live with. If you develop symptoms, isolate yourself from others and call your doctor or clinic right away.
The CDC offers the option to quarantine for 7 days if you have no symptoms and get a test on day 5, 6, or 7 with a negative result. Local public health experts do not recommend this in our region because:

There is a higher chance of spreading COVID-19 to people you care about if you end your quarantine after 7 days.
There is a high demand for local testing and limited resources.
It can be difficult to time the test just right and get results quickly.

Supplies
Before moving them into isolation, supply them with the following:
detergent
paper towels
cleaning supplies
face masks
gloves
hand sanitizer
cough drops
acetaminophen
thermometer
toiletries
feminine hygiene products
personal medications
a logbook for symptoms

Practice good hygiene
Designate one family member to care for the sick. Anybody entering of leaving this room should wear a face covering to prevent the spread of the illness. Remember, the infected person should have no visitors.
Continue good hygiene practices such as:
Wash your hands often for at least 20 seconds.
Avoid touching your face.
Disinfect high touch items such as doorknobs, phones, game controllers, etc.
Avoid sharing personal items such as bedding, towels or dishes.
Open windows to increase ventilation.
CDC guidelines: When You Can be Around Others After You Had or Likely Had COVID-19

Isolating sick patients at home
One of the most important tools we have in preventing the spread of COVID-19 is isolation and quarantine:
We isolate ourselves if we are sick
We quarantine ourselves when we have been exposed to someone else who is sick
If a medical provider suspects you have COVID-19, or if you have tested positive, it is important to take the following steps:
Isolate at home for at least 10 days after you get sick
If a confirmed case is asymptomatic or displays symptoms other than the most common (fever, cough, shortness of breath and diarrhea) then remain isolated for 10 days
Remain isolated until 72 hours after:

symptoms such as cough, shortness of breath and diarrhea have improved
fever has gone without the use of antipyretic medicines like aspirin, acetaminophen, ibuprofen or naproxen
If someone you live with is sick, but you are not, it is important to quarantine yourself for 14 days from the most recent exposure to that person. By isolating ourselves from friends and loved ones when we're sick, and quarantining when we've been exposed, we can prevent the people we care about most from also getting sick.