Accomplishments
Clackamas County urban renewal has fostered 30,000 jobs inside the Development Agency's four urban renewal areas.
Government Camp residents are benefitting from increased tourism, better public safety and more housing that resulted from the Government Camp Village Revitalization Area.
"The Government Camp Urban Renewal District was instrumental in the evolution of our small town. It was the catalyst to not only enhance our streetscape and revitalize our economy; it brought our community together with a common purpose."
- Jeff Kohnstamm,
President/Area Operator,
Timberline Lodge
Clackamas County workers found jobs in the heart of the County's industrial area at businesses that came here and stayed here because of reduced traffic problems and easy access to regional expressways and the development of the Clackamas Industrial Area.
"The urban renewal's been good; the area's cleaner looking and there's more foot traffic, a lot more joggers, walkers, and bikes going past our store. People see us and there's just more action."
- Kevin Wright,
Metro Tractor,
Clackamas
Clackamas County business growth and expansion were made possible by the new and improved roadways in one of the region's fastest growing business centers -- the Clackamas Town Center Area.
"Our family has lived two blocks off Sunnyside Road since 1991. I can now walk the two miles to work or to the store. I would have never considered it before the improvement. Thank you Clackamas County for making this major connector safer to both walk and commute."
- Fred Bahofner,
Resident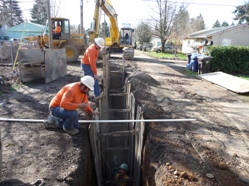 And finally, residents and neighbors are, right now, building a strong, stable, more livable neighborhood for families and small businesses in the North Clackamas Revitalization Area with sewer systems, improved roadways, new parks and other community improvements.
"Many homeowners in our neighborhood really needed sewers and urban renewal has finally helped to make that a reality."
- Glenda Kennedy,
NCRA Homeowner
These are just a few of the successes that have been made possible by urban renewal funds. It all comes from the Development Agency's commitment to work with local communities in an open and thoughtful manner.
For more information