There are no Free Microchipping and Rabies Vaccination Clinics scheduled at this time.
Please know that we can only accommodate a limited number of dogs for any of these 2 hour clinics (30 dogs maximum per clinic). Please keep an eye on this page for updates. Thank you!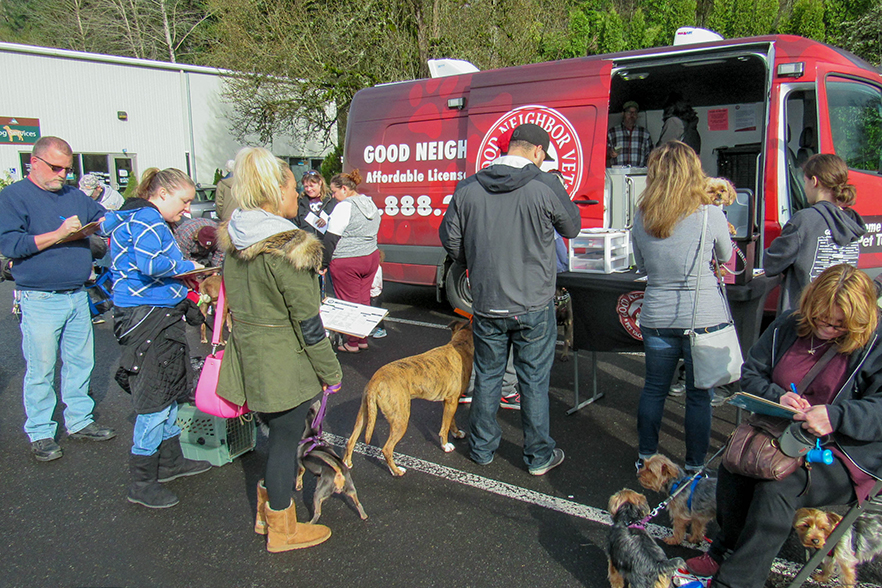 We offer free microchipping for licensed dogs with proof of a county dog license. If needed, you can purchase a license on the same day. Clinics are held the fourth Saturday of every month through a partnership with Good Neighbor Vet. Free rabies vaccinations are also available to people who purchase or renew their county dog license on the day of the clinic.
Being a responsible pet owner means microchipping, vaccinating and licensing your pet as early as possible. Microchipping improves the chance of being reunited with your dog if the dog becomes lost or stolen.
To get a free microchip or rabies vaccination for your dog:
Come to Dog Services between 9 a.m. and 10:45 a.m. any fourth Saturday to verify your dog's current license, or to purchase or renew your dog's license. No appointment is necessary. map
Once the license is verified or purchased, our staff will give you an authorization form for the Good Neighbor Vet Clinic.
Take your dog and the authorization form to the Good Neighbor Vet Clinic in the parking lot of Clackamas Feed & Pet Supply. map
Please note: This program is only available for Clackamas County dog licenses. If you live within the city limits of Lake Oswego or Happy Valley, you will need to purchase a license for your dog from your local city. If you live within the city limits of Tualatin, you will need to purchase a license for your dog from Washington County. Owners with a multiple dog license (a single license for 4+ dogs) may receive one microchip and one rabies vaccination with their license. Free microchipping and rabies vaccinations are for licensed Clackamas County dogs residing in Clackamas County and can only be honored at our location. If you are unable to attend, check Good Neighbor Vet to find a clinic near you that offers reduced cost microchipping and vaccinations.