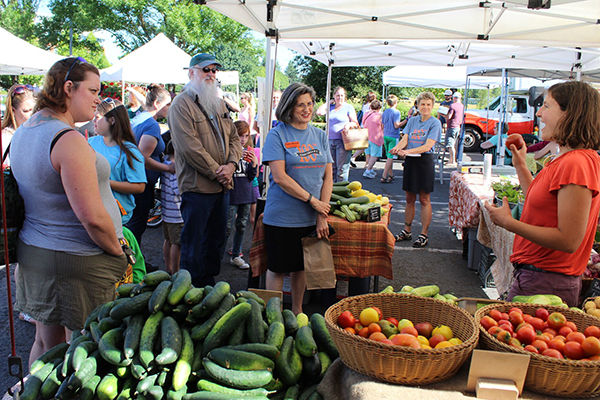 Imagine going on a market tour and meeting the farmers who grow your food.  Seeing and tasting fresh foods prepared in simple and flavorful ways by local chefs.  Being inspired, picking up recipe ideas, and fresh seasonal produce to take home.  All while contributing to the local economy and helping community farmers thrive with each purchase you make.
The OSU Extension Service and the Oregon City Farmers' Market are offering a "Know Your Farmer, Know Your Food" market tour on the second Saturday of the month through October. Everyone is welcome to participate. Spanish translation will be available.
Shoppers will meet local farmers, learn about their farms and farming practices, share favorite recipe tips, and sample fresh produce.  Following the market tour, shoppers can watch a demo where chefs will prepare a seasonal recipe using food ingredients sourced at the market, and taste the final product.  Copies of the recipe will be available.
The SNAP-To-It! Program, now in its fourth year, will also continue on the second Saturday of the month.  SNAP shoppers can gather at the Information booth at 9:15 am to sign-up and purchase market tokens with their SNAP EBT cards.  This year the Oregon City Farmers' Market will match the first $6 purchased.
At the end of the chef's demo, SNAP shoppers who return to the Information booth will receive a $5 coupon to be redeemed at the market, along with other giveaways.    The SNAP-To-It! Program provides an educational opportunity for SNAP shoppers to maximize their SNAP benefits by increasing their knowledge, skills, and confidence to better manage their limited food resources.