County announces Affordable Housing and Services Fund
The Clackamas County Board of Commissioners has established the Affordable Housing and Services Fund – an annually renewing $1.2M fund meant to better support the affordable-housing crisis in our community. This ongoing, general fund will get much-needed programs off the ground and kick start creative, new solutions for Clackamas County's most vulnerable community members.
In establishing this breakthrough fund, the county hopes that affordable housing and service providers will be able to kick-start creative, new solutions for Clackamas County's most vulnerable community members, including families with children, veterans, disabled and elderly residents.
"Affordability in housing is a growing concern for Clackamas County," said Commissioner Paul Savas. "There are residents that are vulnerable today and many more who may become homeless as rents increase. This investment will help leverage opportunities and develop solutions to keep our citizens in their homes."
Clackamas County will accepting proposals for funding between Oct. 15 and Nov. 19. Learn more, or apply online.
Clackamas County receives federal housing vouchers
On Sept. 4, Senators Jeff Merkley and Ron Wyden announced a commitment of $329,449 to the Housing Authority of Clackamas County. This money is part of $2.7 million in new funding that will assist people with disabilities in accessing affordable housing and an array of supportive services.
"Because the rental market is so tight in our region, this incredible award will complement existing services and support our most vulnerable residents in need of housing," said Rich Swift, Director of Health, Housing, & Human Services of Clackamas County. "Clackamas County can use these funds to assist up to 40 non-elderly people with disabilities, with a priority to serve residents who have been hospitalized."
'Vets Village' opening ceremony was held Sept. 13, 2018
Thursday, Sept. 13, officials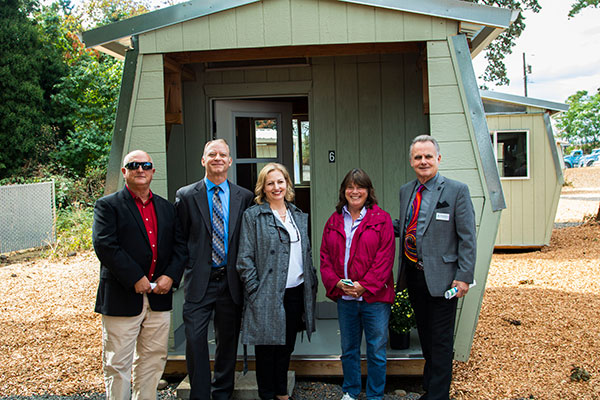 hosted an opening ceremony for the Clackamas County Veterans Village, a transitional shelter community for veterans.
The goal of this innovative project is to provide decent, safe and sanitary shelter for the county's homeless veteran populations.
More on the project can be found at www.clackamas.us/transitionalhousing.
Housing Authority 80th anniversary and Hillside Master Plan open house
On Wednesday, June 27 from 11 a.m. to 1 p.m.,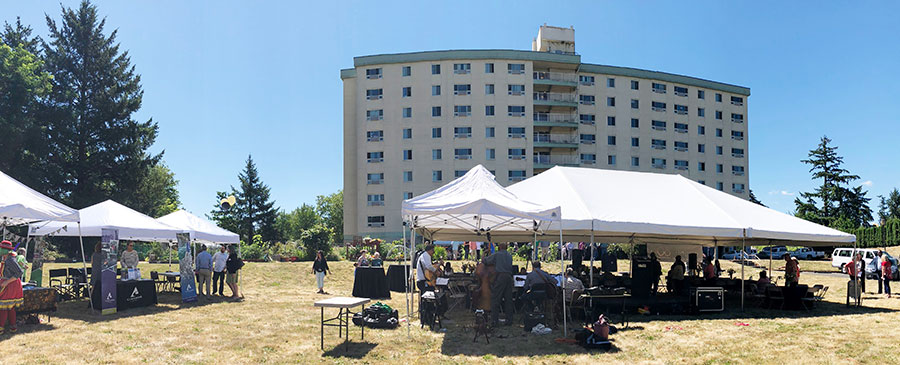 County officials celebrated the Housing Authority's 80th year. The event's Hillside Manor location (2889 SE Hillside Court in Milwaukie) served double duty — for both the anniversary and an open house about the Hillside Master Plan.
Hillside Manor is a nine-story, concrete tower with 100 apartments. Built in 1970, it houses mostly seniors and people with disabilities. The building and the adjoining, 16-acre Hillside Park community are set to undergo a comprehensive rehabilitation. The forthcoming master plan will explore how to improve the quality of life for current and future residents, and extend viability for years to come.
Rosewood Terrace affordable housing breaks ground, June 13
Rosewood Terrace broke ground on June 13.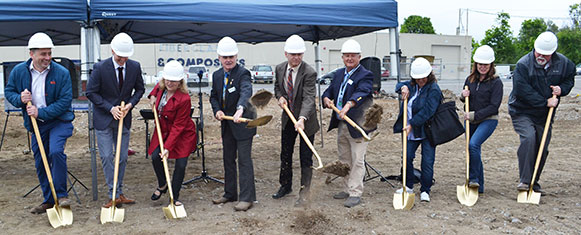 It will offer housing for those at or below 60% of area median income. The project, a partnership with Pedcor Investments, will redevelop a 5.29-acre infill lot that had only two buildings — Spain's Auto Muffler shop and the former Emerick Construction Offices.
The project will replace those structures with 212 rental apartment units in six residential structures. One mixed-use structure will house management/leasing offices, amenities for tenants, and maintenance work spaces.
Most of the project's $67 million cost is funded with tax credits and bond proceeds.
Completion is scheduled for late summer 2021, but the first tenants will move in around April next year.