The Clackamas County Board of Commissioners has established the Affordable Housing and Services Fund – an annually renewing $1.2M fund meant to better support the affordable-housing crisis in our community. This ongoing, general fund will get much-needed programs off the ground and kick start creative, new solutions for Clackamas County's most vulnerable community members.
If you are currently experiencing homelessness or a housing crisis, call 503-655-8575. For more information, visit our webpage.
Why the Fund is Needed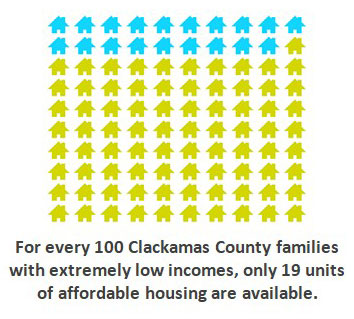 Building capacity in housing and housing services is a top priority for the County. Housing prices continue to rise in the Portland metro region. Unfortunately, renters have been hit the hardest. Between 2011 and 2015, rents in Milwaukie and several other cities within Clackamas County rose by more than 20% — and continue to rise.
Wage increases are not keeping up with housing costs; over the same time frame, wages increased by about 12 percent — and the gap continues to widen. Those most at risk of severe rent burden and homelessness are people with disabilities and elderly residents on a fixed income (without the ability to get a raise or work an additional job).
Some are dealing with rising rents by moving further out and tightening their belts, while others are not faring as well. The 2017 homeless count shows a sharp increase in Clackamas County, to 1,068. Additionally, 1,168 homeless children were counted by Homeless School Liaisons within the school districts. The number of unsheltered residents rose 48% last year as compared to 2015.
Goals of the Fund
Provide funding for affordable housing developments, both new and existing.
Provide funding to preserve existing affordable housing.
Develop safety off the street alternatives or temporary housing, such as tiny homes, to immediately relieve the suffering of our neighbors, including veterans, who live on the streets or other places not meant for human habitation.
Develop services focused on helping vulnerable low income families retain their housing.
Develop services to identify homeless individuals and families and to build trusting relationships that will help them reduce barriers and obtain shelter or housing.
Develop existing and new nonprofit entities to partner with the County in serving our most vulnerable residents.
Guiding Principles
All funded projects will serve the most vulnerable, low-income county residents earning 50% or less of Area Median Income (for example, a family of four earning $32,500 or less per year), with a priority for families with children, veterans, disabled and elderly.
Big investment requires a big commitment to ongoing measurement of outcomes and people served. The following Guiding Principles for this funding were adopted by the Board of County Commissioners:
Investments must be long lasting and/or make a large impact.
Strategic planning, ongoing analysis, and reporting must be a guiding priority.
Flexibility must be retained to impact regulatory reform and be responsive to opportunity.
Investments must be directed toward residents who are most vulnerable to the market forces at work.
Existing funding must be leveraged whenever possible in partnership with the nonprofit and for-profit community.
Awarded projects must directly align with the Guiding Principles.
Project Categories
Projects that meet the descriptions of more than one category are encouraged to apply in up to two categories. Additionally, applicants may apply for multiple year awards, depending on the project or service provided. Project categories are listed below.
Development or Preservation of Housing
Clackamas County is interested in having shovel ready projects (construction ready within six months) apply for up to $300K in gap funding. Points will be awarded based on the following:
Most leveraged project
Number of units to be developed
Most vulnerable population to be housed
Applicant experience developing affordable housing
Demonstrated ability to provide outcome data to the County as required
Willing to work with Public and Government Affairs (a Division within Clackamas County) to ensure the story of how funding is utilized is shared with the community at large.
Safety Off the Streets — Immediate Temporary Housing
Permanent affordable housing will take time to develop, but safe shelter to reduce human suffering is needed now. Applications for alternative housing types such as shelters, tiny homes, and other creative proposals will be considered for up to $200K in funding. Projects submitted in this category may also include characteristics of and be submitted in one of the Services categories.
Points in this category will be awarded based on the following:
Most leveraged project
Number of houseless individuals to be served
Demonstrated ability to provide outcome data to the County as required
Willing to work with Public and Government Affairs (a Division within Clackamas County) to ensure the story of how funding is utilized is shared with the community at large.
Services: Resident Services and Houseless Services
Resident/Veteran Services and Houseless Services
Up to $150K will be awarded to an agency to provide resident services to vulnerable people residing in Public Housing helping them with skill building and stabilization. Culturally specific organizations are encouraged to apply.
Culturally specific organizations are those that demonstrate intimate knowledge of a cultural community's lived experience, cultural practices, health and safety beliefs and practices, positive cultural identity/pride/resilience, immigration dynamics, religious beliefs, etc. — and that adapt their services to those cultural norms.
Houseless Prevention and Placement Services
Up to $100K will be awarded to an agency to provide services to vulnerable people who are currently houseless, with a high priority that they are placed in either temporary shelter or permanent affordable housing.
2019 – 2020 Grant Recipients
This year's awardees and their funded projects are:
Bridges to Change ($78,270)
Establishes an outpatient program for youth and adults that includes supportive housing.
Clackamas Service Center ($95,000)
Creates a fund to assist with security deposits and initial rent for homeless families and individuals; enhances onsite shower and laundry services for people experiencing homelessness.
Clackamas Women's Services ($95,000)
Provides funding to assist with emergency transitional housing for survivors of domestic violence and sexual violence.
Do Good Multnomah ($120,000 in 2019-2020)
Veteran resident services for the Pleasant Avenue Veterans Housing development, scheduled to open in 2019.
Home Forward ($95,000)
Provides resident services that include housing stability, economic stability, community building and more for Housing Authority residents.
Mental Health Association of Oregon ($94,925)
Peer support services for Housing Authority residents in need of mental health or addictions support.
Providence Health and Services
Conestoga Huts ($77,250)
Allows for expansion of Conestoga Huts on church and/or business properties. Funds hut building materials, coordination for volunteers to build the huts, sanitation services and assistance in developing community partnerships.
Outreach Coordinator ($87,650)
Funds data collection and evaluation of the Better Outcomes through Bridges Program, which identifies and provides case management, transitional housing and a wellness plan for individuals with a minimum of 20 Emergency Department visits within 12 months or 6 visits within 6 weeks and a behavioral health and/or substance use condition.
Resources