From: Scott Anderson, Clackamas County Public & Government Affairs, 503-655-8752
Media and Interested Parties
Clackamas County honored three organizations and three individuals last night, Wednesday, May 30, at its 2018 Community Impact Awards night at Oregon City Golf Club.
The awards honored county organizations and individuals that are making a significant contribution to the local community by working to help those who are struggling to meet their basic needs that improve life circumstances. The Community Action Board, comprised of residents appointed by the Clackamas County Commissioners to help further the mission of community action, sponsored these awards. The board thanks New Seasons Market, Mountain Park for its donation of dessert for last night's dinner.
The awards and winners were:
Distinguished Services Awardee
Northwest Family Services has supported families since 1983.
This multi-cultural, nonprofit organization focuses on child well-being and family stability to reduce poverty. The program's mission is carried out through a wide range of programs, services, and extensive partnerships. Some programs target families under the 200 percent poverty level. In 2017, Northwest Family Services served 34,000 people.
Agencywide impacts:
95.4 percent individuals completed programs
94.3 percent of the participants were successful in programs
646 children were impacted by programs
NWFS served 90 veterans with employment services
NWFS assisted 125 disabled individuals
150 participants were homeless, in transitional housing or shared housing with family/friends

Distinguished Individual Awardee
Ellen Burns advocates for vulnerable individuals in Clackamas County including seniors, homeless individuals, veterans and individuals with disabilities. She believes no one should live without shelter.
Burns was a medical caregiver at Rose Villa, a long-term care facility for seniors. She visits and advocates for senior/adult centers, and served as a member on the local and regional Aging and Disabilities Resource Connection advisory councils. Burns has served on the Aging Services Advisory Council since 2010.
Through her homelessness advocacy efforts, churches are considering locating small homes in church parking lots. She advocates tirelessly at the Oregon Legislature to fund affordable housing, and participates on several housing committees in the county and across the region. Burns is also a member of the Gerontology Association for the region staying abreast of activities across the region.

Business Awardee
Pietro's Pizza Milwaukie partners with school districts and Head Start to provide special services and opportunities for fundraising to benefit nonprofit organizations. The restaurant is open every Friday to North Clackamas School District children to build life skills working in the restaurant. Students learn customer service and other job skills working at the restaurant. Head Start parents are encouraged to apply for work to improve their income.
For more than 20 years, Head Start children and their parents have had the opportunity to go behind the counter, make their own pizza and learn cooking skills. The organization donates a portion of the proceeds to nonprofits.

Nonprofit Awardee
M Seed Outreach and Thrift Store reaches out to individuals suffering from life altering alcohol and drug addictions, and encourages them to make positive changes in their lives.
The proceeds from the thrift store provide financial assistance for individuals in need of addiction treatment. This includes financial sponsorship for 12-month residential treatment programs, transportation expenses, and other outreach efforts.
Family, friends, and the community at large benefit from the impact of M Seed's services. Since 2011 they've helped hundreds of individuals and families with various treatment options. Currently, M Seed is sponsoring 15 individuals in residential treatment, and have served around 200 people in 12-month residential treatment programs. Perhaps the most powerful way to show the impact of M Seed's services is through real life examples of individuals helped by M Seed.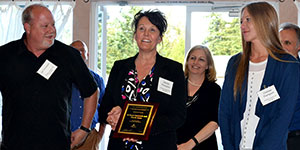 Promising Startup
Officer Mike Day serves as the Homeless Liaison Officer for Oregon City Police. He interacts daily with members of the communities who are the most vulnerable, serving individuals who seem to be forgotten or have fallen through the cracks in the system. Anyone in need is able to get assistance from Day, who actively reaches out to individuals who need help, mostly with housing.
Day breaks through the barriers that keep individuals from permanent sustainable housing partnering with the county, and other programs for rehab and addiction, employment, and health care services.
Day helps the community become stronger by reducing homelessness and the associated problems. He was the driving force behind Oregon City's 24 hour Arta Potties that keep the streets clean and reduce hardship on the homeless population.
Day was also recently named "Officer of the Year" for the Oregon City Police Department.

Distinguished Youth
Shayla Montgomery volunteers with individuals of all ages who are homeless, fighting illness, etc. Her primary focus is ending bullying.
Montgomery became a board member with "Continue to Find Kindness" in 2015 and founded #Standup, a social media platform (on Instagram and Facebook) that encourages others to send in photos and share stories about how they overcame bullying, stood up for someone being bullied, or spread kindness in their community. She works with youth to learn about bullying, how to resolve conflict, and how to #standup to bullies. She speaks at schools, events and various groups to empower others and end the cycle of bullying.
A victim of bullying herself, Montgomery chose to get involved and help other kids and educate those who are bullying about the impact of their actions. She receives calls, letters and messages from parents and students thanking her for her efforts. One individual was contemplating suicide and credited Shayla for saving her life.
Montgomery has received the Presidential Service award three years in a row for the volunteer hours she gives her community.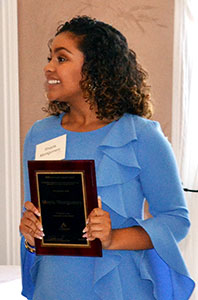 For more information on the event, members of the media and public may contact Community Relations Specialist Scott Anderson at 503-655-8752.