From: Ellen Rogalin, Clackamas County Department of Transportation and Development, 503-742-4274
Media and Interested Parties
A safe driving poster created by Sandy High School junior Kara Atiyeh will be displayed on a billboard on I-205 at I-84 and in the Clackamas Town Center food court during the month of August.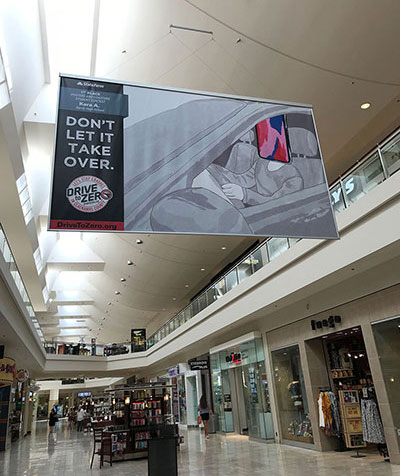 Atiyeh's poster – an impactful image of a driver with a cell phone as their head and the tag line "Don't let it take over" – recently won the 2018 Drive to Zero Posters and Coasters Safe Driving Media Contest, sponsored by the county's Department of Transportation and Development. The poster reminds drivers that cell phone use is dangerous and not to let it take over our responsibly of driving. The winning image is below. 
High school students in Clackamas County were invited earlier this year to participate in the safe driving media contest for students to create artwork that promotes safe driving to reach out to others in the community.
The county received 96 entries from various high schools in the county. State Farm Insurance provided financial support to pay for printing and display costs associated with the campaign. 
Brodie Hurtado, Public Affairs Specialist for State Farm, says "State Farm is proud to support the Posters and Coasters Campaign. It is important to engage with community led efforts to create safe roads and we are particularly excited to engage young adults in these efforts."
Second place was awarded to Caroline Yackel from Lake Oswego High School and 3rd place to Anna Persell from Sandy High School. Nine other posters were awarded Honorable Mention. All posters can be viewed online.  
The students who created the top three entries each won cash prizes ($300 for first place, $200 for second place and $100 for third place).
Rob Sadowsky, Clackamas County Transportation Safety Outreach Coordinator, stated: "Kara's work highlights the importance of putting your mobile device away when you drive; the risks are simply too great. Clackamas County is committed to reducing serious crashes on our roads. We know that we need to reduce distracted driving to reach our Drive to Zero goals."
For more information, members of the media and public may contact Rob Sadowsky at 503-742-4776 or rsadowsky@clackamas.us.