Main Content
With Women's History Month and International Women's Day on the calendar, March brings an opportunity to reflect on and celebrate the diverse contributions of women over time. We recognize the vital role women have played in making progress throughout history and setting the stage for future generations.
In that spirit, we're spotlighting some of the women who do outstanding work right here in Clackamas County. From managing capital assets to leading public safety efforts, there's a wide variety of talent and skills in action at our offices every day. Hear from some of the female leaders behind the scenes, including what drew them to public service and what they love about working in #ClackCo.
The following list only scratches the surface when it comes to the breadth of knowledge and expertise held by county staff. We're inspired by these individuals and all county employees for their efforts to help create healthy, safe and sustainable communities.

Describe what you do for Clackamas County.
I lead a public safety organization that provides 9-1-1 call-taking and dispatch services to the residents of Clackamas County. My role specifically works to ensure that the services we provide to our community and police/fire user agencies align with our strategic plan, mission and funding levels.
What drew you to public service?
I grew up in a family with a strong commitment to public service with parents who served in the military and the Portland Police Bureau. As a cop kid, I learned early that a life in service to others is one of the highest callings a person can have.
What's something people might be surprised to learn about you?
Public speaking doesn't come easy for me. It is something that I have to work on regularly as an introvert. And although I can be quite proficient, thanks to many years of training, I get nervous every time I speak to large audiences.
Why do you love working for Clackamas County?
I grew up in Clackamas County, so it has always been home for me. I have had three different careers at Clackamas County (working at the Juvenile Department, Disaster Management and now 9-1-1) and have so appreciated the people, the employees and our public safety partners at every level.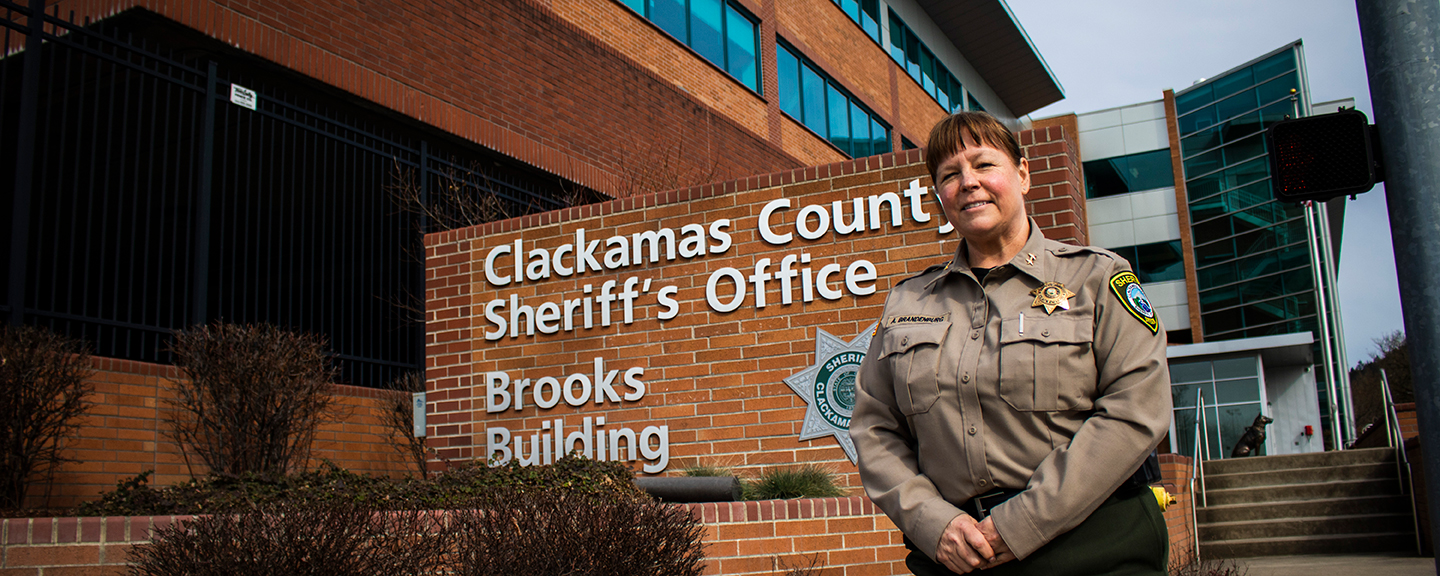 Describe what you do for Clackamas County.
As the Undersheriff, I serve as second in command to the Sheriff. In the Sheriff's absence, I assume all of the responsibilities and duties of the office of Sheriff. I am currently responsible for planning, organizing, directing and managing personnel, activities and operations of four divisions of the Sheriff's Office. Those divisions are: Patrol, Investigations, Support Services and A Safe Place Family Justice Center.
What drew you to public service?
I began my public service career when I joined the Oregon Army National Guard shortly after graduating high school. My career with the Sheriff's Office began as a volunteer reserve deputy in 1990. I really enjoyed my time working on patrol with other deputies. I recognized early on that this work gave me the opportunity to make a tremendous impact for people having the worst day of their life. I was hooked on public service and was fortunate enough to apply and get hired in 1992. I was sworn in by the late retired Sheriff Bill Brooks.
What's something people might be surprised to learn about you?
During Army boot camp at Fort Jackson, South Carolina I was the only soldier (male or female) during that basic training cycle to shoot a "possible" (40/40 rounds) on the rifle qualification course. Also during my Sheriff's Office career I served for three years as an entry team member on our SWAT team.
Why do you love working for Clackamas County?
I have been working for Clackamas County for 27 years and honestly this is home to me. Over these years I have developed life-long friendships with my Sheriff's Office co-workers and other county employees. I am thankful to the county for their investment into my professional development and valuing me not only as an employee, but as an individual. I cannot imagine working anywhere else.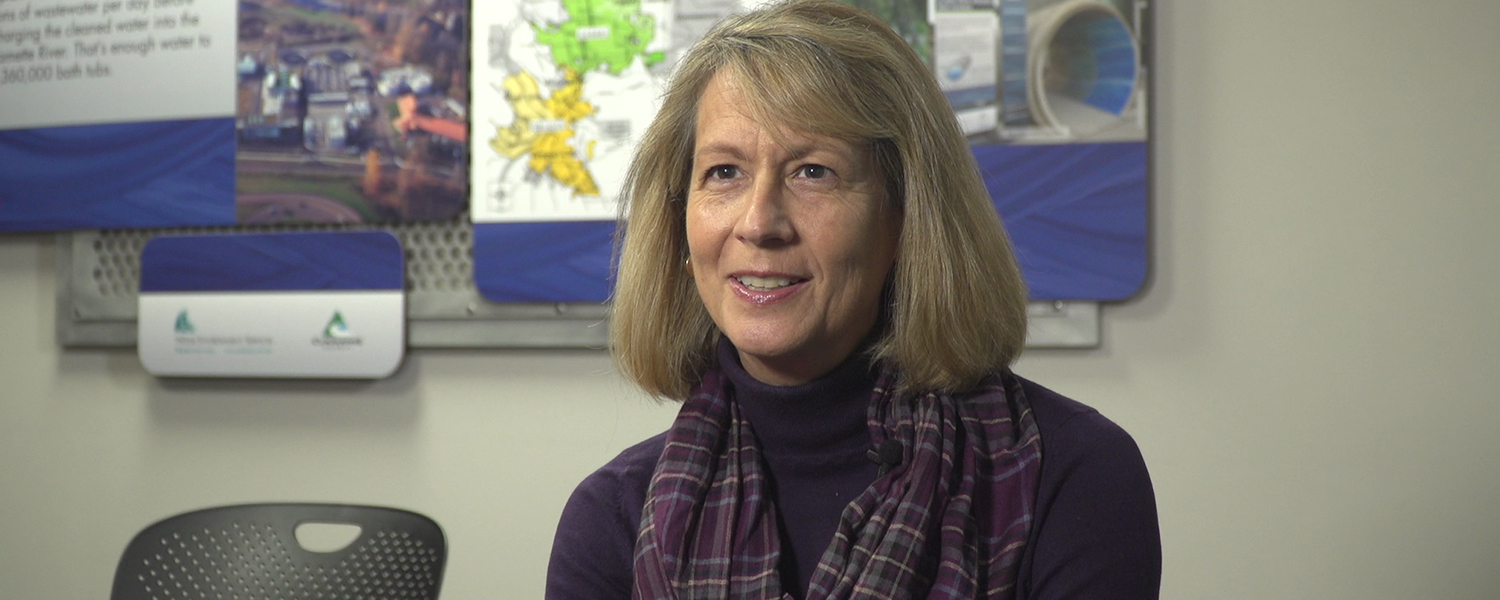 Describe what you do for Clackamas County.
I'm fortunate to lead the engineering and asset management teams at Water Environment Services (WES). We manage our capital assets including five treatment facilities, numerous pump stations and hundreds of miles of pipe. We manage our assets by monitoring their condition and tracking their maintenance and/or cleaning. Further, we plan and prioritize capital investments required to maintain the reliability and operability of our facilities and meet the needs of our growing communities.

What drew you to public service?
WES is one of the three largest wastewater utilities in the Portland Metro area. After 35 years as a consultant working with partner utilities in the area, this position allowed me the opportunity to make a difference in the community where I live. WES was in need of a leader for the capital program and I saw it as a challenge to build a program where decisions are supported by data and can be justified to ratepayers.
What's something people might be surprised to learn about you?
I am one of three sisters, all of whom loved math and built careers following that passion. My big sister is a pioneer in computer science. Although my mother wasn't allowed to attend college, she and my dad encouraged us to pursue our interests. I hope young women and girls today feel encouraged to study and work in STEM fields – where creativity is rewarded.
Why do you love working for Clackamas County?
Everyone at WES is proud of the work we do to improve the water environment. Over the three years I've been with WES, we've built outstanding engineering and asset management teams. We've come a long way in these programs and I look forward to the challenges ahead. It's fun to plan, design and see our vision come to life.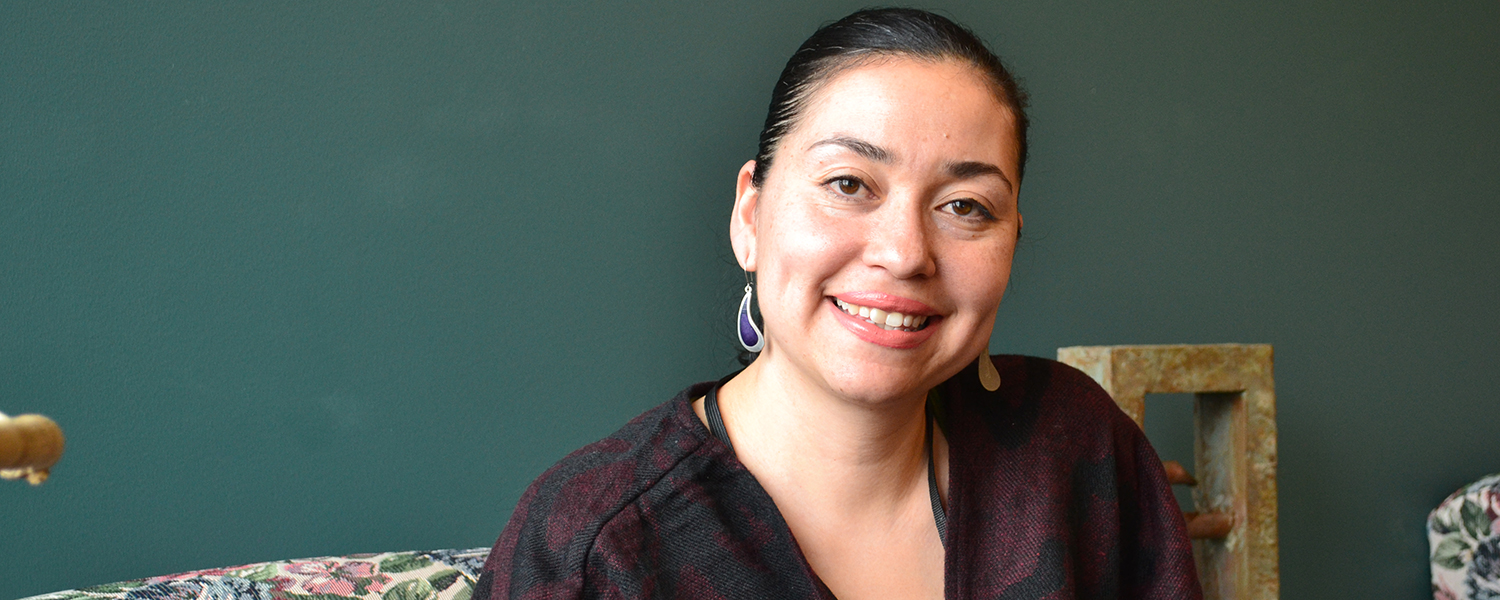 Describe what you do for Clackamas County.
I am a mediator at Resolution Services where I am able to assist county residents, employees and elected officials work through their conflicts/challenging issues through family and workplace mediation and facilitation of meetings (of all kinds). I provide bilingual and bicultural mediation and facilitation services as well. I mentor interns in our Advanced Internship Program for Family Law Mediation by providing weekly supervision, coaching, and feedback. I also coordinate the Parent Education program that allows for county residents to meet their court-mandated requirement to help their children cope with family change due to separation or divorce.
I have been serving on the Equity Diversity and Inclusion Council since January 2014.

What drew you to public service?
I am committed to and have always had a passion for serving the public in an equitable way. That requires a keen awareness and understanding regarding the current disparities that exist in our systems (and throughout our history) and responding by working toward eliminating gaps for those who have historically been marginalized. My passion for equity and my conflict resolution background provide for a really good fit with Clackamas County Resolution Services.
What's something people might be surprised to learn about you?
I love to dance, particularly hip hop.
Why do you love working for Clackamas County?
The people, my coworkers and colleagues are wonderful to work with. They have integrity, have confidence and trust in me and have a genuine interest at making the world a better place. It is frankly an honor to have the opportunity to work in an environment that fosters both personal and professional growth.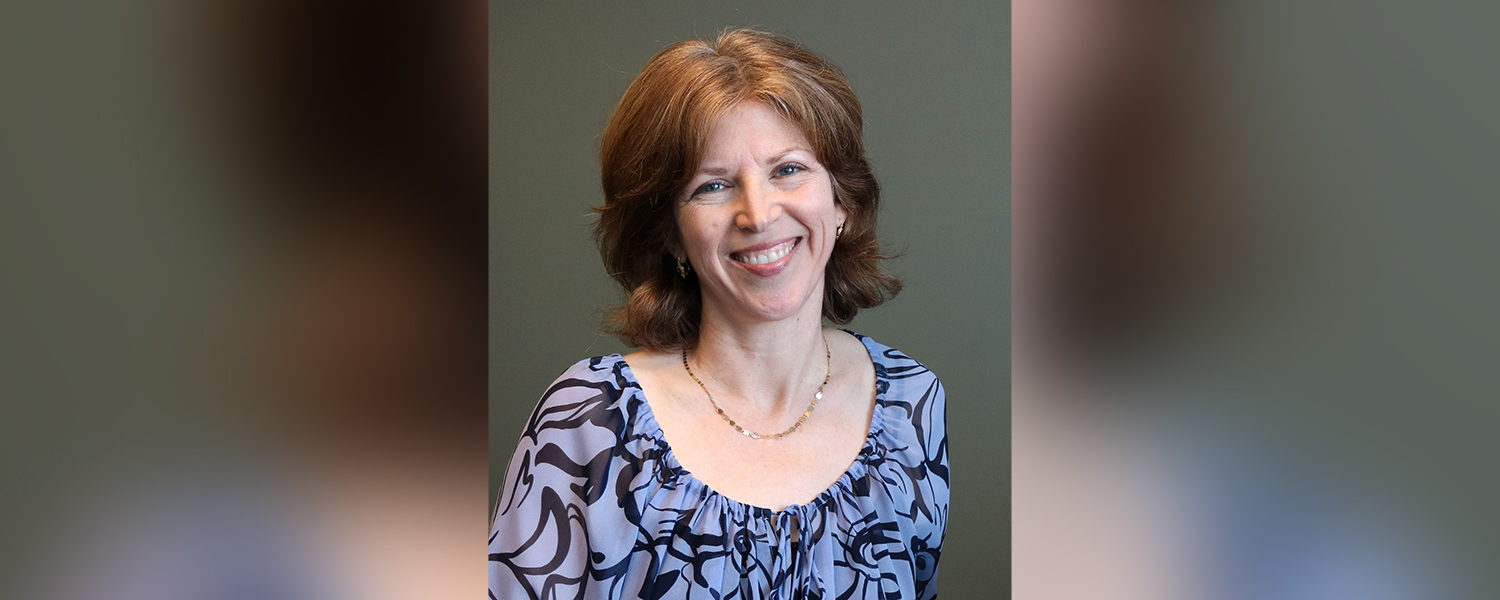 Describe what you do for Clackamas County.
I manage the Planning and Zoning Division and the Septic and Onsite Wastewater Program. The Planning and Zoning Division is responsible for administering the Zoning and Development Ordinance, processing approximately 600 land use permit applications annually, formulating long-range land use plans, and coordinating with regional and state government on land use planning issues and regulations. We also provide contract land use planning services to the Cities of Estacada and Gladstone. The Septic and Onsite Wastewater Program administers Department of Environmental Quality regulations for onsite wastewater disposal systems, which includes permitting and inspecting new and modified systems. Program staff reviews virtually all new development in the County where sanitary sewer service is not available.
What drew you to public service?
I was always interested in government. After more than 25 years in public service, I continue to believe that government can be a force for good, and I enjoy being part of that effort.
What's something people might be surprised to learn about you?
I have no formal education in land use planning; my training in the field has all occurred on the job with Clackamas County. I do have a degree in political science, however, and land use planning is definitely political!
Why do you love working for Clackamas County?
The people! Throughout my long career at the County, I have felt supported by management and have enjoyed collaborating with my colleagues. It has also been a pleasure to assist so many customers with such a diversity of land-use-related interests.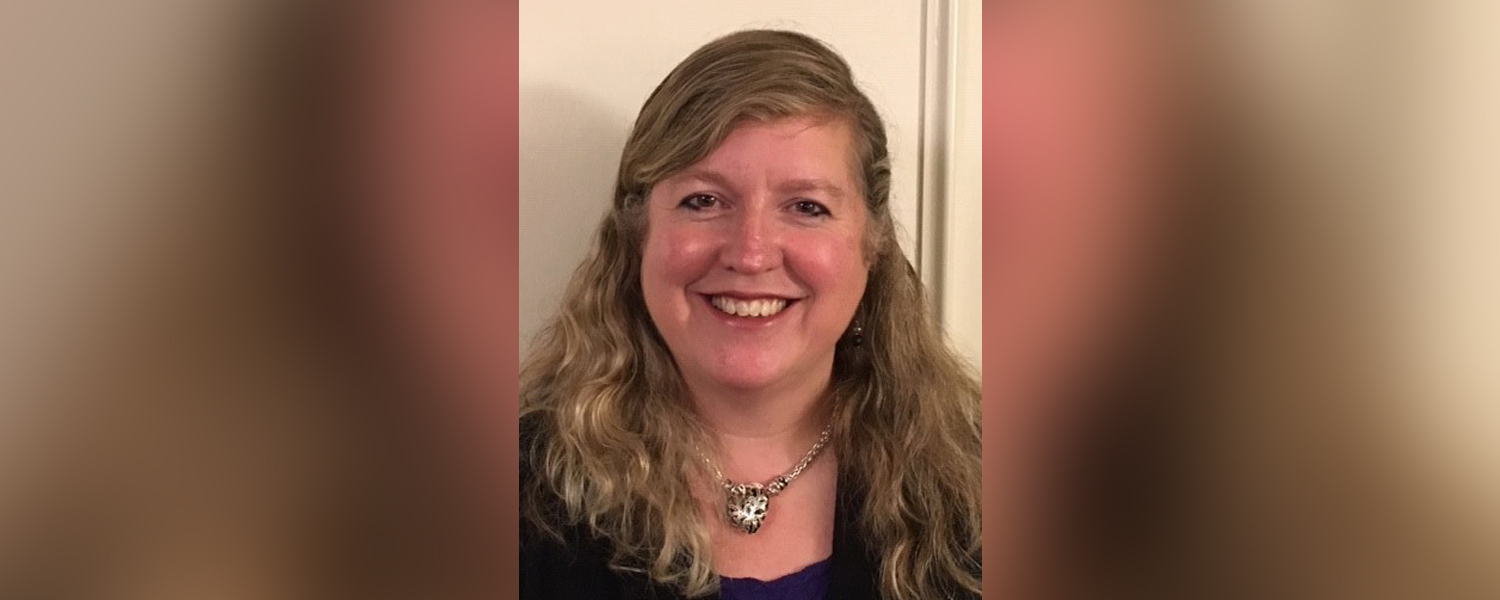 Describe what you do for Clackamas County.
I develop and direct the implementation of our department's goals, objectives, policies and priorities and provide administrative direction to the assistant director, management and professional staff. I work collaboratively at the local, state and national level to expand the Juvenile Department's expertise and commitment to best practices by learning new approaches and reviewing research. I work to maintain and form strategic partnerships that allow the Juvenile Department to provide reformation services and programs for youth, support families, reduce victimizations and honor victims' rights, and increase public safety in Clackamas County. I believe that our standard as a department when we are working with kids should be, "Would this be good enough if it were my own child?"
What drew you to public service?
My parents were both public servants. My father worked as a social worker in child welfare, serving people who are disabled, and assisting veterans. Growing up, the values of contributing to a cause greater than myself, a sense of justice and fairness, and an understanding of the mutual humanity that is and should be valued and shared between us were instilled in me from a young age.
What's something people might be surprised to learn about you?
I grew up in Maine, and at one time actually lived on the same street as famous author Stephen King.
I am married to a classically trained chef for the last 26 years and I never cook. I became a mother at the age of 44.
Why do you love working for Clackamas County?
I love that the Clackamas County Board of Commissioners is so supportive and believes in the ability for juvenile-justice involved young people to be successful and grow. I really appreciate the involvement of many community members and partners in working to achieve better outcomes for our young people. I feel grateful that our department has so many dedicated employees and managers who are passionate about helping youth transition into contributing members of our county.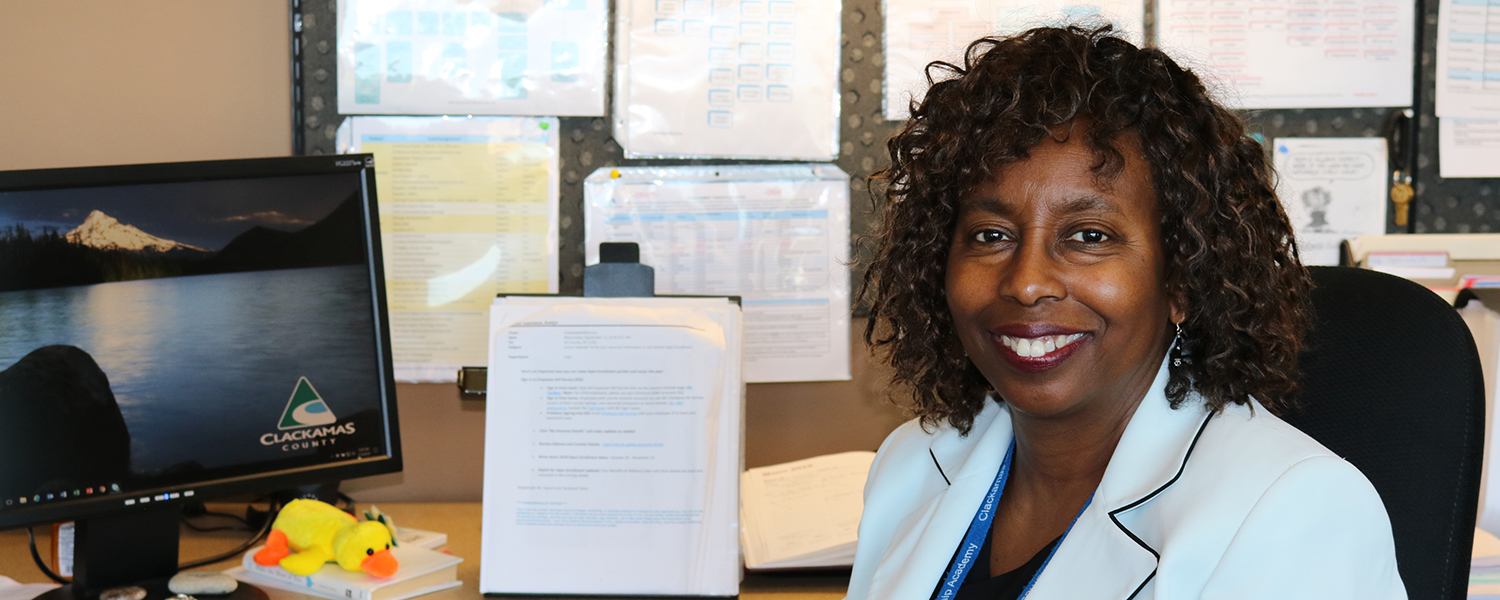 What do you do?
My job is to plan, and provide leadership for all facets of human resources programs and services, which includes personnel policy, internal complaints, recruitment, compensation and classification practices, employee and labor relations, benefits, workforce planning and development and workforce data management.
What drew you to public service?
I have worked in the public sector for 28+ years. Prior to working in the public sectors, I worked in private college sector for 10 years. When I got to the point in my career where I wanted to change career paths from higher education to human resources, I chose to work in public service human resource manager vs private human resources management. I love working with employees who enjoy giving back to their community and I love the diversity of the work that the public sector does for our communities. Lastly, I feel very blessed to have the opportunity to provide leadership and direction for one of the top human resources staff in the state!
Tell us something interesting about you.
I am passionate about working out. I attend a kickbox and weights class three times a week.
What do you love about Clackamas County?
The employees! They are engaged and the passion about the work they do!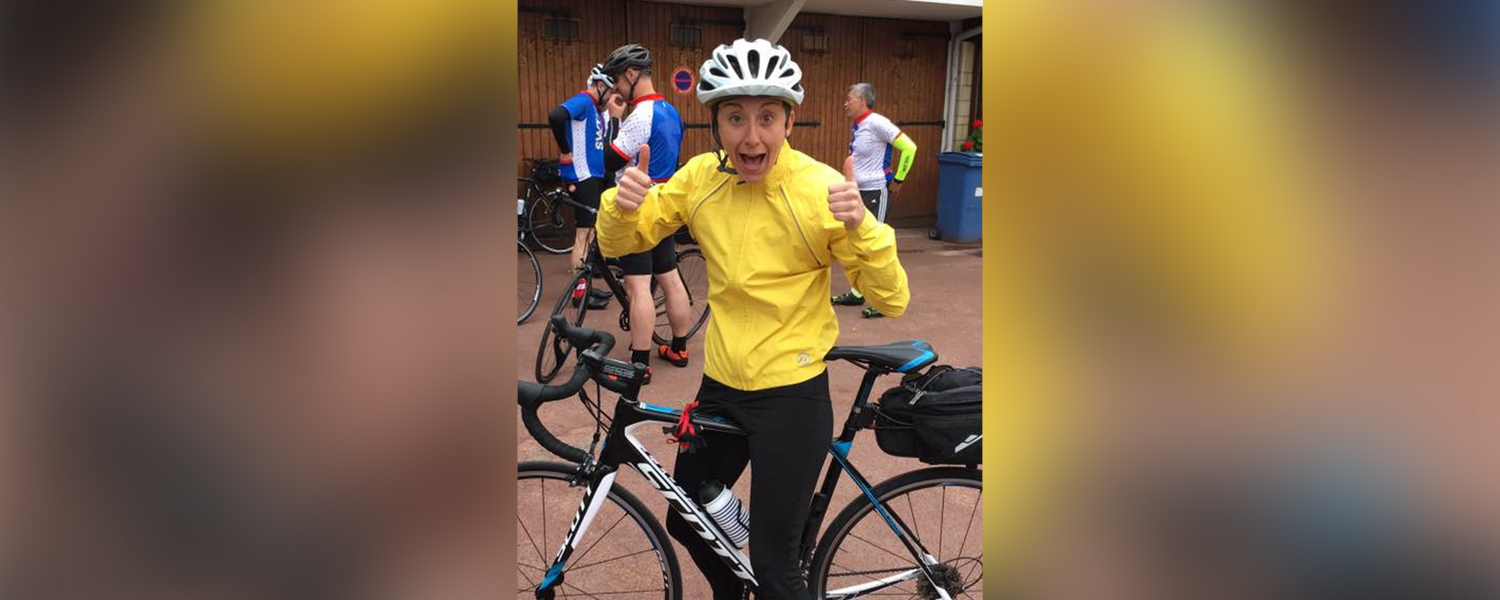 Describe what you do for Clackamas County.
I serve alongside amazing county department staff and county community partners on matters relating to suicide and suicide safer care. I educate and activate our community on the Zero Suicide Initiative, using it to serve as the guiding principle and foundation for suicide prevention programming. I develop and implement suicide awareness and education programs to increase countywide knowledge. I plan and implement prevention, screening, and postvention policies, procedures, services and supports.
What drew you to public service?
My mom is a retired Washington State Juvenile Parole and Probation Officer, my father retired as a Seattle Fire Fighter and Arson Detective—relationships, connecting and supporting others is in my veins.
What's something people might be surprised to learn about you?
During my four years at Oregon State University for my undergrad degree, I was in a sorority . . . and I was twice elected as president.
Why do you love working for Clackamas County?
Because in doing this work we are connecting with others and building relationships with our community. I believe the work that we do makes a difference in the lives of others.