Main Content

On June 16, approximately 80 Clackamas County staff members and their families participated in Portland's Pride Parade and Festival.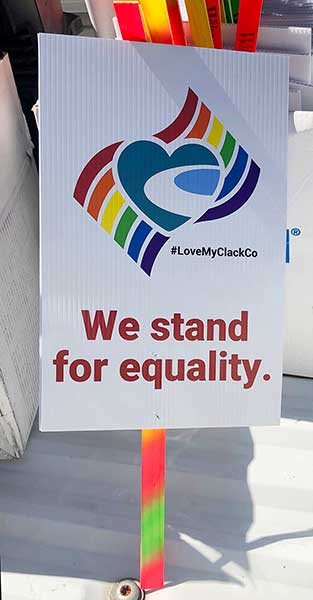 This event was in honor of Pride Month and in support of the county's LGBTQ colleagues and their family members. The march affirms the county's values supporting diversity, equity and inclusion for all.
"We think they're an important part of what makes us great," said Clackamas County Chair Jim Bernard of the LGBTQ community. "Clackamas County is accepting and we think diversity in our offices and in our community just enriches us."
Christopher Hoots, who works in the Behavioral Health Division at the county, attended the parade and said the county's participation in the parade is important for the LGBTQ community in the county.
"It's about letting them know that there are a lot of people in Clackamas County that represent that population and the government in general just supports them," he said.

At the Pride Parade, county staff joined other community groups, nonprofits and businesses from Oregon and Southwest Washington in celebrating and supporting the Portland metro area's LGBTQ communities. County Commissioners, employees, elected officials and staff of cities in Clackamas County, family members, volunteers, and other friends and supporters joined together to march as part of the county contingent and host a booth.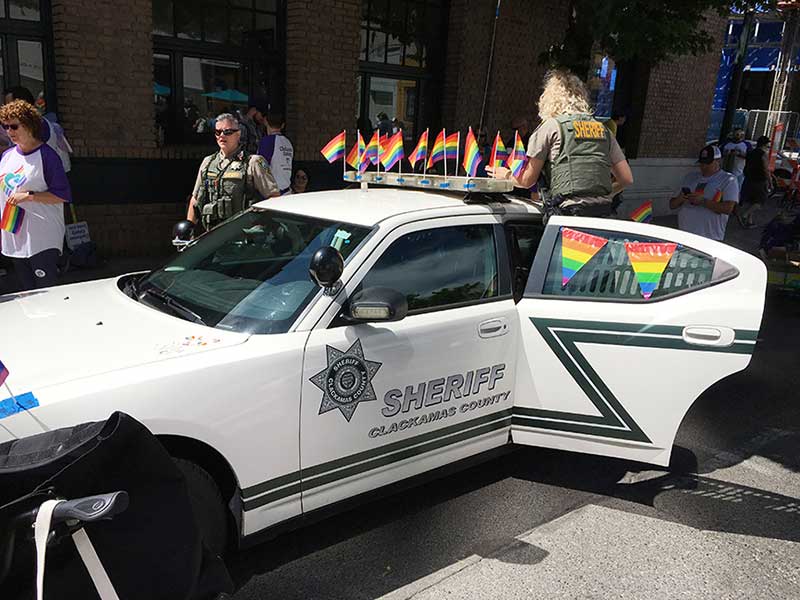 The genesis of the county's involvement in the Portland Pride Parade began with an employee networking group – Queers & Allies (Q&A). This group provides LGBTQ education, engagement and advocacy for Clackamas County employees in order to create awareness and inclusion to empower equitable change in our workplace.
This group spearheaded Clackamas County's first involvement in participating in the Pride Parade in 2015 and has continued working to increase awareness and involvement of the county's activities regarding the Pride Parade and other LGBTQ issues. The county is fortunate to have such intelligent, hardworking and caring people that have not only decided Clackamas County is where they want to work, but also have gone beyond their job duties to further the county's position as a welcoming and inclusive organization.
"You live in Clackamas County where we service you and we want it to be a welcoming and inclusive community for everybody," said Emmett Wheatfall, Clackamas County Assistant Administrator.
The county is already making plans for next year's Pride Parade and to have an even larger contingent of county staff members and their families to participate.