Main Content

Business is booming in Clackamas County — and with our diverse landscape, it's no wonder. The county covers nearly 1,900 miles south of the Portland metro area in the shadow of Mt. Hood, boasting national forests, hideaway lakes, winding rivers, thriving agriculture, bustling cities, and small town communities.
People come here to enjoy a great quality of life, with job opportunities and room to explore. We honor tradition, value independent communities and foster close partnerships between government and the private sector. Our strong business identity makes us a contender in state, national and global markets.
So what is it that makes our business environment so prosperous?
We're diversely skilled.
There are five key clusters in the Clackamas County region that employed 72,316 people in 2017. A key cluster is a group of businesses in a geographic area that share similar markets, technologies, worker needs, and often supply chains. Our key clusters include:
Professional Business Services
Health Care
Wholesale Trade
High Tech
Advanced Manufacturing
These key industry clusters create $11.1 billion in direct annual gross domestic product (GDP), generate 55% of the total direct GDP in the county and employ 43% of the job base.
Not to mention, the Clackamas Workforce Partnership fosters a skilled workforce, competitive that meets the needs of businesses and strengthens our local economy.
We're educated.
We have experience and the smarts to boot. 44% of the population of Clackamas County has attained an Associate's degree or higher. Of that amount, nearly 23% have earned a Bachelor's degree.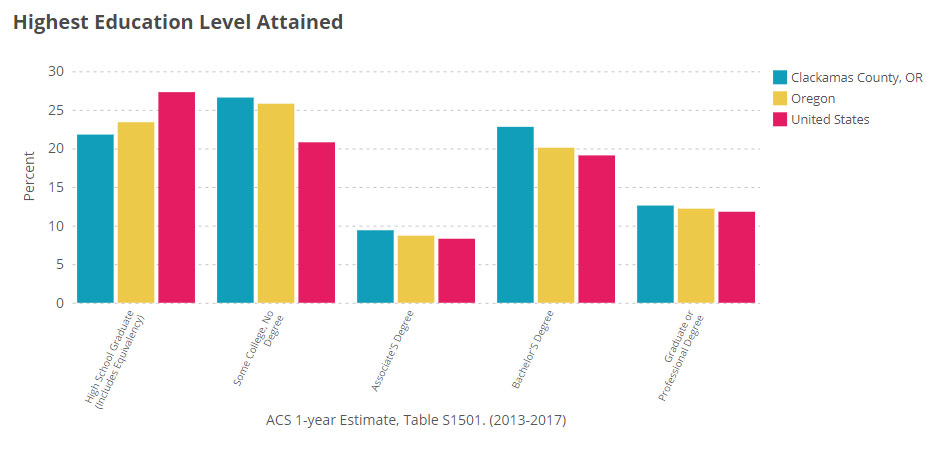 We're accessible.
Our county features interstate access to I-5 and I-205, as well as quick access to Portland International Airport and rail lines.
As the home of Mt. Hood, we're right at the heart of Oregon's recreational tourism, drawing thousands of visitors a year. Visitors spent a total of $621.8 million in Clackamas County in 2018 according to the annual Dean Runyan Economic Impact study done annually by Travel Oregon, the state's tourism office. That same study also showed visitor spending supported more than 6,500 jobs, earning more than $189 million in 2018.
We offer business owners assistance — and perks, too.
The county offers loans, exemptions and financing that can help businesses thrive. But that's not all. Business owners in Clackamas County can also enjoy:
No business tax
No sales tax
No business license fee in unincorporated areas (cities may charge a modest fee)
Available industrial, office and commercial buildings at competitive rates
Comprehensive, high-speed broadband
We're growing.
The population in Clackamas County has grown 23% in the last 18 years. With growth comes demand across industries, from entertainment and recreation to heath care. As of 2017, the number of jobs here had grown to 227,636.
Growing a strong business community will help us all succeed and is vital to planting seeds for future generations.
See how Clackamas stacks up compared to the rest of the state and nation.
Learn more about growing your business