Main Content
Hand wipes and other materials damage pipes, sewers and wastewater treatment equipment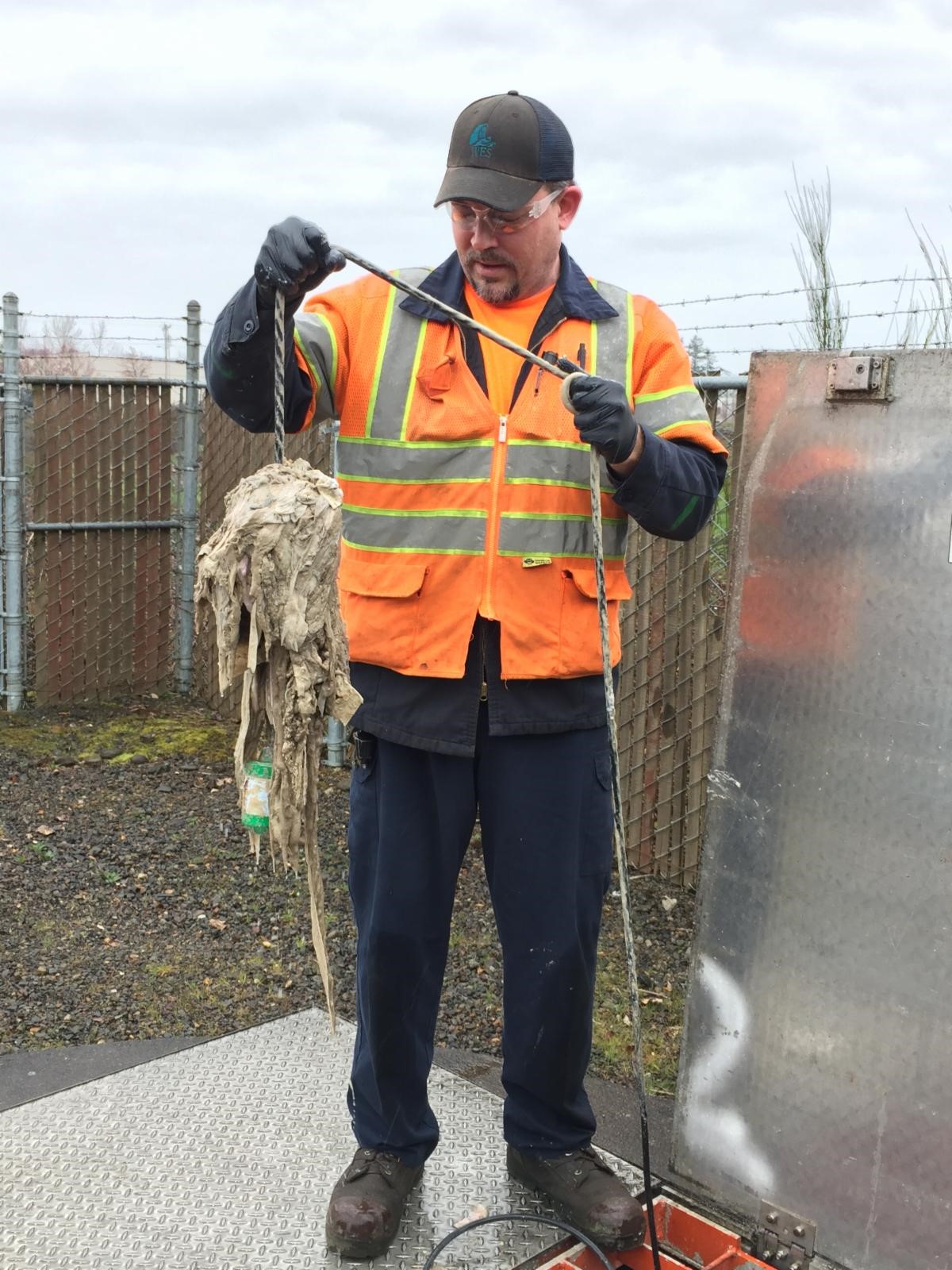 Clackamas Water Environment Services (WES) reminds customers to avoid flushing hand wipes, baby wipes and all "flushable" wipes and other materials down the toilet as they can clog pipes, cause sewer backups and damage wastewater treatment equipment. The only thing you should ever flush down a toilet is toilet paper.
WES recommends throwing all wipes in the trash. So-called "flushable" wipes do not disintegrate in water like toilet paper. The vast majority of these products stay fully intact after being flushed and often get stuck in sewage lines that connect homes to main sewer lines and cause raw sewage backups.
When flushed wipes are carried into sewer systems, they often get tangled in and damage pump stations and vital equipment at wastewater treatment facilities, which can disrupt service and cost thousands of dollars to repair or replace. WES provides wastewater treatment services for 190,000 people in northern Clackamas County.
"WES is grateful to customers who help us spread the word about only flushing toilet paper, which protects the equipment we use to protect public health and the environment," said WES Director Greg Geist. "The last thing we all need during the current public health crisis, is another crisis created by damages to wastewater treatment equipment. Fortunately, we can easily prevent that by working together to raise awareness about wipes."
No wipes are flushable, even though the packaging often claims they are.
"Think about it: these wipes sit in packaging for months, yet when you open the packages, they are still wet," said WES Operations Manager Greg Eyerly. "The fact they don't fall apart while being removed from the package tells you they won't disintegrate when you flush them."
To avoid these problems, dispose of wipes in the trash along with the following: surface cleaning wipes, paper or cloth towels, cotton balls, swabs, dental floss, disposable contact lenses, sanitary napkins, diapers, swiffers, toilet bowl scrub pads, and mop refills.