Main Content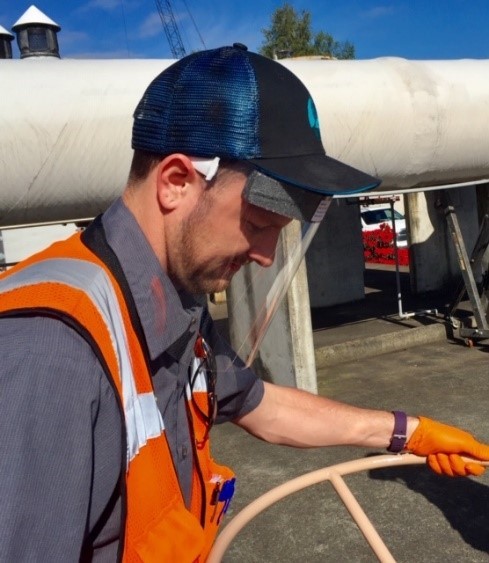 Clackamas Water Environment Services (WES) continues to provide wastewater treatment and other services during the COVID-19 pandemic, with essential staff members on the job to ensure these services remain uninterrupted for more than 190,000 customers in northern Clackamas County.
WES staff has altered the way they perform their duties by practicing social distancing and other safety guidelines while also using personal protective equipment (PPE). One local business has been able to provide some of that equipment in the form of face shields, which had been difficult for WES to find.
"We wanted to do something to help with the need for PPE and we felt the face shields were the quickest and easiest items to make with little equipment needed," said Lori Olund, president of Miles Fiberglass and Composites. "WES is essential to keeping our county running and it feels good to provide extra protection to help keep them safe."
Olund developed the idea for the shields after her company received a loan through the Paycheck Protection Program. Olund says the goal was to keep her employees working while also meeting a need that she observed in the community.
"We appreciate Miles Fiberglass providing these light-weight face shields, which are comfortable and can be worn with a hard hat," said WES Operations Manager Greg Eyerly. "These shields will help us stay healthy and on the job, so we can keep working to protect public health and the environment."
Miles Fiberglass provided the masks to WES at cost, saving money for other vital services.
Clackamas County is now accepting donations of surplus Personal Protective Equipment including new masks, gowns, and gloves to be added to the county's cache for COVID-19 preparedness.
Read guidelines for face coverings, including wearing masks.