Main Content

Maintaining the infrastructure that protects public health, safety, our quality of life and the economy is a year-round job. It requires the hard work of thousands of men and women. Despite the COVID-19 pandemic, that vital work continues uninterrupted in Clackamas County.
You can be assured that when you flush your toilet, sewer systems will carry the wastewater to treatment facilities. Traffic signals will be working to keep you safe on the road. The infrastructure supports our everyday lives and keeps us safe. Our infrastructure includes roads and bridges, storm and wastewater treatment facilities, and our natural environment for parks.
Since 1960, National Public Works Week has raised awareness of the tremendous effort and resources it takes to ensure safe and reliable infrastructure. In addition to maintenance and operations, constant planning, designing, building and management are required to ensure that our infrastructure will be able to meet the needs of a growing population.
This year, National Public Works Week occurs from May 17- 23.
Below is a look at the many ways Clackamas County ensures that the infrastructure you depend on is there to keep your safe every day of the year, including through the COVID-19 crisis.
Producing Clean Water, Protecting Public Health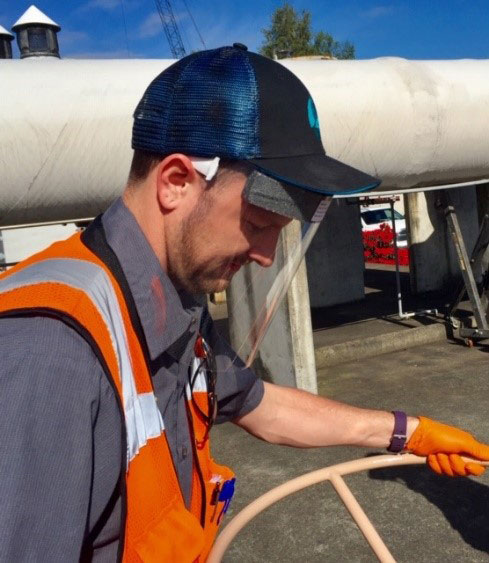 Clackamas Water Environment Services (WES) produces clean water and protects water quality for more than 190,000 people. WES operates and maintains five wastewater treatment facilities.
During the COVID-19 pandemic, WES employees have been on the job while practicing social distancing and other safety guidelines. The health and safety of its employees and its customers are top priorities for WES.
WES' water resource recovery facilities in Oregon City and Milwaukie clean a combined seven billion gallons of wastewater every year.
The wastewater is treated and released into the Willamette River where it protects the health of fish, other aquatic wildlife and people enjoying the river.
Maintaining Equipment, Expanding for the Future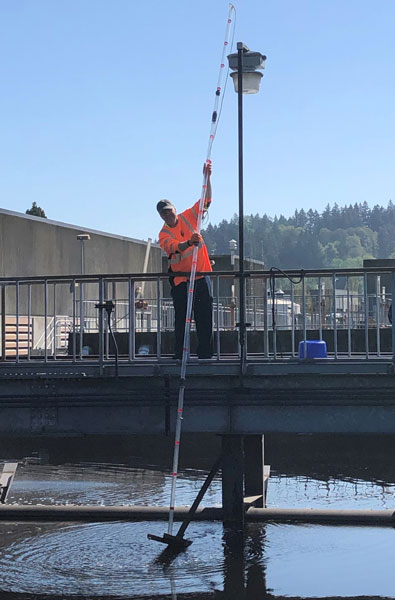 The WES infrastructure also includes 23 pumping stations and more than 340 miles of pipes.
WES is currently expanding and upgrading its facilities. As our population grows, our infrastructure must grow along with it, which requires long-range planning and construction.
WES is currently building a third 1.6 million gallon digester, which treats solids, a byproduct of wastewater from homes and businesses. This increased capacity at the Tri-City facility will ensure the protection of public health, environment and future economic growth for decades to come.
Building Resiliency, Increasing Readiness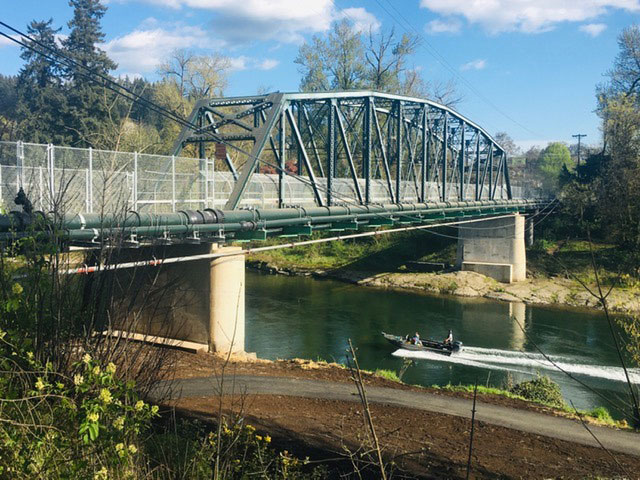 In April 2020, WES reopened its 82nd Drive Pedestrian Bridge after completing several upgrades, which include seismically-retrofitting the bridge to withstand a magnitude 9.0 earthquake.
The bridge, which connects the cities of Gladstone and Oregon City, is now capable of providing vital passage for emergency vehicles across the Clackamas River should such a catastrophic earthquake occur.
The upgrades also include new sanitary sewer pipes and additional protections for pipes and utility lines that run across the bridge.

Reducing Pollution, Improving Water Quality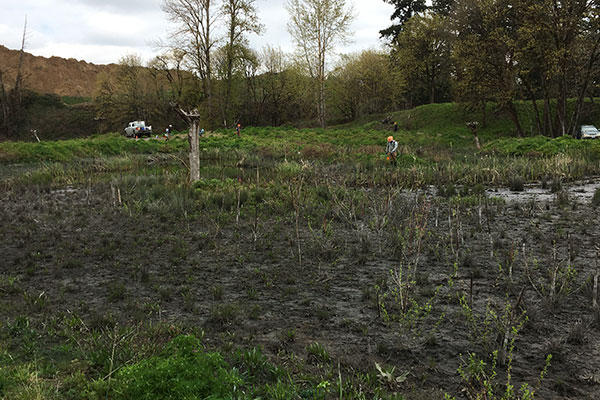 WES also helps reduce pollution in local rivers, streams, and wetlands caused by stormwater runoff, the number one source of water pollution in Oregon.
The Carli Creek Water Quality facility naturally filters out harmful pollutants from industrial runoff before it reaches the Clackamas River, which is the drinking water source for more than 340,000 people.

Maintaining Roads, Keeping Drivers Safe
T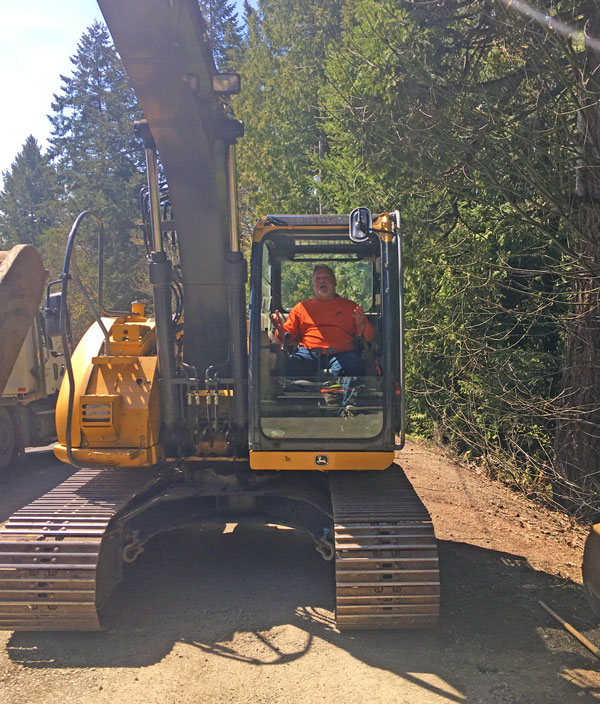 he Department of Transportation and Development maintains 1,400 miles of county roads, 2,400 miles of rock shoulders and regularly repairs potholes, road deterioration and water damage.
The staff also makes sure that 26,450 road signs and 165 traffic signals are in good working order to keep you safe on the road.
In addition to making sure the roads are well-paved and safe, crew members also perform street sweeping, which allows for drainage of stormwater, controls pollution and improves safety, health and water quality.

Removing Hazards, Increasing Safety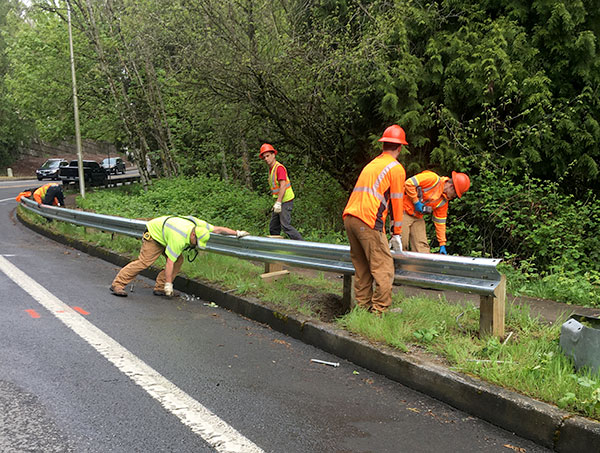 Crews maintain 21 miles of guardrail to improve traveler safety and work to remove brush near roads over a 250-mile area while also maintaining 46 miles of roadside ditches to prevent road flooding and erosion after heavy storms. Transportation and Development staff also coordinate the Adopt-A-Road Program and is always long-range planning to make sure our roads are there to serve your travel needs.
They also maintain 180 county bridges to keep them strong and sturdy while preventing deterioration by painting the bridges and performing repairs whenever needed.
Road Maintenance During COVID-19 Crisis
Our crews have transitioned to performing their work in news ways to keep each other safe by staying at least six feet apart. Crew leaders keep close watch on staff to ensure best practices are followed.
The Transportation Department is focused on protecting the health of its employees and the public, and also on ensuring that county roads continue to be safe and accessible for those who need to travel.
Canby Ferry Still Going Strong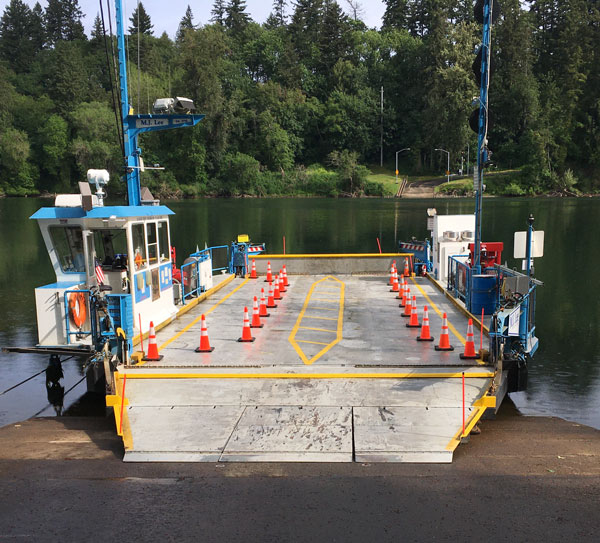 The Department of Transportation and Development operates the electricity-powered Canby Ferry, which provides transportation across the Willamette River between Canby and Wilsonville/Stafford seven days a week.
In service since 1914, the Canby Ferry has been beloved by generations of Clackamas County residents who enjoy the scenic and relaxing trip across the river.
The Canby Ferry continues to operate with a limit of three vehicles per crossing and marked bicycle spots to maintain distance. We are taking exact change for one-way trips as well as ferry punch passes, which can be purchased online.
Protecting Our "Green Infrastructure" For You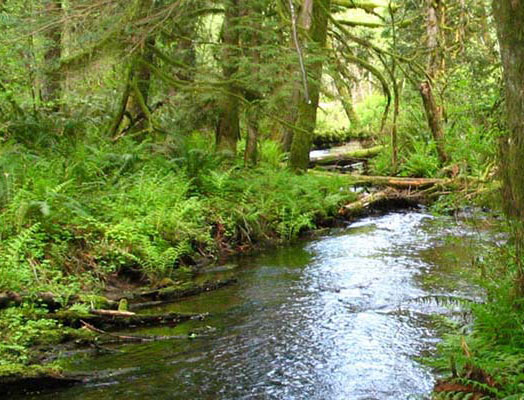 While Clackamas County Parks have been closed during the pandemic, Parks is preparing to re-open its extensive facilities once it is safe to do so. Parks operates 18 sites throughout rural Clackamas County, covering about 1,000 acres, many along the Clackamas, Molalla and Willamette rivers.
The parks provide day areas with picnic areas and shelters for 4,500 people, and overnight camping with 204 campsites for recreation vehicles and tents.
County Parks also operates and maintains open space areas, volleyball courts, children's play structures, eight caretaker residences, a marina with moorage for 98 boats, seven public boat launches and 13 restroom buildings.
Parks staff maintain 180 acres of mowed turf, 10 miles of park hiking trails (including the popular Stone Creek Golf Club trail), a portion of the Springwater Corridor Trail and five natural area parks with 220 acres of river access.

Promoting Healthy Living Through Parks and Recreation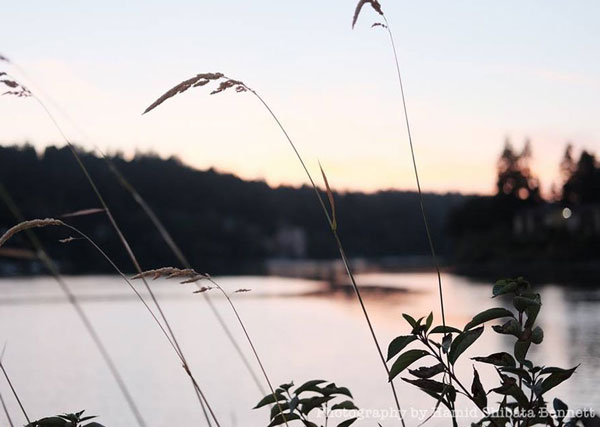 The North Clackamas Parks & Recreation District (NCPRD), a service district of Clackamas County, provides exceptional parks and recreation programs, facilities and services to more than 100,000 residents in a 36-square-mile area. This includes the City of Milwaukie and a large area of northern unincorporated Clackamas County including Oak Grove, Jennings Lodge and Sunnyside.
NCPRD offers residents and visitors the use of more than 36 parks and natural areas, 15 miles of trails, the Hood View Sports Complex, the North Clackamas Aquatic Park, the Milwaukie Center and three former elementary school properties (Concord, Wichita and Clackamas).