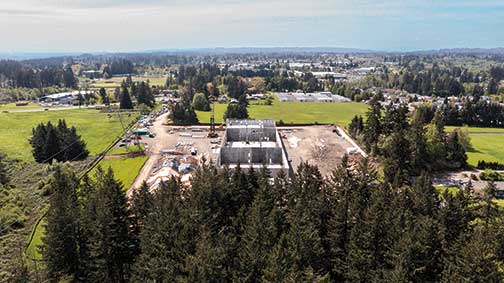 Construction of the new building continues to progress.
In March 2022, exterior walls are put in place.
When the people who are supposed to keep you safe can operate in a safer environment, that's a good move. And that's exactly what Transportation and Fleet Maintenance will be doing come late 2022.
Thanks to years of investigating options to move the Transportation Maintenance division out of a floodplain, operations will transition to a more resilient location in the Oregon City area. Although just three miles away, the new site comes with big benefits.
Our Transportation Maintenance division will soon be operating on a hill of bedrock within structures built to modern seismic standards. The site also better equips our first responders to meet community needs during emergencies like floods or earthquakes. The 11-acre property will house an administrative building for Transportation and Fleet Maintenance staff, a truck repair shop, a sign-making shop, covered parking for trucks and equipment, and sand sheds.
The new site maintains a central location with access to rural and urban areas of the county, so crews can deploy quickly wherever they're needed.
Remembering the 1996 floods
If you can recall the floods in February  1996, memories of people navigating sunken roadways by boat may come to mind. During those floods, our operations site was nearly 10 feet under water.
Instead of responding to public needs along the 1,400-mile road network to divert flooding, remove debris or inspect bridges, our team had to spend precious time and resources moving equipment offsite to higher ground.
From a more resilient home base, Transportation Maintenance will be prepared to respond during future flood events.

During the Feb. 1996 floods, our Transportation Maintenance operations site was nearly 10 feet under water.
Keeping travelers safe
Our 100-member team maintains the integrity and safety of 186 bridges, and 1,400 miles of county roads including shoulders, culverts, guardrails, traffic signals and signs. We operate the Canby Ferry and run the Adopt-A-Road program.
We're always on call to respond to weather conditions and emergencies to maintain safety on our roadways. For more on what Transportation Maintenance does to keep the road network safe for travelers, visit www.clackamas.us/roads.
Related webpage links