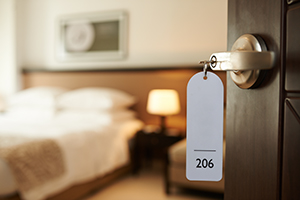 Clackamas County has a new tool to address homelessness, and it's been working successfully for almost two years. That tool is using hotel and motel rooms for transitional housing with support services, a creative solution that's proven to be a big benefit to communities, businesses and residents alike. Since December 2020, 261 adults and children have been served in our county through this program, which also supports small motel businesses that were threatened by the pandemic.
Journey Home: Angela's Story
Angela (name changed) is one resident who transformed her life as she went through the motel program. As a child Angela had been in foster care, and she became a victim of sex trafficking as a youth. The trafficker controlled her life, and at times Angela was made to sleep outside. When Angela aged into a young adult, she fled to Clackamas Women's Services for help. She was able to move immediately into a county-funded motel room where she stayed for eight weeks. This allowed her to gain peace, privacy and the ability to focus on her next steps —  basic necessities that people don't have when they are trying to survive outdoors. During this time she utilized supportive services such as 24/7 crisis support, food assistance, clothing, help applying to jobs, and mental health and substance use treatment. She set her goal to build a stable career in a new field. Today, Angela has a stable job that provides her a living wage. She now rents her own market-rate apartment paid for with her salary.
In 2020, Clackamas County was short 5800 housing units to meet the need for extremely low-income residents alone, and short additional units that are affordable for low-income and middle-income residents. Clackamas County's motel program has shown to be an inspired solution on several fronts. Motels were severely underutilized during the pandemic, threatening these valuable small businesses in our community, as well as threatening to create blight by leaving buildings vacant. Matching people who need housing with these already existing motel rooms has been an effective use of these spaces. It has also saved the county and taxpayers money. Making up the area housing shortage now with existing motel rooms avoids the massive cost and time it takes to build new facilities, apartments, and the infrastructure to serve those locations.
Since 2020, pilots throughout the country have shown that repurposing underutilized hotels and motels for transitional housing has been very effective. King County, Washington commissioned a research study of its new motel housing program. The study found that households had higher rates of exits to permanent housing than those who stayed in traditional shelters. Having the security and privacy of a room allowed people to stabilize and address urgent needs arising from being unsheltered, such as lack of hygiene access. It helped households maintain consistent communication with staff working to assist them in moving on to permanent housing. Residents had improved physical and mental health and well-being and more time to take steps towards future goals. It also led to a decrease in emergency 911 calls.
Clackamas County's motel program has also benefited the surrounding community. A neighborhood safety and security team has met regularly throughout the two years of the county's motel program. This team includes county staff, law enforcement officers, nonprofit organizations, and homeless outreach providers. The team has been successful in addressing impacts to local residences and businesses and keeping law enforcement calls low.
"My job is to make the community safer and more livable," said Clackamas County Deputy District Attorney Bill Stewart. "By housing people through the motel program, I've seen a significant benefit to nearby communities," he said. "I've found that housing is the best tool to address the negative impact of people living outside."