Main Content
Clackamas County activated its Emergency Operations Center (EOC) in late August in response to a wildfire in the Mt. Hood National Forest.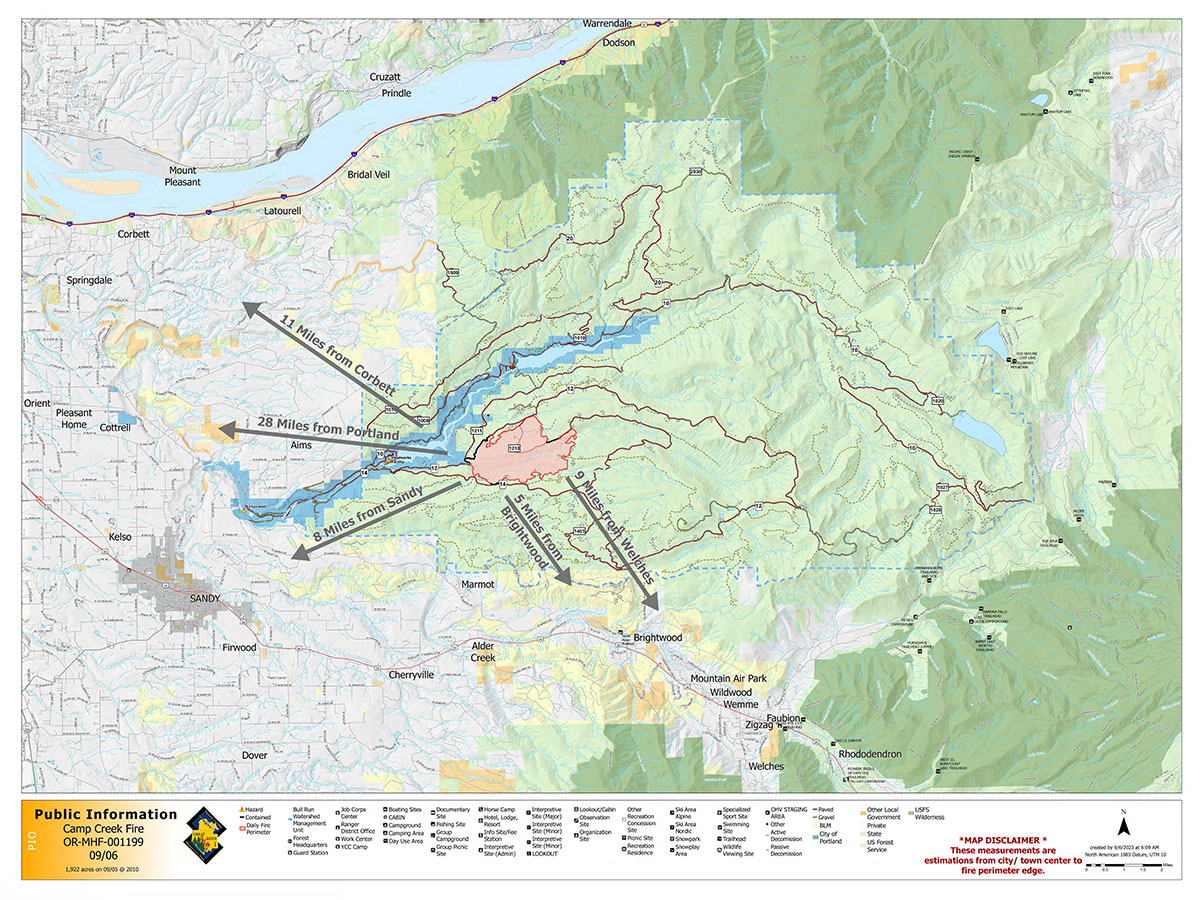 Known now as the Camp Creek Fire, the wildfire started Aug. 24 when a thunderstorm passed by the Mt. Hood National Forest. At approximately 10 p.m., a lightning strike ignited a fire. It is located approximately 1.5 miles south of the Bull Run Reservoir No. 1 near the junction of Forest Road 1210 and Forest Road 12.
By 3:30 a.m. on Aug. 25, firefighters from the US Forest Service, Clackamas Fire District, Hoodland Fire District, and Corbett Fire District located the wildfire and began an initial attack. Throughout the day, additional firefighters and resources, including multiple aircraft, joined the efforts. However, by the end of the day, the fire grew from 10 to 60 acres. The fire team in command then requested additional resources to help manage the response. Those resources began to arrive on Aug. 26 and included Great Basin National Incident Management Team No. 1.
The county began monitoring the fire Friday morning when it was first detected. Staff activated the EOC to coordinate the county's response. On Saturday, staff in the EOC began planning for multiple contingencies and set three primary objectives for the response: Establish potential evacuation zones, establish potential sheltering locations for the community and livestock, and effectively and clearly communicate the status of the fire and planning efforts to the community. During the next five days, county staff worked in the EOC to respond to the fire. The county continues to monitor the fire and develop plans as crews continue to battle the fire.
As of Sept. 7, the Camp Creek Fire is currently at 1,940 acres and 16 percent contained. There are 591 people onsite.
There are no current evacuation alerts due to this fire. The county has developed an evacuation planning map to ensure any evacuation alerts are issued well before the fire reaches a populated area. The current maps are located on the county's wildfire page. If there ever is an alert, the best way for the county to notify you, is via PublicAlerts, please sign up today. If you've already signed up for Public Alerts, please log in to make sure you're information is updated and correct.
If evacuation notices go into effect, here's how we'll get that information to you:
We'll send out notifications through Public Alerts that will go directly to your cell phone.
We'll also push out notifications through social media, so please be sure to follow Clackamas County on Facebook. It's also a good idea to follow @ClackCoSheriff and @PublicAlerts on Facebook and Twitter for tips on preparing for wildfires and emergencies and for information during an emergency.
We will also update the county website with a red banner on top that will take you directly to the county webpage with additional information.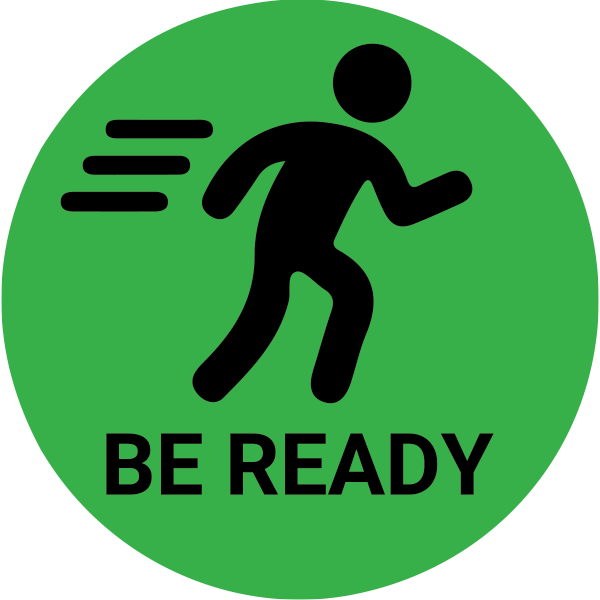 Level 1: Be Ready
Be aware, prepare and stay informed. This is the time to prepare and be ready to evacuate. Older adults, people with special needs, or mobile property owners should take action early. Consider moving pets and livestock early.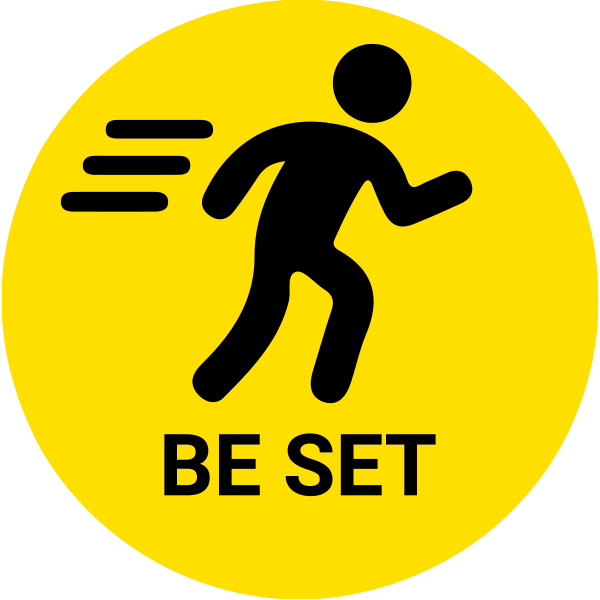 Level 2: Be Set
Be ready to leave with little notice and relocate to a safe place outside of the affected area. You will have limited time to gather necessary items and it may become unsafe to do so.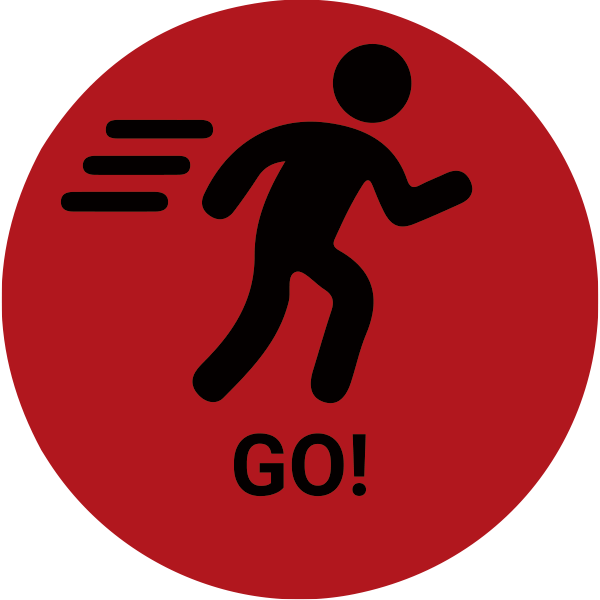 Level 3: GO!
Evacuate now! Leave immediately! It is unsafe for you to stay in the area. This will be the last notice you receive until officials declare it is safe to return to the area.
If evacuations become necessary, the county recognizes the need to establish shelters for the community and livestock. The county has identified locations for both of these and have prepared supplies and staffing should they become needed. But with both, they should be treated as last resorts. They are expected to be busy, should they open up. It's better to find places with friends and family now if you can. Please make your contingency plans now.
While these locations are not open yet, the county is planning to open them when a given area reaches a LEVEL 2 evacuation for animals and a LEVEL 3 evacuation for community members. Again, please be sure you're signed up to get the PublicAlerts to stay up to date.
The county and the Federal Incident Management Team have been using various methods to keep the community informed. A great source of information is the Camp Creek Fire Facebook page or the Camp Creek InciWeb page, both managed by the Incident Management Team. The county has also been using its wildfire webpage. There are also community meetings and information pop-ups scheduled throughout the affected area. For the most updated schedule check the Camp Creek Fire Facebook page.
Especially as we enter peak wildfire season, we sincerely like hearing from local residents, please provide any feedback with us at ccdm@clackamas.us. The feedback and insights you share with us is immensely helpful as we respond to and improve our strategies to protect the community from wildfire dangers.
Be sure to continue reaching out, help us share information with your networks and let us know if you need any additional resources. Also consider sharing the following: