Main Content
Clackamas County will hold a celebration of Indigenous' Peoples Day from 11 a.m. to 2 p.m. on Sunday, Oct. 8, at Clackamas Community College's Environmental Learning Center located at 19600 Molalla Ave. in Oregon City. Community members are invited to attend this event to honor our Indigenous communities through food, music and storytelling. Admission is free. Come experience this vibrant cultural experience featuring:
An opening blessing by Cheryle Kennedy, Chair of the Confederated Tribes of Grand Ronde
Storytelling with Darlene Foster and Ed Edmo
Flute performance by Jan Michael Looking Wolf and Robin Gentlewolf
Free books from Libraries in Clackamas County (LINCC) and Spoke and Word
Food for purchase from Sisters Fry Bread, Cowboys and Nacheaux food vendors
A variety of vendors selling handmade creations from Indigenous artists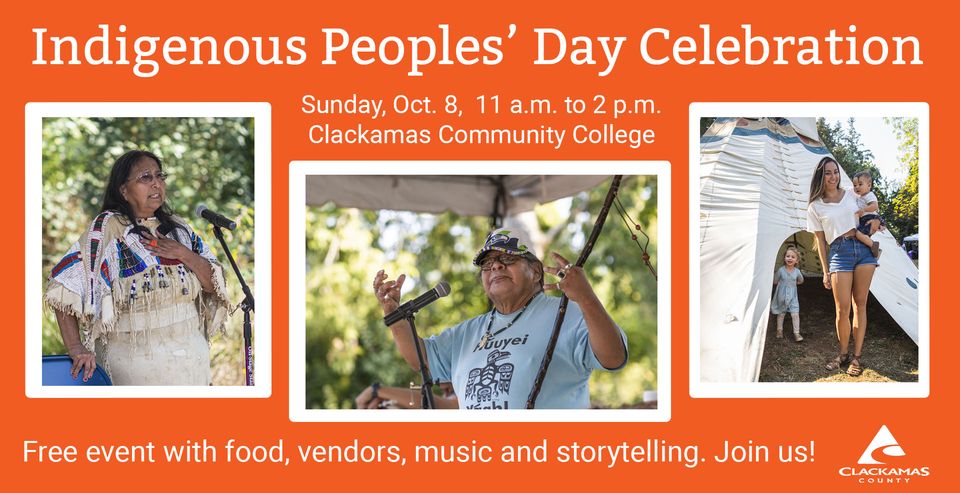 General parking is in the Yellow and Blue lots at Clackamas Community College, and accessible parking is available in the Brown lot near the Environmental Learning Center. There will be shuttles running from the parking lots to the Environmental Learning Center. Accessible and all-gender restrooms on site.
The event is sponsored by Clackamas County; Clackamas Community College and the Clackamas Community College Foundation; the Confederated Tribes of Grand Ronde; the Port of Portland; Unite Oregon and Mt. Hood Territory.
For questions about the event, email TracyMor@clackamas.us.
Watch a video from last year's event