News Release from Clackamas Co. Sheriff's Office
Posted: November 15, 2018, 3:17 p.m.
[Adapted from a Facebook post by Happy Valley Police....]
Please reference CCSO Case # 18-030675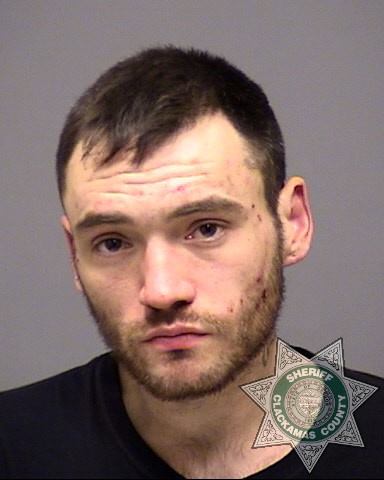 In the early morning hours of Tuesday, Nov. 13, 2018, an alert deputy contracted to the Happy Valley Police Department observed a small, tan pickup roll through the stop sign at SE King Rd and SE 129th Ave.
When the deputy stopped the truck, the driver admitted he rolled through the stop sign, explaining he had defective brakes and possibly a flat tire.
While talking to the driver, 26-year-old Patrick David Kennedy, the deputy heard a radio broadcast: A neighbor in the area of SE Idleman and Tyler Roads had reported seeing a suspicious male on his neighbor's property who left the area in a small tan pickup.
The deputy asked a few more questions -- and did not buy Mr. Kennedy's story that he was just taking a nap in his truck after randomly driving here. Kennedy denied being on anybody's property.
The deputy noticed several power tools and a small motorcycle in the truck. He asked about the items and Mr. Kennedy said he bought them on "Offer Up."
The deputy continued to investigate these suspicious circumstances. He soon learned that the citizen who called in the suspicious vehicle awakened his neighbor -- and learned that his neighbor had in fact had a small motorcycle stolen from his property.
That neighbor arrived on scene and positively identified the motorcycle as his.
Patrick Kennedy was arrested on Theft and Trespassing charges and booked into Clackamas County Jail. A booking photo is attached.
Happy Valley PD appreciates the alert resident who made a timely call to 911 with a good description of a suspicious person and then contacted his neighbor. His willingness to get involved led to an arrest and a neighbor being reunited with his motorcycle.
Happy Valley PD is still investigating this case and attempting to identify owners of the tools. Most notably, were three nail guns and two grinders.
Tips, Tool Owners Sought
If you have any information or had tools stolen on or around Tuesday, Nov. 13, please contact Happy Valley PD at 503-760-0123 and reference case #18-030675.
Three Clackamas County cities -- Happy Valley, Estacada and Wilsonville -- contract with the Clackamas County Sheriff's Office to provide municipal police services.
[END]