News Release from Clackamas Co. Sheriff's Office
Posted: Tuesday, November 27, 2018, 5:05 p.m.
Please reference CCSO Case # 18-016138
Booking photo: Keith Richard Bartholomew, 61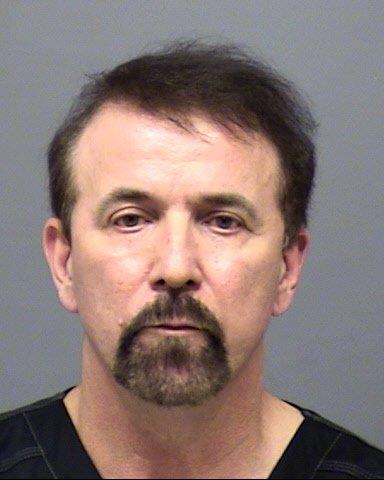 On October 31, 2018, the Clackamas County Inter-agency Task Force (CCITF) arrested Clackamas County veterinarian Keith Richard Bartholomew, 61, on charges that include Coercion and Menacing. Authorities are also asking members of the public for any additional information about their dealings with Dr. Bartholomew. His booking photo is attached.
The Menacing charge stems from a September 2018 incident in which Bartholomew allegedly brandished a handgun at an employee in the parking lot of his veterinary practice, Companion Pet Clinic on Southeast 82nd Drive in Clackamas.
The Coercion charge stems from a October 2018 incident in which Bartholomew allegedly sent threatening text messages to a former employee.
During the October 31, 2018 warrant service that led to the arrest, authorities confiscated multiple firearms Bartholomew possessed in violation of a restraining order out of Multnomah County.
A booking photo of Keith Bartholomew is attached. He was released on $12,500 bail.
Bartholomew was in the news in September 2018 after accusations that a 4-month-old pit bull was re-homed without the owner's knowledge after the clinic had agreed to euthanize the animal. KATU reported on this story here: https://katu.com/news/local/dog-owner-says-veterinary-clinic-re-homed-puppy-after-they-agreed-to-euthanize-dog
The CCITF is working with the DEA on an additional investigation of Mr. Bartholomew in a case involving alleged tampering with drug records, and authorities are also investigating multiple allegations of animal abuse and animal neglect, though no formal charges in either case have been filed at this time.
Additional Info Sought
Anyone with additional information on their dealings with Dr. Keith Bartholomew is urged to contact the Sheriff's Office Tip Line -- by phone at 503-723-4949 or by using the online email form at https://web3.clackamas.us/contact/tip.jsp. Please reference CCSO Case # 18-016138.
About the CCITF
The Clackamas County Inter-agency Task Force (CCITF) is a coordinated group effort by local, state and federal law-enforcement officials to reduce illegal drugs and related crimes -- including child endangerment -- in Clackamas County. Member agencies include Gladstone Police, Oregon City Police, Canby Police, Milwaukie Police, the Clackamas County Sheriff's Office, Clackamas County Community Corrections, the Clackamas County District Attorney's Office, and the Oregon State Police.
The Task Force targets Clackamas County's illegal drug-trafficking organizations (DTOs) and distributors through interdiction of sales, trafficking and related crimes. The CCITF handles calls large and small -- from street-level sales to wide-scale DTOs. The CCITF also works with local community organizations and government agencies (including Code Enforcement and crime-prevention organizations) to step up the pressure on offenders.

To learn more about the CCITF, or to send tips, click here: /sheriff/itf/
[END]
Contact Info:
Sgt. Brian Jensen
Clackamas County Sheriff's Office
Public Information Unit