Justin Coleman, 34, also arrested on steroid-dealing charges
Please reference CCSO Case # 18-014267
A follow-up investigation in the wake of a March 7 murder/suicide has led to the arrest of the man who illegally sold the semi-automatic rifle used in the killing.
On March 7, 2018, David Cote murdered Bethany Schuch outside a residence on Alderwood Drive in West Linn, shooting her multiple times with an SKS semi-automatic rifle. Cote then committed suicide by self-inflicted gunshot wound.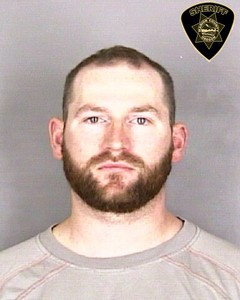 During the murder investigation, Clackamas County Sheriff's Office investigators obtained access to Cote's phone. This led to an investigation of Justin Joseph Coleman, 34, of Salem.
Until May 2018, Justin Coleman operated a side business out of his home as a federally licensed firearms dealer.
Authorities developed probable cause that Coleman illegally sold Cote the SKS rifle used in the March 2018 murder.
In a legal gun sale, Coleman would have filled out an ATF Form 4473 and initiated a background check on Cote before allowing him to purchase a registered firearm.
Instead, in February 2018 Coleman sold Cote an unregistered SKS rifle for an undisclosed amount of cash. This weapon was later used to murder Bethany Schuch.
On May 23, Sheriff's Office detectives, ATF agents, and Salem PD officers served a warrant at Coleman's Salem residence. Authorities recovered evidence of the illegal sale.
Coleman's Federal Firearms License (FFL) was revoked that same day.
Authorities also uncovered evidence that Coleman was illegally dealing anabolic steroids.
After further investigation, this morning (Wednesday, Dec. 12), the Clackamas County Sheriff's Office -- working with the U.S. Marshals Service and the Marion County DA's Office -- arrested Justin Coleman at his Salem residence. He was booked into Marion County Jail on charges including Possession of a Controlled Substance, Distribution of a Controlled Substance and Firearms Transfer by Unlicensed Person. Bail was set at $20,000. A booking photo is attached.
Our earlier release on the March 7 murder-suicide is reproduced below.
Note To media: The parents of the victim in the March 7 murder request privacy at this time, and decline all media interview requests.
[END UPDATE]
______
Earlier (Thursday, March 8, 2018, 11:13 a.m.) -- Sheriff's Office investigates apparent murder-suicide in West Linn
Please reference CCSO Case #18-006507
Just after 1:30 p.m. on Wednesday, March 7, 2018, Clackamas County Sheriff's Office deputies responded to a report of a shooting incident in the 400 block of Alderwood Drive in West Linn.
The caller reported that she had seen suspect David Cote, 34, arrive at the address in a black SUV, and that he was carrying a large firearm with a scope. The caller heard gunshots and reported that Cote had shot victim Bethany Noelle Schuch, 35, outside the residence at that address.
The Clackamas County SWAT Team and multiple patrol units responded to the area. Because the witness fled the scene immediately after seeing the victim on the ground outside the residence, authorities believed the suspect could be at large. As a precaution, police closed Borland Road and local parks; West Linn/Wilsonville School District schools were also briefly placed on lock-out status.
Deputies and SWAT arrived at the residence and located the victim and suspect. Both were deceased just outside the residence, in the breezeway between the house and the garage. The victim had suffered multiple gunshot wounds. The suspect had suffered what investigators believe was a self-inflicted gunshot wound to the head.
Detectives and members of the Criminal Reconstruction and Forensic Team (CRAFT) responded to the location to process the crime scene, gather evidence and conduct interviews.
Authorities have determined Mr. Cote and Ms. Schuch knew each other.
Borland Road was re-opened at approximately 3:30 p.m.
The Oregon State Medical Examiner is conducting autopsies on the victim and suspect to determine exact cause of death. This investigation is ongoing, and authorities are seeking any information from the public that will help fill in details leading up to the murder.
Additional Tips Sought
Anyone with information on David Cote and the events leading up to this apparent murder/suicide is urged to contact the Sheriff's Office Tip Line -- by phone at 503-723-4949or by using the online email form at https://web3.clackamas.us/contact/tip.jsp. Please reference CCSO Case #18-006507.
[END]