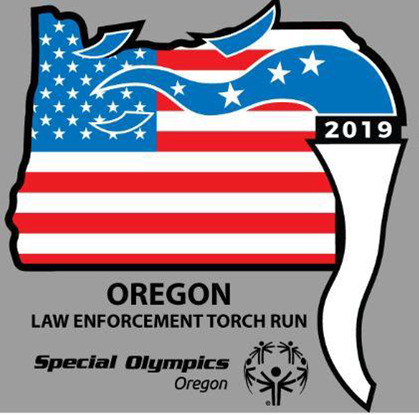 The Clackamas County Sheriff's Office is once again set to participate in the Special Olympics Torch Run this Thursday, June 6. The Torch Run raises money for Special Olympics Oregon.
Clackamas County deputies will partner with law enforcement from Washington County for the charity run.
The Law Enforcement Torch Run has been a critical support for Special Olympics athletes for more than 30 years.
Clackamas County's leg of the run will begin Thursday, June 6 at 10 a.m. at Hope Community Church and conclude at Cook Park, where there will be a barbeque for participants. The entire leg is 5.4 miles.
Media is invited to attend.
B-Roll Video
B-roll video from the 2018 and 2017 Special Olympics Torch Runs can be found at these Dropbox links:
This year's participant t-shirt design is also attached.
June 6 Route
Segment 1: Hope Community Church to 1st rest station at 16463 Boones Ferry Rd. (2.0 mi)
Head south toward Boones Ferry Rd.
Turn right toward Boones Ferry Rd.
Turn left onto Boones Ferry Rd.
Pass by Wells Fargo Bank, destination will be on the right: Olson Pediatric Clinic' parking lot 16463 Boones Ferry Road in Lake Oswego
Segment 2: 1st rest station to 2nd rest station at 16255 SW Upper Boones Ferry Rd (2.0 mi)
Head southwest on Boones Ferry Rd toward Madrona St
Continue onto SW Ferry Rd/Lower Boones Ferry Rd
Continue to follow Lower Boones Ferry Rd
Sharp right onto SW 72nd Ave
Turn left onto SW Upper Boones Ferry Rd, destination is 2nd rest station, will be on the left: 'The Circuit Bouldering Gym' (16255 SW Upper Boones Ferry Road, Tigard)
Segment 3: 2nd rest station to finish at Cook Park (1.4 mi)
Head southwest on SW Upper Boones Ferry Rd. toward SW Durham Rd.
Turn right at the 1st cross street onto SW Durham Rd.
Turn left onto SW 92nd Ave.
Arrive: Cook Park - 17005 SW 92nd Ave.
About Special Olympics Oregon
Special Olympics Oregonprovides year-round sports training and athletic competition in a variety of Olympic-type sports for children and adults with intellectual disabilities, giving them continuing opportunities to develop physical fitness, demonstrate courage, experience joy, and participate in a sharing of gifts, skills, and friendship with their families, other Special Olympics athletes, and the community.
The Law Enforcement Torch Run is a year-round campaign in which law-enforcement personnel support Special Olympics Oregon athletes by carrying the "Flame of Hope" Torch. Law enforcement supporters attend competitions, participate in medal ceremonies, and raise funds through special events so athletes can participate in the sports they love.
[END]