UPDATE (WEDNESDAY, JUNE 19) -- SUSPECT ID, BOOKING PHOTO, NEW DETAILS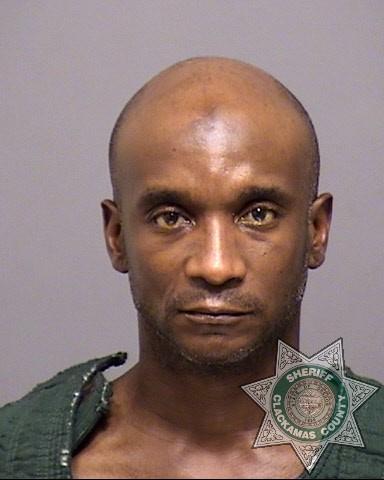 The suspect in this case is identified as Alain Rafael Rodriguez-Francis, 44, of Gresham. 
Rodriguez-Francis was treated and released from an area hospital for what is believed to be a self-inflicted stab wound to his arm. [Earlier reports from the scene that he had stabbed himself in the chest proved inaccurate.] 
Rodriguez-Francis was booked at Clackamas County Jail and held without bail on a charge of Attempted Murder. He is also being held on a count of Failure to Appear -- Unauthorized Use of a Vehicle and a count of Failure to Appear -- Possession of a Stolen Vehicle. His complete booking info can be found at https://web3.clackamas.us/roster/#inmates and his booking photo is attached.
The victim was identified as Rodriguez's ex-girlfriend. She is 35 years old [not 40, as reported from the scene] and a resident of Happy Valley. She was treated and released from an area hospital for cuts and stab wounds to her neck and hands.
This domestic-violence incident has been forwarded to the Clackamas County District Attorney's Office.
We urge anyone impacted by domestic violence to contact A Safe Place Family Justice Center or Clackamas Women's Services.
________
EARLIER (JUNE 17, 2019)
Please reference CCSO Case # 19-0014060
At approximately 11:05 a.m. on Monday, June 17, 2019, Sheriff's Office deputies contracted to Happy Valley PD responded to multiple 911 calls reporting a male with a knife had stabbed a victim at an address near SE 162nd and SE Misty Drive in Happy Valley.
According to the 911 callers, several people had fled the house, but the suspect was reportedly still in the home.
Deputies arrived and medical staged nearby. Upon arrival, deputies found that the male suspect had barricaded himself alone in the house. There were reportedly no firearms in the home, but the suspect was believed to still be armed with a knife. There were also reportedly aggressive Rottweiler dogs in the home.
Deputies also contacted a victim -- a 40-year-old female with multiple stab wounds. She was transported by AMR to an area hospital, where she is reportedly in serious condition.
Witnesses told deputies that the suspect had also stabbed himself.
The Clackamas County SWAT team was activated and staged at Happy Valley City Hall. Deputies blocked traffic at 162nd and Palermo.
A four-man team with a K9 entered a side door of the residence. They located the suspect lying on a bed, breathing but not otherwise moving. He had multiple stab wounds to the chest. He was removed from the home and also transported to an area hospital with significant injuries. He is reportedly in serious condition at this writing.
Currently CSI personnel and detectives are processing the crime scene and conducting interviews.
The preliminary investigation is still underway. At this time authorities will not release the victim or suspect names as they continue to gather information. More details will be released as the investigation continues.
ADDITIONAL INFO SOUGHT
Anyone with information on this knife attack and the events leading up to it is urged to contact the Sheriff's Office Tip Line — by phone at 503-723-4949 or by using the online email form at https://web3.clackamas.us/contact/tip.jsp. Please reference CCSO Case # 19-0014060.
Three Clackamas County cities -- Happy Valley, Estacada and Wilsonville -- contract with the Clackamas County Sheriff's Office to provide municipal police services.
[END]
Deputy Bryon O'Neil
Clackamas County Sheriff's Office
Public Information Unit