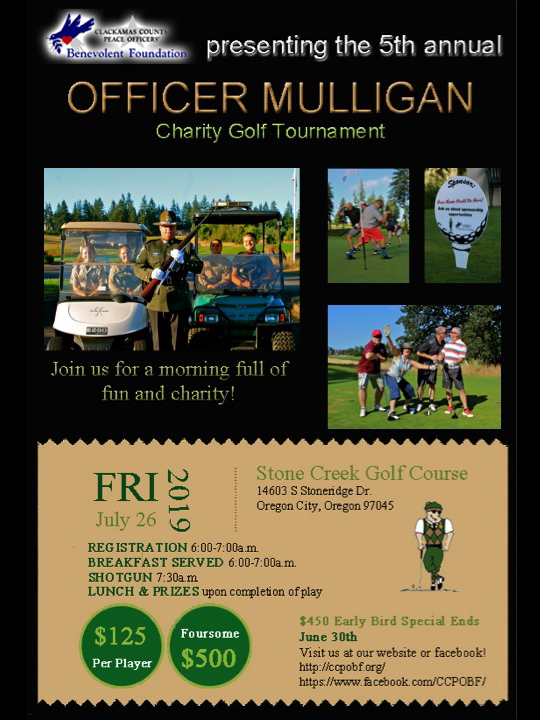 "Christmas in July" just got real.
Santa Claus -- yes, Santa Claus-- will be at Stone Creek Golf Course (14603 South Stoneridge Dr., Oregon City, map)  today (Monday, July 1), between 11 a.m. and 12:30 p.m.
Santa is on the course with some Clackamas County Sheriff's Office deputies this morning to work on his golf swing -- and he'll also share information with media about a charity golf tournament later this month that raises money for the annual "Shop with a Cop" event. 
The fifth annual "Officer Mulligan" charity golf tournament is set for Friday, July 26, 2019, with a shotgun start at 7:30 a.m. This very special golf tourney features raffle prizes, breakfast and lunch, and raises money for December's "Shop With A Cop" event. Learn more here: https://ccpobf.org/programs/officer-mulligan-charity-golf-tournament.html A flyer is attached.
Proceeds from the tournament go toward "Shop with a Cop" -- in which local law-enforcement officers locate children whose low-income families have had some enforcement contact with police, present those children with $100 gift cards, and then shop with them at the Wal-Mart. Wal-Mart wraps all the gifts for the kids, supplying gift-wrap, ribbon and tags. It's a wonderful opportunity for police and kids to get to know one another.
Find our press release about last year's "Shop with a Cop" -- featuring links to video from previous years -- right here: https://www.clackamas.us/sheriff/2018-12-05-CCSOPR-ShopWithACop2018.html
[END]
Sgt. Marcus Mendoza
Clackamas County Sheriff's Office
Public Information Unit