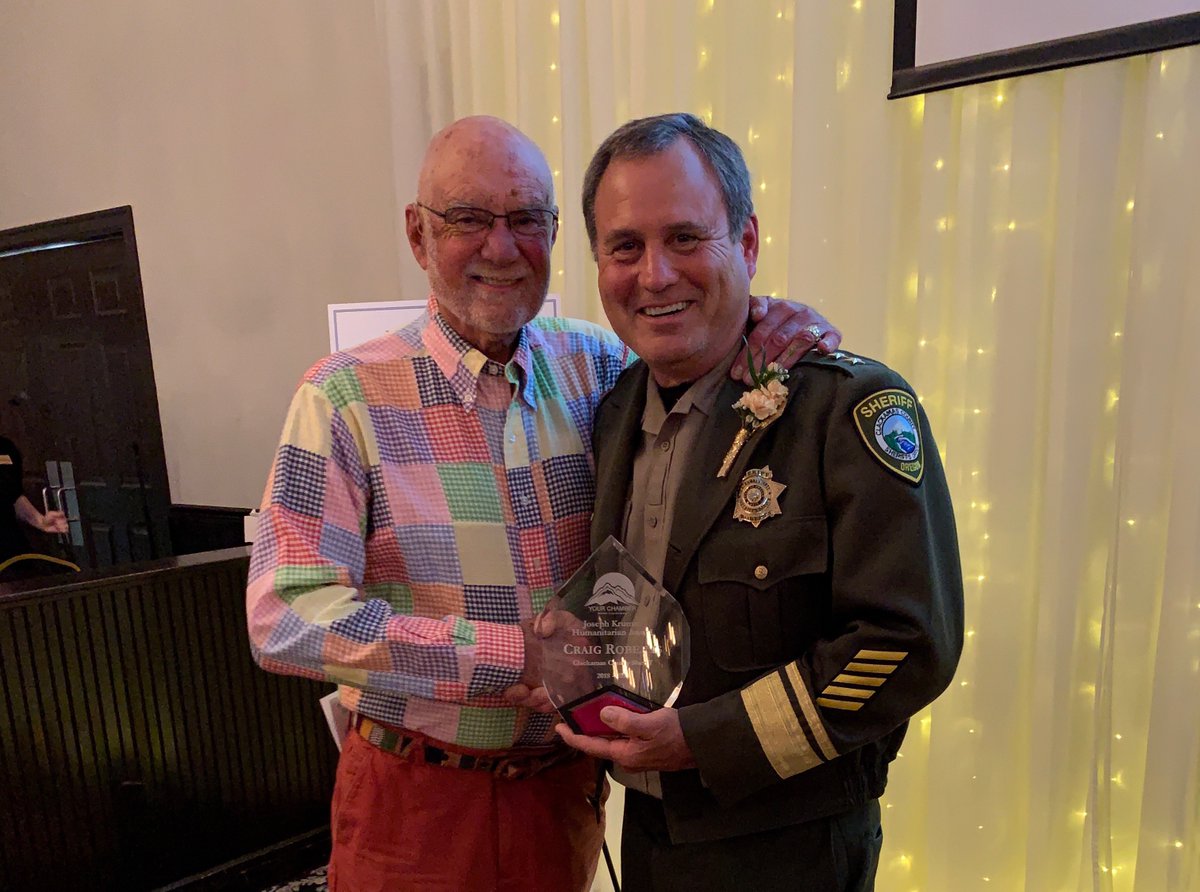 The North Clackamas Chamber of Commerce presented Clackamas County Sheriff Craig Roberts with its "Joseph Krumm Humanitarian Award" during its Annual Awards Celebration June 27 at Gray Gables Estate in Milwaukie.
Sheriff Roberts was recognized and celebrated for years of contributions and service to the community -- including his initiatives to combat child abuse and family violence, his work on narcotics interdiction and inmate drug addiction, his support of deputies serving in the military, and his achievements as Chair of the governor's Oregon Task Force on School Safety, including introduction of the "Oregon Safe to Learn Act."
(A bio with details on his work in each of these arenas is below.)
The Humanitarian Award is named for the late Joseph Krumm, who passed away in 2016 at age 61 after a long career of service that included work as executive director of community and government relations at the North Clackamas School District and as editor of the Clackamas Review.
"It's an honor to be recognized," said Sheriff Roberts, "and also to be recognized with an award named after Joe, who was an incredible advocate for children."
Photos of Sheriff Roberts at the June 27 Awards Celebration are attached.
ABOUT SHERIFF ROBERTS 
Born and raised in Clackamas County, Craig Roberts was sworn in as Clackamas County Sheriff on Jan. 4, 2005, and has been re-elected three times since. He began his career as a reserve deputy in 1979 and was hired full-time in 1982. As a deputy sheriff, he served as a 10-year member of SWAT, an undercover narcotics investigator and a major-crimes detective.
He has launched several initiatives aimed at protecting children and families from abuse — including the formation of Clackamas County's first Child Abuse Teamand the multi-agency Domestic Violence Enhanced Response Team (DVERT), which he led as its director.
As a detective, Sheriff Roberts worked at Portland's CARES child abuse center for two years. That experience led him to see the need for a center in Clackamas County. Roberts then teamed up with a researcher and conducted a needs assessment for a child-abuse center in Clackamas County. The need became clear — and after helping present the idea to county leaders, the Children's Center of Clackamas County became a reality in 2004. Roberts served as a Children's Center board member through a successful fundraising effort and the construction of a new Children's Center facility that opened in 2011.
In 1999, he launched the internationally recognized Child Abuse & Family Violence Summit. This landmark conference has since trained over 13,000 attendees from 13 countries, awarded over 2,000 scholarships and featured over 1,100 classes and workshops taught by over 700 presenters.
In 2007, Sheriff Roberts launched the Inter-agency Child Exploitation Prevention Team (INTERCEPT). This multi-agency team focuses on online predators who target children — those who distribute child pornography and those who go online seeking sex with children.
In 2003, Sheriff Roberts started the annual National Family Violence Apprehension Detail. This is a coordinated warrant sweep by law enforcement agencies across the United States, in which they work together on a single day to arrest wanted individuals for family violence-related crimes. To date, the sweep has led to over 76,000 warrant attempts and over 16,000 warrants served.
In 2014, Sheriff Roberts and Clackamas Women's Service Director Melissa Erlbaum spearheaded the creation of Oregon's first Family Justice Center, A Safe Place. The Family Justice Center model features a number of services under one roof, and was identified by the U.S. Department of Justice as the best-practice model to provide intervention services for domestic violence survivors. In 2016, the National Association of Counties named A Safe Place Family Justice Center "Best in Category" for Criminal Justice and Public Safety.
A key initiative from A Safe Place is Camp Hope Oregon, a two-week camp for children who've survived or been exposed to trauma. Participating children work with counselors for an entire year to help them address the trauma they experienced.
Sheriff Roberts was also among those who lobbied in support of the passage of Oregon Senate Bill 1562, which increased the crime of strangulation during domestic violence to a felony. The new law took effect on Jan. 1, 2019.
Sheriff Roberts has also launched numerous law enforcement initiatives to help those struggling with mental illness and addiction issues. He implemented the Behavioral Health Unit, which works directly out of the Sheriff's Office Patrol Division; it includes five mental health clinicians who assist patrol deputies by responding to calls with those struggling with mental health issues. This intervention program is designed to provide front-line mental health care to those who need it the most.
Sheriff Roberts has also made narcotics interdiction — and treating inmate drug addiction — a major focus.
His initiatives include creation of the Clackamas County Inter-agency Task Force (CCITF), a coordinated group effort by local, state and federal law-enforcement officials to reduce illegal drugs and related crimes, including child endangerment, in Clackamas County. In 2016 the CCITF received the "Outstanding Task Force Award" from Oregon-Idaho HIDTA and the Oregon Narcotics Enforcement Association. This team has made major impacts on drug trafficking organizations, and has been praised as "the gold standard" by an Oregon U.S. Attorney.
Understanding the link between drug addiction and criminality, Sheriff Roberts is also dedicated to inmate substance abuse recovery and ending the county jail's "revolving door" for those struggling with addiction. To that end, the Sheriff's Office's Community Corrections Division oversees 84 residential treatment beds. This program is unique — the only one of its kind in Oregon and one of the few in the United States. This Clackamas Substance Abuse Program (CSAP) features longer treatment not dictated by insurance, uses medication-assisted treatment, and addresses depression and other mental health issues. It also extends care by moving clients to clean and sober living, and helps program participants get living wage jobs while providing access to mentors. All of this gives participants a genuine shot at success.
Sheriff Roberts also goes above and beyond to support deputies who serve in the military. He created the Military Employee Support Program in 2014 to offer financial and logistical support to employees and their families during a deployment. In 2016, the Department of Defense awarded the Clackamas County Sheriff's Office its Freedom Award — the highest honor given to employers for their support of employees in the National Guard and Reserve forces. The award recognized Sheriff Roberts' efforts to create and pass legislation in Oregon that would allow employers to make up the difference between military and civilian pay.
President Obama recognized the Sheriff's Office for its response to the December 2012 active-shooter incident at Clackamas Town Center. Invited to the White House, Sheriff Roberts met with others from Sandy Hook and Virginia Tech to share lessons learned. Regionally, drawing from the experience of the Town Center shooting, the Sheriff's Office provided key assistance during the June 2014 Reynolds High School and 2015 Umpqua Community College shootings.
Sheriff Roberts is a graduate of the National Sheriffs' Institute and serves as a member of the National Sheriffs' Association's Domestic Violence and Crime Victim Services Committee. He is also a Family Justice Center Board Member, a member of the Association of Threat Assessment Professionals, and Chair of the governor's Oregon Task Force on School Safety (OTFSS). He currently serves as the President of the Oregon State Sheriffs' Association.
In his capacity as OTFSS chair, he helped introduce HB 2327 and SB 584, which just passed to fund the "Oregon Safe to Learn Act"— which establishes a Statewide School Safety and Prevention System within the Oregon Department of Education. This will provide 15 full-time Technical Support Specialists who will work directly with schools to develop mental wellness and suicide prevention strategies. It will also help schools establish local multi-disciplinary safety assessment teams to respond to threats of violence — with law enforcement playing an important role on these teams.
[END] 
Sgt. Marcus Mendoza
Clackamas County Sheriff's Office
Public Information Unit