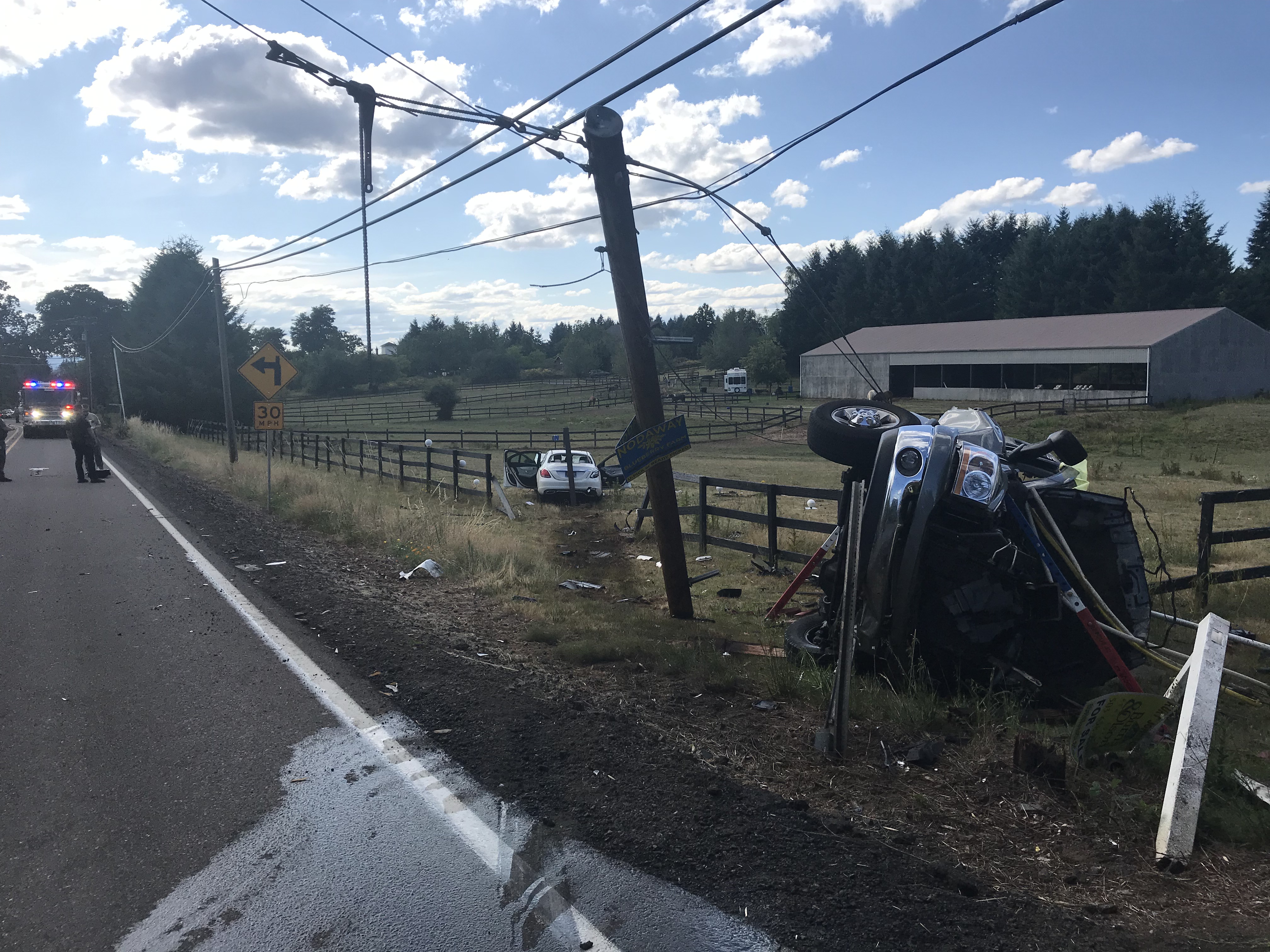 UPDATE (Tuesday, July 14) -- DECEASED ID
Please reference CCSO Case # 19-016190
The man who died as result of the July 12 collision can now be identified as Gregory Edwin Frogner, 65, of Milwaukie.
Mr. Frogner had been operating the 2006 Ram truck. He had one passenger with him, identified as Nicole Lee Cereghino, 43, of Oregon City. Cereghino sustained non-life threatening injuries and was transported to an area hospital for treatment.
The driver of the 2015 Mercedes sedan was a 17-year-old male. He had two 17-year-old male passengers in the car with him. All three juveniles were transported to an area hospital for treatment of non-life-threatening injuries.
Frogner had been travelling southwest on SW Stafford Rd. when he was struck by the Mercedes, which had been travelling northbound on SW Newland Rd. SW Newland Rd has a posted stop sign at that intersection.
This case is still under investigation. No further information will be released at this time.
EARLIER (Friday, July 12)
On July 12, 2019 at 3:35 p.m. deputies from the Clackamas County Sheriff's Office responded to the report of roll-over vehicle collision in the area of SW Stafford Rd and SW Newland Rd, near Tualatin, OR. As result of the crash, one vehicle collided with a utility pole and powerlines were down.
The collision involved a pick-up truck and a sedan. One person was confirmed to be deceased when first responders arrived.  There were four others injured as result of this crash.  All four of the injured were transported to area hospitals, one with life-threatening injuries.
Investigators are on scene conducting a thorough investigation.  The Clackamas County Criminal Reconstructionist and Forensic Technicians Team (CRAFT) is on scene collecting evidence.  At this point, impairment is not believed to be a factor in this crash. 
Multiple agencies responded to this incident to include, Clackamas County deputies assigned to the City of Wilsonville, Tualatin Valley Fire & Rescue, Clackamas County Medical Examiner's Office, Oregon City Police, the Clackamas County Road Department and PG&E. 
SW Stafford Road is expected to be closed at this location until at least 7:00 p.m.
None of the names of the involved parties will be released at this time as this is still an active investigation.
TIPS SOUGHT
Anyone with information on this case is asked to call the Clackamas County Sheriff's Office Tip Line -- by phone at 503-723-4949 or by using the online tip form at https://web3.clackamas.us/contact/tip.jsp. Please reference CCSO Case # 19-016190. 
[END]
Sergeant Marcus Mendoza 
Clackamas County Sheriff's Office 
Public Information Unit