UPDATE (Aug. 9, 2019, 8:07 a.m.) -- SUBJECT LOCATED
Sheriff's Office deputies and Clackmas Fire personnel located Eloise Murphy last night on the Springwater Trail near Luther Road just after midnight on Friday, August 9, 2019. 
She was found to be dehydrated and transported to an area hospital for evaluation.  Her family was notified.  Thank you for keeping an eye out.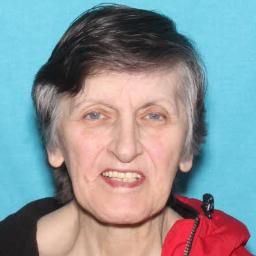 EARLIER (August 8th, 2019 4:41 PM)
Please reference CCSO Case # 19-018199
The Clackamas County Sheriff's Office is asking for the public's help as it searches for 72-year-old Eloise Murphy, missing from the Oak Grove area since July 30.
She travels with her large black cat, who rides in a blue stroller.
Eloise Murphy left her Oak Grove/Milwaukie home around Tuesday, July 30, 2019 and has not been seen since.
Ms. Murphy frequents the TriMet system and travels to Portland often. This includes the SE 82nd and Holgate areas, along with SE 52nd and Foster Rd. Ms. Murphy travels with her overweight black cat, who rides in a blue children's stroller.
Know her whereabouts? Contact us at 503-723-4949 or 503-655-8211 or http://web3.clackamas.us/contact/tip.jsp -- please reference CCSO Case # 19-018199.
A bulletin and photos are attached.
[END]
Contact Info:
Sgt. Marcus Mendoza 
Clackamas County Sheriff's Office 
Public Information Unit