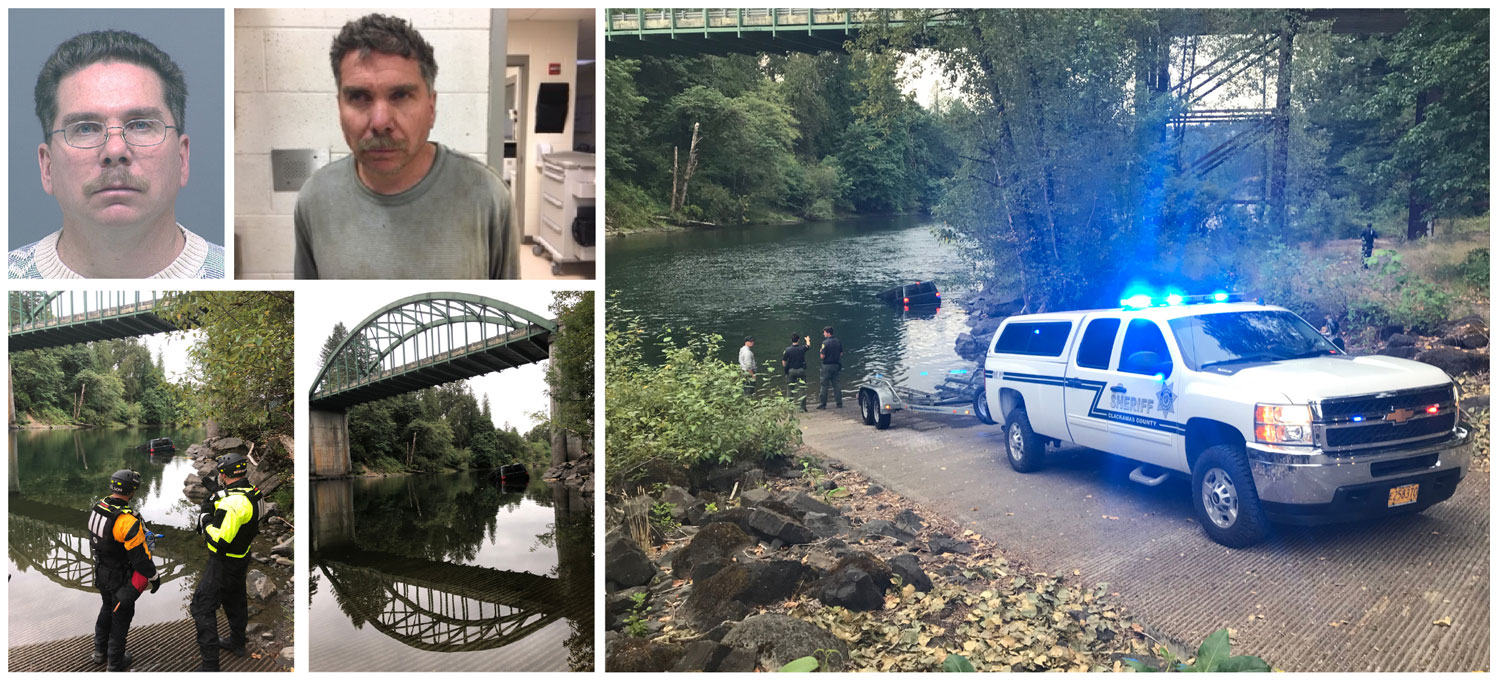 UPDATE (August 10, 2019, 2:01 p.m.) -- CCSO LOCATES, ARRESTS DANIEL FINDLEY
Photos:
UPDATE: Daniel Wayne Findley was contacted by Patrol deputies around 4 a.m. on August 10, 2019. He was called in as a suspicious person in the area of Hwy 224 and 197th Ave.  Deputies located Findley in a disheveled condition.  He asked to go to the hospital.
Deputies learned who he was and detained him. Clackamas Fire District #1 and American Medical Response came to the scene to check on Findley.  He was then transported to the Clackamas County Jail without incident and later interviewed by an investigator from the Clackamas County Domestic Violence Enhanced Response Team (DVERT).
Findley was booked at the jail on the following charges: 
Attempted Assault II
Failure to Perform the Duties of a Driver (Injury)
Reckless Endangering
EARLIER (August 9, 2019, 8:38 a.m.) -- CCSO IDENTIFIES WANTED DRIVER
The driver of the van was identifed as Daniel Wayne Findley, 51, of Portland.  He has not been located.  A previous booking photo is attached.  If you see Findley or know his whearabouts you are aked to call 911.  He is wanted for Assualt 4, Reckless Endangering and Failure to Preform the Duties of a Driver.
Reference Clackamas County case #19-018527
EARLIER (August 8th, 2019, 10:45 p.m.) -- DRIVER INTENTIONALLY DRIVES VAN INTO CLACKAMAS RIVER WHILE WIFE IS PASSENGER
On August 8, 2019 at approximately 6:30 p.m., deputies from the Clackamas County Sheriff's Office responded to the report of a van that had driven into the Clackamas River at the Barton Park boat ramp.
When deputies arrived they heard the van had been occupied by a male and a female.  The male was driving and the two are married.  The female stated the male had turned into the park without saying anything.  They were not intending on going to Barton Park.  The male drove to the boat ramp and accelerated, still without saying anything.
The van entered the river at about 35-40 mph.  The female injured her knee due to the impact.  They were both able to exit the submerging van through the driver's door.  The male made his way to the center of the river and began to float downstream.  The female made her way to shore where she was assisted by people there. 
Deputies responded to the area and deployed marine units and their boats, the Water Rescue Team, and a canine team to search for the male.  The Clackamas County Water Rescue Consortium deployed to the location to in case a water rescue was needed.  The suspect was not located.  
The water rescue team worked with Clackamas River Towing to remove the half-submerged van from the water.  
Deputies investigated the incident and determined they had probable cause to arrest the driver for Assault IV Domestic Violence.  Deputies are still looking for the suspect. 
The suspect and victim will not be identified at this time.  
[END]
Contact Info:
Sgt. Marcus Mendoza 
Clackamas County Sheriff's Office 
Public Information Unit