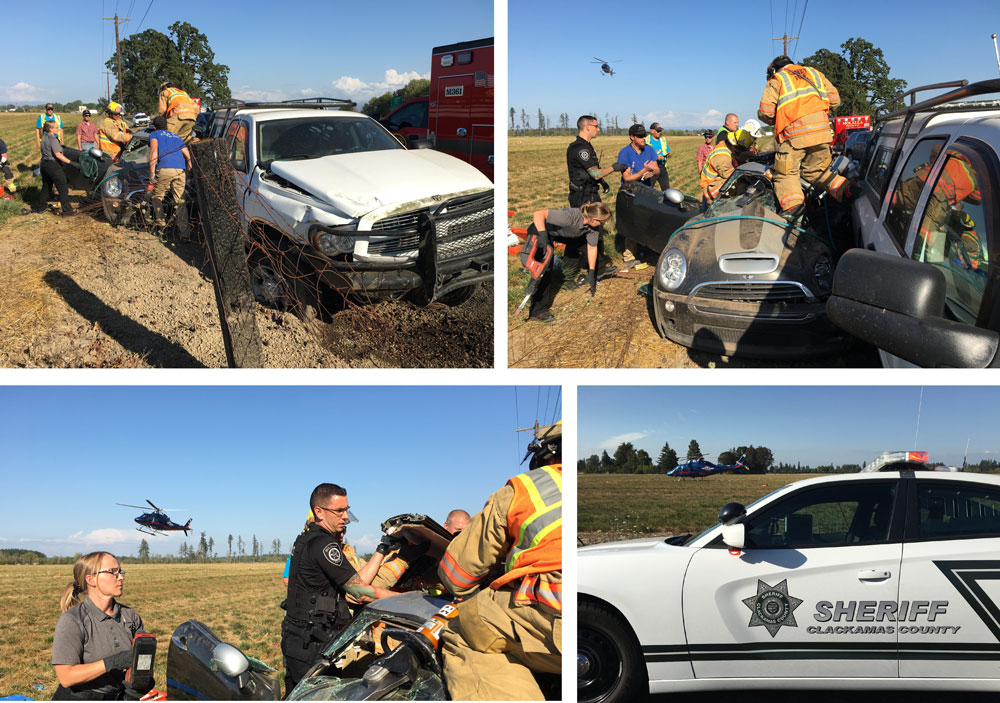 UPDATE (Friday, Sept. 13) -- NAMES OF DECEASED, ADDITIONAL DETAILS
Family notifications are complete, and the deceased can now be identified as:
Driver of Mini Cooper: Tracy Nataly Ventura-Mendoza, 26, of Woodburn
Passenger: Jesus Alberto Vazquez-Mendoza, 22, of Woodburn
Following a forensic analysis of the crash, authorities believe the Mini Cooper ran the stop sign at the crash location.
EARLIER (Sept. 7, 2019)
On September 6, 2019, at 4:36 p.m. deputies were dispatched to the report of a two-vehicle traffic collision with entrapment at S. Barnards Rd. and S. Dryland Rd., located in unincorporated Clackamas County between Molalla and Canby.  There were serious injuries reported.
Deputies responded to the location along with personnel from Molalla Police, Molalla Fire and Canby Fire. 
First responders arrived and found several citizens in the area helping. The collision was between a Mini Cooper and a Ram pickup. Both vehicles had extensive damage. The driver of the truck appeared to be uninjured. 
The female driver of the Mini Cooper was found to be deceased in the vehicle. The male passenger had extensive injuries.  He was taken to an area hospital by Life Flight and later died as result of his injuries. 
A Clackamas County Deputy Medical Examiner and the Clackamas County Sheriff's Criminal Reconstruction and Forensic Technicians team (CRAFT) responded to assist with the investigation.  As result of the initial investigation, it is believed the driver of the Mini Cooper was at fault. 
The names of the deceased and the cause and factors of this crash have not been released yet. 
Please reference CCSO Case # 19-021133
[END]
Contact Info:
Sgt. Marcus Mendoza 
Clackamas County Sheriff's Office 
Public Information Unit