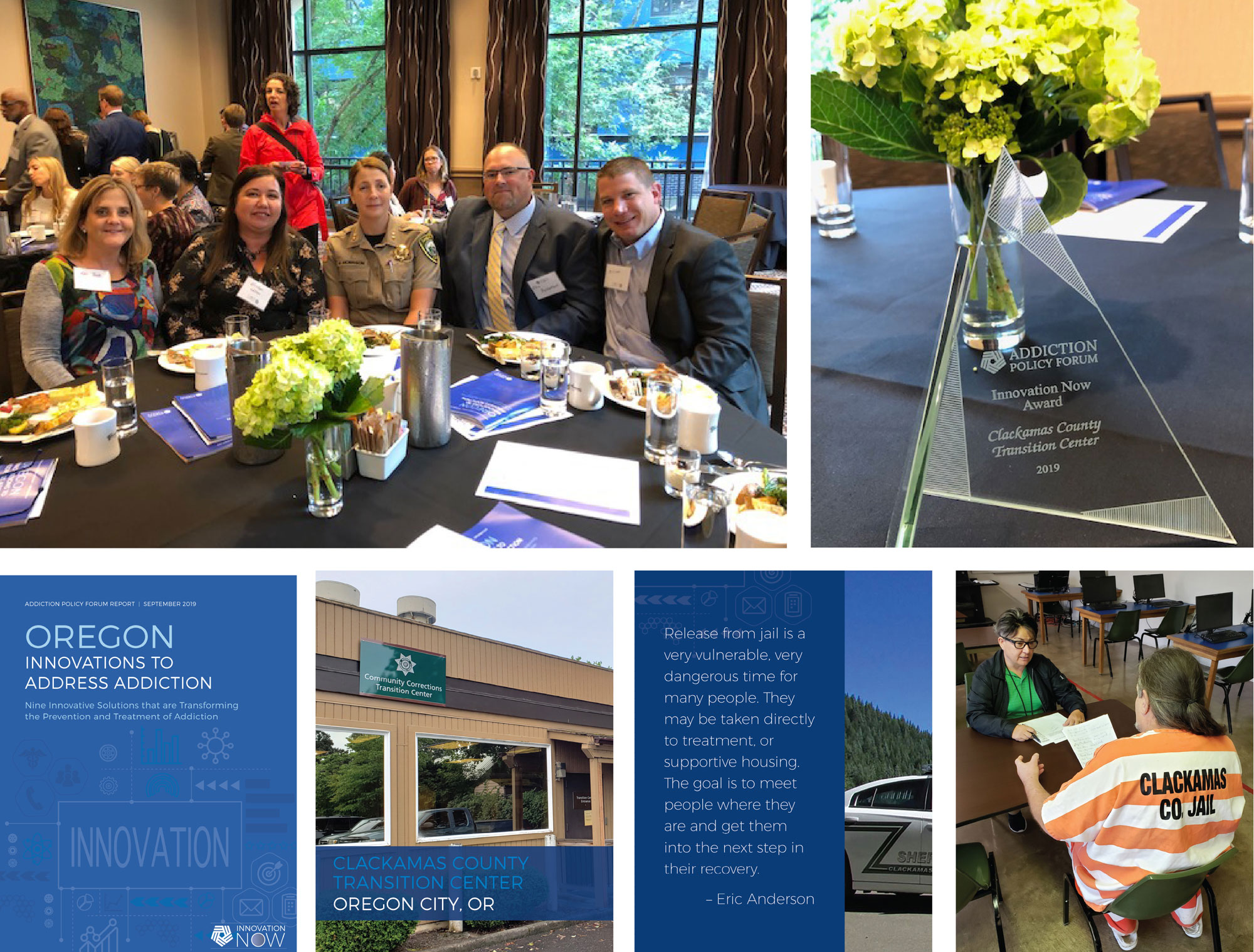 Addiction Policy Forum recognized the Clackamas County Transition Center in its Oregon Innovations to Address Addiction report, which spotlights innovative programs that address addiction and provide support for families and communities.
The report is available online here.
According to Jessica Hulsey, founder of the Addiction Policy Forum, "The Innovation Now Initiative recognizes revolutionary programs, such as Clackamas County Transition Center, that are transforming the response to addiction in Oregon and offering solutions during a time of crisis."
The Clackamas County Transition Center offers services to those leaving jail or prison and to those at risk of returning. The Center is located across the parking lot from the Clackamas County jail. Services include employment and housing assistance, peer mentors, cognitive therapy, mental health and substance use disorder assessments, on-site health care referrals, GED courses and parenting classes.
On September 10, 2019, the Addiction Policy forum presented the Transition Center team with its "Innovation Now" award. Photos from the award ceremony are attached.
"Before, we were working behind the curve and looking for treatment options once they got out. Now a plan is in place when they do," explains Transition Center Supervisor Eric Anderson. "We are honored to be awarded an Innovation Now program by Addiction Policy Forum."
In an email to Transition Center staff, Anderson wrote:
The Transition Center was recognized along with eight other programs from around the state as being innovative and ground-breaking in the field of addiction. It was very humbling to be in a room with representatives of these other programs and to hear the stories of changes that are taking place in people's lives.

I cannot state enough how proud I am of all of you and the work that you do to help people break out of the cycle of criminality and addiction. Your efforts are being recognized at both the local and national levels and you are truly helping to save the lives of the people that we serve.
ABOUT THE TRANSITION CENTER:
The Clackamas County Transition Center is the first facility of its kind in Oregon -- and a major step forward in reducing our jail population.
The Transition Center -- located in CCSO's former South Station in Oregon City -- is an all-in-one location providing crucial services to people leaving jail or prison and to those at risk of returning. Its goal is to break patterns and change lives.
Clients can walk out of our jail upon release, cross the parking lot, and enter the Transition Center to get access to services including:
Employment and housing assistance
Peer mentors
Cognitive therapy
Mental-health and substance-abuse assessments
On-site health care (provider on-site 4 hours/week)
Bi-monthly health-care enrollment
Basic needs
Hygiene items
GED courses through Clackamas Community College
Parenting classes through Northwest Family Services
Transition Center Probation Officers also conduct "reach-ins" at the Clackamas County Jail and local prisons -- completing risk assessments, developing release plans and beginning the referral process for clients before they're released.
ABOUT ADDICTION POLICY FORUM:
Addiction Policy Forum is a national nonprofit organization dedicated to eliminating addiction as a major health problem. Our national headquarters are located in Washington, DC with resources and services in every state.
[END]
Kelsey Trotter
addictionpolicy.org
Sgt. Marcus Mendoza
Clackamas County Sheriff's Office
Public Information Unit