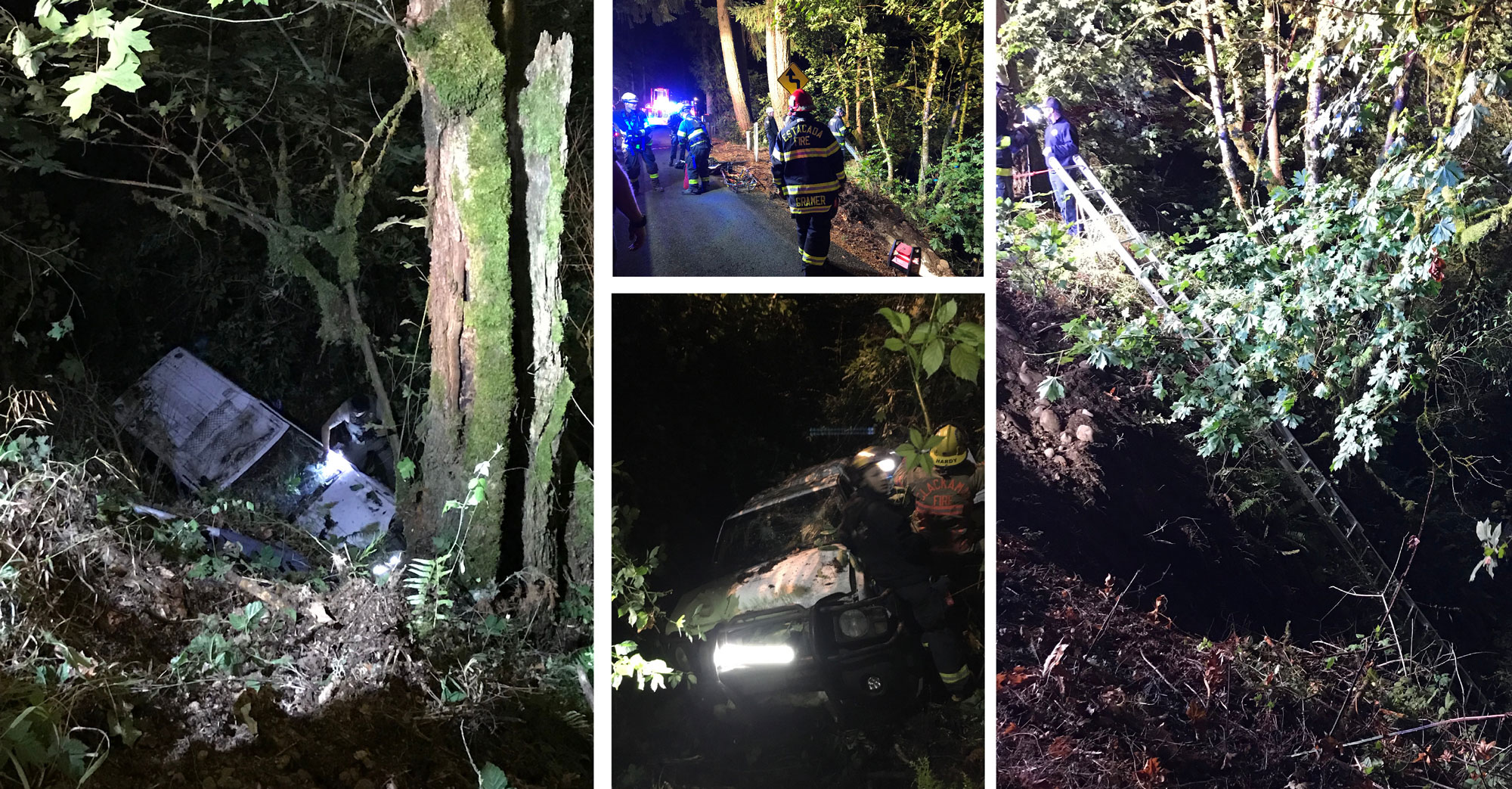 Please reference CCSO Case # 19-022002
At approximately 11:12 p.m. on Monday, Sept. 16, 2019, Clackamas County Sheriff's Office deputies were dispatched to the report of an incomplete 911 call near SE Heiple Rd and SE Samuels Rd in Eagle Creek.
The caller had offered limited information to dispatch: She reported she was in a ravine and needed help. She did not know where she was -- but was able to eventually tell dispatch that she had just left the Eagle Creek Saloon. 
Dispatch gave deputies a general location for the origin of the call. Deputies responded to the area.
They soon located tire tracks leaving the roadway.
When looking over the cliff at the side of the road, they observed a silver Nissan Xterra down in a ravine.
This was, in fact, a traffic crash.
Estacada Fire, American Medical Response and Clackamas Fire District #1 personnel responded to the scene. Life Flight was also placed on standby. 
Rescuers determined they would need to conduct a technical rope rescue to reach the vehicle and extract the driver. 
The driver was identified as Kristin Ann Madden. 
Once extracted from the vehicle, she was -- incredibly -- able to walk, and appeared to have suffered only minor injuries. Life Flight was canceled, and rescue personnel helped Madden reach the top of the cliff. 
Madden was transported to an area hospital for treatment. While at the hospital, the deputy continued his crash/DUII investigation. At one point, Madden told authorities she drove off the roadway due to a squirrel. She was issued a citation in lieu of custody on Driving Under the Influence of Intoxicants.
Photos of the crash scene and rescue operation are linked above.
[END]
Contact Info:
Sgt. Marcus Mendoza 
Clackamas County Sheriff's Office 
Public Information Unit