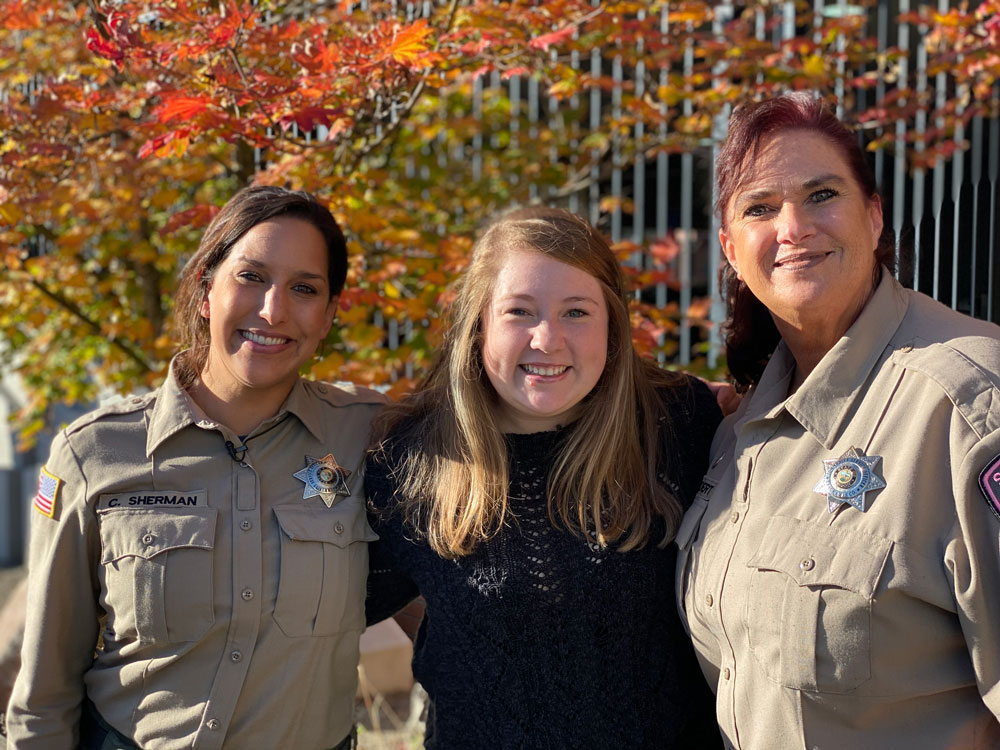 At 4 p.m. today (Thursday, Oct. 24), a Vancouver woman will stop by the Sheriff's Office Brooks Building (9101 SE Sunnybrook Blvd., Clackamas) to thank the two Community Service Officers who helped her when she was lost on the Clackamas River Trail on Oct. 5. She has graciously agreed to talk to interested media outlets.
The incident began on Saturday, Oct. 5. Our CSO Shari Kundert received a call reporting a woman -- Keenan Grana-- yelling for help across the Clackamas River. She was lost on the Clackamas River Trail headed toward Fish Creek.
As the CSO worked to gather information for Search & Rescue Coordinators, Grana managed to get through to the Sheriff's Office on her own cell phone.
CSO Kundert and CSO Carin Sherman would spend the next two hours on the phone with her.
"I don't even know how she got service that entire time," said Sherman.
As temperatures dropped, the two CSOs talked Grana through her understandable nervousness and got her walking, using Grana's iPhone coordinates to make sure she was heading in the right direction.
"Once we got her speaking about the charity she works for advocating and helping at-risk teens -- Transitional Youth-- she perked right up," said Sherman. (Grana works as a House Manager at Transitional Youth.) "By the time our call ended, she had reached the trailhead and our Search & Rescue guys met her. It would have taken an additional two to three hours of her being out in the cold, had she not gotten the courage to walk her way out."
This afternoon at 4 p.m. Keenan Grana plans to drop by our Brooks Building headquarters to thank CSOs Kundert and Sherman in person. She has agreed to media interviews. MEDIA: Please contact the PIO if interested in stopping by.
[END]