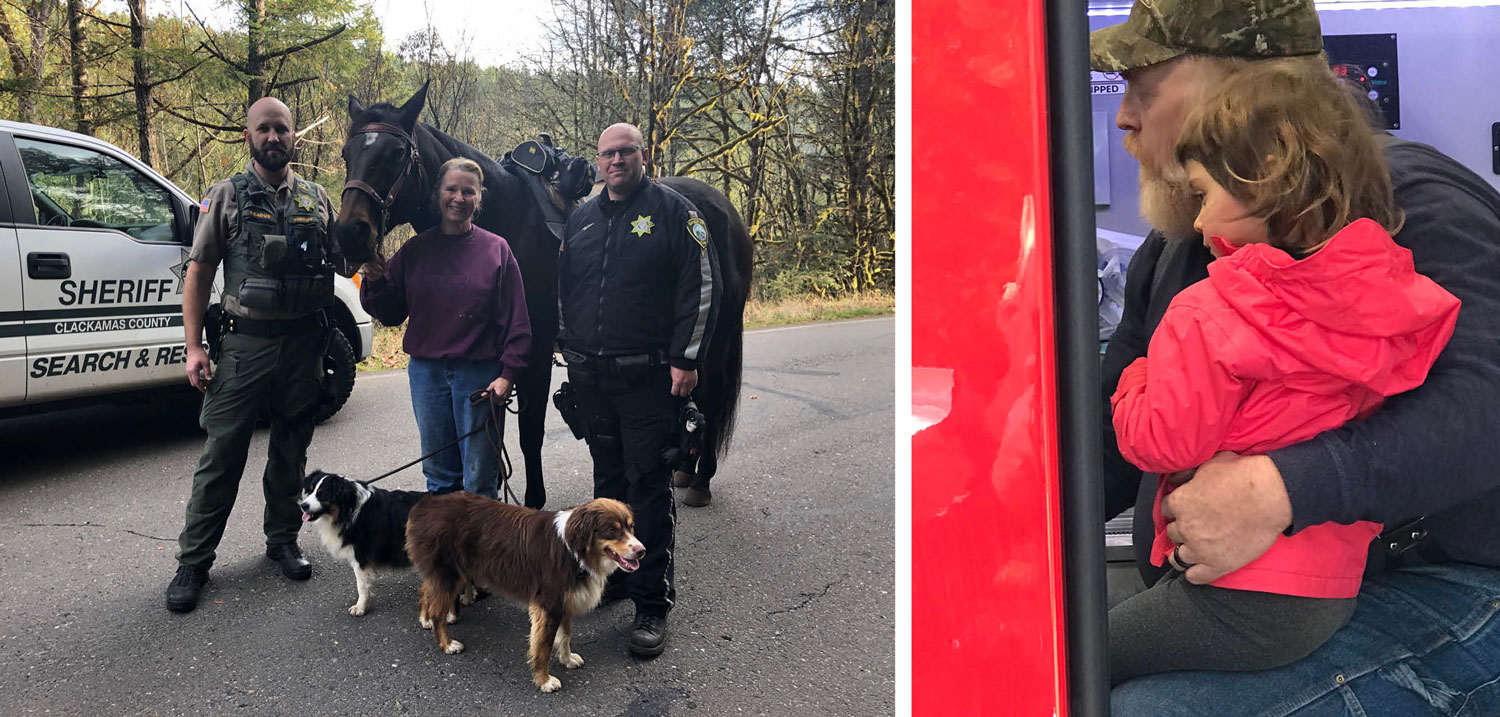 Please reference CCSO Case # 19-026456 
B-ROLL VIDEO, INCLUDING TAMMY STEVENS INTERVIEW (.mp4 format):
https://www.dropbox.com/s/uvviavbawav60oh/2019-11-07-MolallaRiverTrailRescueBRoll.mp4?dl=0
MOLALLA -- The Sheriff's Office is thanking local logging crews and a woman on horseback for their help during a successful search for a missing 2-year-old.
At approximately 11:19 a.m. on Thursday, November 7, 2019, the Clackamas County Sheriff's Office was notified of a missing 2-year-old girl in the Molalla River Recreation Area. This area is maintained by the Department of the Interior, Bureau of Land Management. It is located about 10 miles south of the city of Molalla, OR. 
There is very limited cellular reception in the area, which made it difficult to obtain detailed information. Dispatch received two initial calls -- one from a passerby who was flagged down by a grandmother who stated she had lost her grandchild. The second call was from another passerby who was flagged down by a logger who stated they were looking for a missing child. In both cases, the caller had to travel to an area where there was cell-phone reception before calling 911.
Several Sheriff's Office deputies and Molalla Police officers responded to the area. 
Sheriff's Office Search & Rescue Coordinators responded to the area, as well. 
When deputies arrived at the location, they learned Gayla Ann Jay, 62, of Molalla had been on a walk with her two grandchildren in the Molalla River Recreation Area when Iris Nix, 2, of Molalla, had run ahead on the trail and out of sight. 
While trying to catch up to Iris, Gayla came to a four-way split in the trail and did not know where Iris was. 
After searching for 15 minutes, Gayla sought out help. 
There were several logging crews passing by on the road. Flagged down by Gayla, multiple loggers stopped and began to scour the area in an effort to find Iris. 
Search & Rescue Coordinators also began summoning resources and directing deputies and officers in the area. The Clackamas County Water Rescue Consortium was summoned, due to the proximity to the Molalla River. Resources from across Clackamas County deployed to the area to assist.
Residents in the area also spontaneously stepped up to help. Among them: Tammy Stevens, 59, of Beavercreek. 
Tammy was riding her horse "Bo" on a Molalla River Recreation Area trail along with her two dogs -- miniature Australian Shepherds named Wilson and Maddie. 
When Tammy heard there was a missing 2-year-old in the area, she immediately joined the search, scouting the terrain on horseback, flanked by her two dogs. 
Tammy described some of the terrain she was checking as steep and dangerous. 
After about 20 minutes of searching, Tammy heard a child crying.
She told Wilson, "Go get her." 
Wilson led Tammy to a very steep hill. 
Tammy dismounted. Tammy and Wilson then climbed up the hill together -- about 70 feet up -- and found Iris. It was just after 1 p.m.
About 10 minutes later, Tammy found Dave, a logger who had been out searching as well. Dave was able to bring Iris to where deputies and medical personnel were staged.
Iris was checked out by paramedics with Molalla Fire and reunited with her family. 
Iris was found off Looney's Trail, about a half mile from Hardy Creek. 
The Sheriff's Office wants to thank Tammy, Dave and many others who were in the area searching for Iris and contributed to her safe return. 
NOTE: Normally, for safety and logistical reasons, we do not encourage untrained individuals to engage in search operations; however, in this case, those who helped -- and who located Iris -- happened to be in the remote area and were familiar with the terrain, leading to a quick and successful rescue. The Sheriff's Office and Iris' family extend their deepest appreciation.
B-ROLL VIDEO AVAILABLE:
Photos are attached. B-roll video -- including an interview with Tammy Stevens and footage of her interacting with her horse and dogs -- is available at this Dropbox link:
https://www.dropbox.com/s/uvviavbawav60oh/2019-11-07-MolallaRiverTrailRescueBRoll.mp4?dl=0
INTERVIEW OPPORTUNITY:
Iris' grandmother Gayla Ann Jay is available for media interviews. Contact PIO Sgt. Mendoza if interested.
[END]
Sgt. Marcus Mendoza 
Clackamas County Sheriff's Office 
Public Information Unit