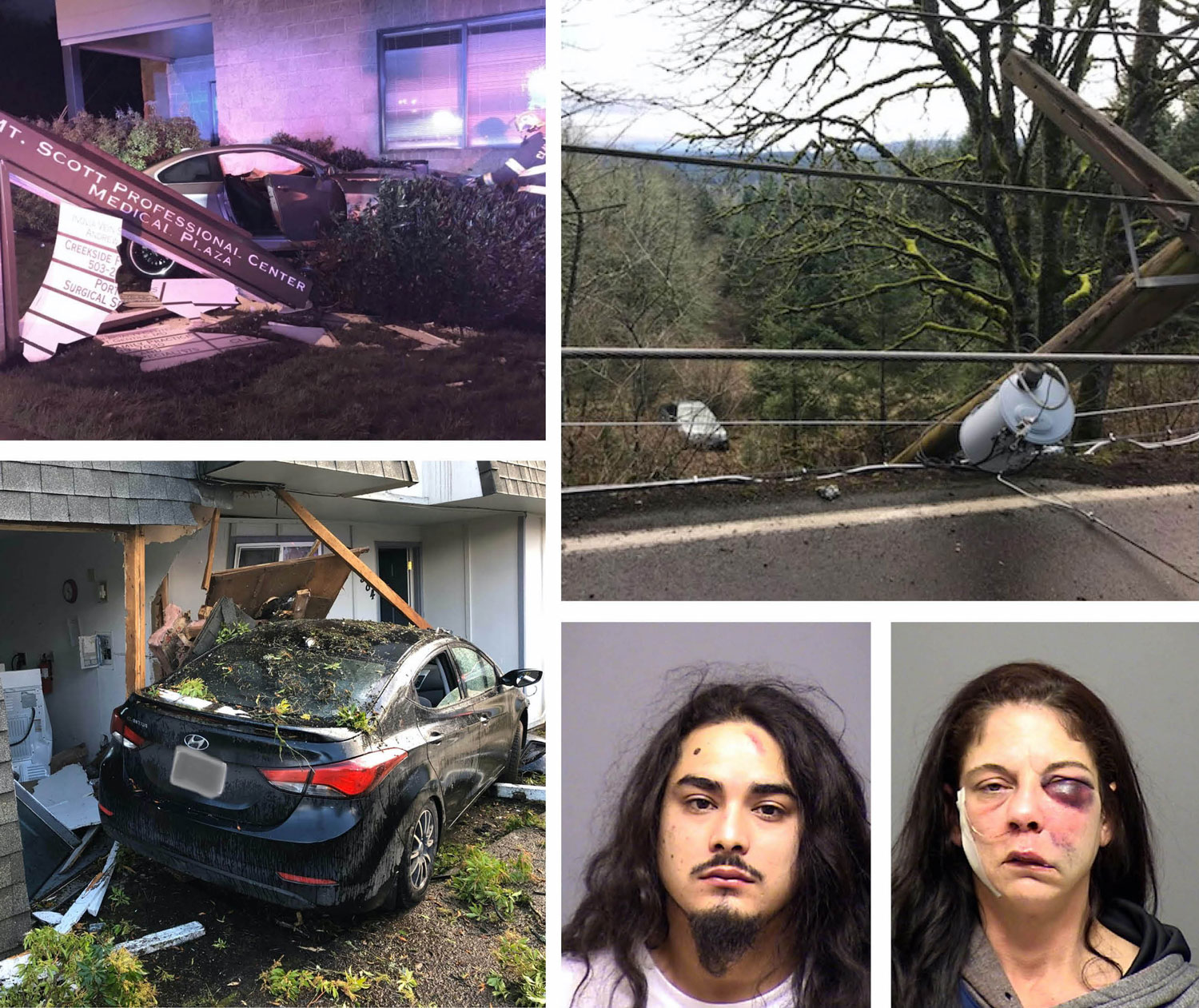 UPDATE (Jan. 2, 2020) -- THIRD NEW YEAR'S DAY IMPAIRED CRASH
A third Clackamas County impaired New Year's Day crash can be added to the list:
CRASH #3: 8:20 a.m.
FUSION INTO POWER POLE
CCSO Case #20-000015
On Jan. 1, 2020 at approximately 8:20 a.m., deputies responded to the report of a traffic collision at the 29500 block of SE Beavercreek Rd in Mulino, OR.  When Molalla Fire personnel arrived, they saw the roadway was blocked by powerlines and a vehicle was off the embankment.    
Deputies arrived and conducted an investigation.  Mekenna Keliihoomalu Nelson, 22 or Molalla, had been driving the vehicle and she was the sole occupant.  Nelson was not injured, but had complaints of pain.  
Through their investigation, the deputies learned Nelson had been driving the Ford Fusion southbound before driving off the road on a straight stretch.  When she left the roadway, she struck and knocked over a PGE utility pole before driving off the embankment.
An investigation revealed Nelson was impaired and unable to operate a motor vehicle safely.  She was placed under arrest for DUII and transported to Clackamas County Jail.  Deputies believed Nelson was under the influence of drugs, not alcohol.  
A drug recognition evaluator (DRE) was called to the jail. The DRE conducted an evaluation of Nelson and determined she was under the influence of Marijuana and a central nervous system (CNS) depressant.  
Nelson was issued a citation in lieu of custody for DUII and taken to an area hospital for evaluation of her complaint of pain.      
Portland General Electric responded to repair the pole and power lines in order to restore power to those affected.  
Photos of this newly revealed crash are attached.
_____
EARLIER (Jan. 1, 2020):
Booking photos have been added.
_____
EARLIER (Jan. 1, 2020):
Clackamas County Sheriff's Office deputies responded to two separate DUII crashes in which cars slammed into buildings on New Year's Day.
CRASH #1: 6:45 a.m.
BMW INTO BUILDING
CCSO Case #20-000012
The first collision occurred at approximately 6:45 a.m. this morning. Deputies responded to a report of a traffic collision at 9200 SE Johnson Creek Blvd.  It was reported that a silver BMW had crashed into the building at that location, and the two male occupants were walking away from the crash scene. 
Deputies responded, and the two were located and detained a short distance away. 
The deputies conducted an investigation -- which led to the arrest of Pablo Favian Rodriguez, 26, of Portland.  He was arrested on the following charges:
Reckless Driving
Reckless Endangering
Failing to Perform the Duties of a Driver (Hit and Run)
Criminal Mischief
DUII
The adult male passenger initially stated he wasn't injured, but later requested medical attention for pain associated with the collision. He was taken to an area hospital to be assessed. 
The suspect driver, Rodriguez, was transported to the Clackamas County Jail and booked. Rodriguez provided a breath sample of .12 BAC (Blood Alcohol Content) -- the legal limit is .08.
The building at 9200 SE Johnson Creek is believed to have some suffered structural damage.  Repair costs were estimated as high as $80,000 for the building and signage. 
CRASH #2: 10:45 a.m.
HYUNDAI w/ COMPANION ANIMAL INTO APARTMENT BUILDING
CCSO Case # 20-000021
The second DUII crash occurred at 10:45 a.m. at SE 72nd Ave. and SE Clatsop St. in Portland. 
A female driving a Hyundai Elantra at a high rate of speed dove through the intersection and off the road.  The vehicle went through a fence and some bushes, and then collided with a residence. The building was later determined to be an apartment building. 
Thankfully, no one inside the residence was injured -- but a water main was ruptured and a load-bearing wall was damaged. 
The driver of the car was identified as Chelsea Ryann Amos, 44 of Sandy.  She appeared to have been injured during the collision. 
Firefighters from Clackamas Fire District #1 and paramedics from American Medical Response responded to render aid and make the structure safe.  The American Red Cross was requested to assist impacted residents. 
Chelsea Amos was placed under arrest for DUII.  She was transported to an area hospital for treatment and is currently being processed. The extent of any other charges has not been determined at this writing.
Amos had a German Shepherd companion animal with her at the time of the crash.  The dog ran from the crash but was picked up by some residents from the apartments.  The dog did not appear to be injured, and was taken to Clackamas County Dog Services.
Photos from these crashes are attached.
[END]
Sgt. Marcus Mendoza 
Clackamas County Sheriff's Office 
Public Information Unit