UPDATE (Feb. 4, 3:24 p.m.) -- SUBJECT LOCATED
Katie Delaney has been located alive at a residence in Sandy.
Thanks to all who sent tips and contributed to the search.
________
EARLIER (Feb. 4, 2020, 2:28 p.m.):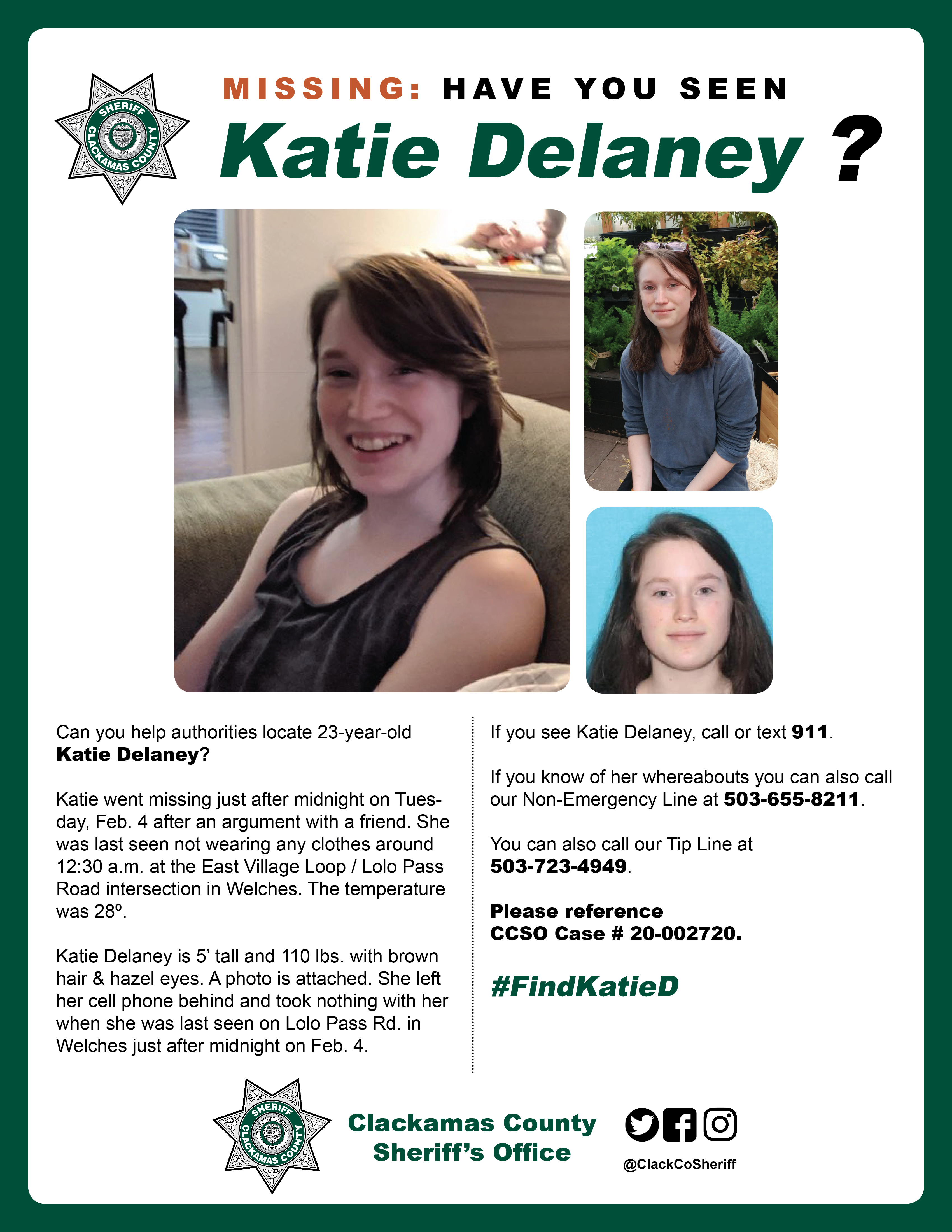 Please reference CCSO Case # 20-002720
A search-and-rescue operation is currently underway to locate 23-year-old Katie Delaney.
Delaney went missing shortly after midnight last night (Tuesday, Feb. 4), following a reported argument with a friend at an address on the 21800 block of Lolo Pass Rd. in Welches. She reportedly left that address not wearing any clothes, and the friend called 911.
A passerby then called 911 reporting a woman hitchhiking while not wearing any clothes around 12:30 a.m. at the East Village Loop / Lolo Pass Road intersection in Welches. The temperature was 28º.
She reportedly left her cell phone behind and took nothing with her when she was last seen at 12:30 a.m. on Lolo Pass Road.
Katie Delaney is 5' tall and 110 lbs. with brown hair and hazel eyes. A bulletin and photos of Katie provided by her family are attached.
If you see Katie Delaney, call or text 911. 
If you know of her whereabouts, you can also call our Non-Emergency Line at 503-655-8211. 
You can also contact our Tip Line at 503-723-4949 or https://www.clackamas.us/sheriff/tip
Please reference CCSO Case # 20-002720.
#FindKatieD
MEDIA OPPORTUNITY at 3 p.m.: Members of Katie Delaney's family will be available to speak with reporters at 3 p.m. today (Tuesday, Feb. 4) at the media staging area, located on Lolo Pass Road just north of Highway 26 (on the 24800 block of Lolo Pass Road).
Clackamas County Search & Rescue Coordinators have been leading the search for Katie Delaney. Deputies searched the area for several hours after responding to the initial call, and by 4:15 a.m. volunteer searchers were in the field. Over 50 personnel have helped so far with the ongoing search operation, from agencies and volunteer groups including:
Multnomah, Washington and Hood River Sheriff's Offices
Clackamas County Sheriff's Posse
North Oregon Search and Rescue (NORSAR)
Pacific Northwest Search & Rescue PNW SAR
[END]
Sgt. Nathan Thompson
Clackamas County Sheriff's Office
Public Information Unit