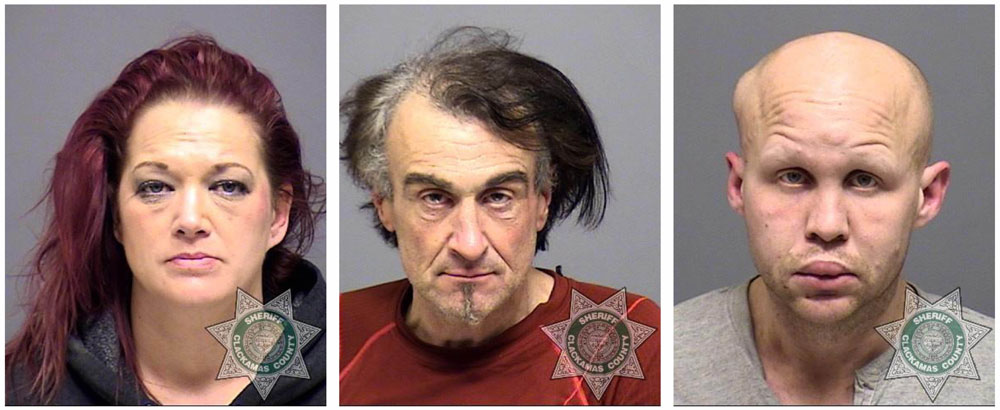 Please reference CCSO Case # 20-003301
At 3:10 a.m. on Tuesday, Feb. 11, 2020, a Clackamas County deputy attempted to stop a black 1999 Ford Ranger pickup on 172nd Avenue, near SE Sager Rd in Happy Valley. The deputy had initially observed the truck running a stop sign.  
The driver failed to yield and attempted to elude the deputy.  
The suspect driver travelled west on SE Foster Rd into SE Portland — and was reportedly seen throwing items out the car window.
Deputies responded to the area and were able to stop the vehicle at SE 97th and Foster Rd.  Utilizing Stop Sticks and a Pursuit Intervention Technique (PIT) maneuver.
The driver was taken into custody without further incident.  She was identified as Stephanie Lynn Schramm, 39, of Portland.  
It was determined the Ford Ranger had been reported stolen to the Portland Police Bureau on February 9, 2020.  
Schramm was arrested on charges of Attempt to Elude, Unauthorized use of a Vehicle, Possession of Methamphetamine and an outstanding felony warrant from Multnomah County for Attempt to Elude. Bail was set at $30,000. Her complete booking info is here: https://web3.clackamas.us/roster/#inmates
This investigation led to additional arrests: Our deputies followed leads to a residence at 6209 SE 97th Ave. in Portland.  They contacted the two occupants there, identified as Ryan Weaks, 37, of Portland and Michael Lee Morasch, 49, of Portland.  
Weaks and Morasch were placed under arrest for outstanding warrants without incident. Weaks was booked into Clackamas County Jail on three counts of Probation Violation -- Identity Theft. Morasch was booked into Clackamas County Jail on Theft II and Parole Violation charges.
Booking photos of all three subjects are attached.
[END]
Sgt. Marcus Mendoza 
Clackamas County Sheriff's Office 
Public Information Unit