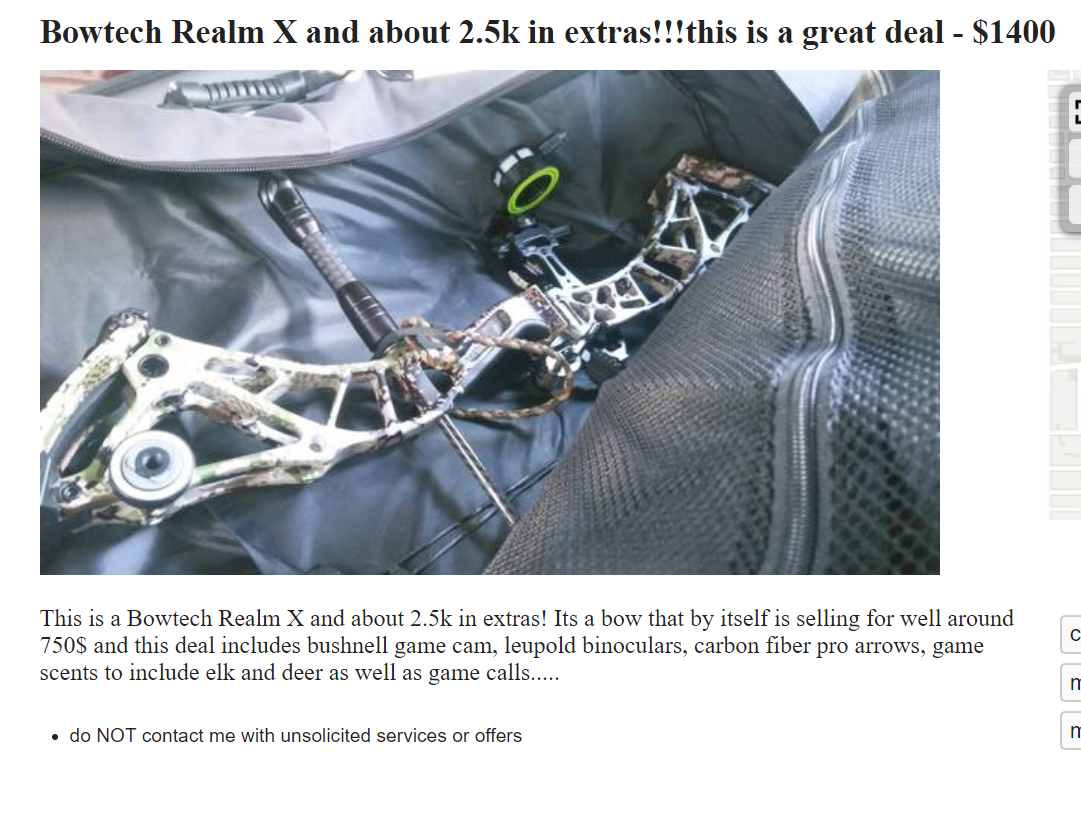 UPDATE (Wednesday, April 15, 2020) -- DETECTIVES RECOVER STOLEN COMPOUND BOW, FOUND FOR SALE ON CRAIGSLIST
Please reference CCSO Case # 20-000496
Photos:
Detectives continue to recover property stolen during a crime spree that led to the January arrest of suspect Reid Stephens. (Careful readers may recall that deputies arrested Mr. Stephens on Jan. 9 at the Clackamas County Courthouse -- where he was found with the keys to a stolen RV in his pocket.)
Among the latest items recovered: a magnificent compound bow, found for sale on Craigslist. 
Last month, our detectives received information from one of the victims of the crime spree. The victim believed he had located some of his stolen property for sale on Craigslist.
The stolen items found on Craigslist included a compound bow and a pair of Leupold binoculars. The binoculars held sentimental value for the victim — they were a gift from his late father.
(A screencap of the Craiglist ad is linked above.)
A Sheriff's Office detective investigated -- and learned the address listed for the Craigslist seller was in SE Portland, only a block away from where the detective had recovered the stolen motorhome associated with this case (see previous release, reprinted below).
Another detective with extensive knowledge of hunting bows joined the investigation. They made contact with the seller -- and arranged to meet and "purchase" the stolen bow and binoculars.
The seller arrived. To her surprise, she were contacted not by an eager buyer, but by several Sheriff's Office detectives.
After identifying themselves, the detectives told the seller why they were there. She was cooperative. They learned the seller was selling the bow for an acquaintance: Bernard Earl Morgan Jr.
(Bernard Morgan, age 30, is currently wanted on a Multnomah County warrant for selling heroin. An earlier booking photo of Morgan is attached. If you know the whereabouts of Bernard Earl Morgan Jr., contact local law enforcement -- reference CCSO Case # 20-000496 and the felony warrant for his arrest.)
The seller told detectives she was going to earn $600 for selling the bow and binoculars, which had been listed on Craigslist for $1,400. The seller told authorities that Bernard Morgan needed the money to get his van working.
The seller also told detectives she knew Reid Stevens -- the suspect arrested Jan. 9 with stolen RV keys in his pocket, believed responsible for the theft of this bow -- but she had not spoken with Mr. Stevens about the Craigslist sale.
The seller also admitted she intended to purchase heroin with the proceeds of the sale.
The victim was called. He came to the scene, where he was able to confirm the bow and binoculars did in fact belong to him. He was reunited with his possessions.
______
EARLIER (Jan. 28, 2020, 4:39 p.m.): DEPUTIES ARREST CRIME-SPREE SUSPECT AT COURTHOUSE -- WITH KEYS TO STOLEN RV IN HIS POCKET
Please reference CCSO Case #s 19-030126, 19-030295, 20-000273, and 20-000496
On Jan. 9, as he appeared at the Clackamas County Courthouse, deputies arrested a suspect wanted in a string of burglaries and thefts — and during that arrest, they found the keys to a stolen RV in his pocket.
Clackamas County Sheriff's Office deputies had been investigating a string of burglary and theft cases -- most involving homes and outbuildings -- in the Rhododendron area over the past several months.
Multiple vehicles had also been stolen during the spree. Among them: a 2006 Jayco Seneca motorhome.
During the course of these investigations, deputies narrowed down the crime spree to a suspect: Reid Stephens, 38, of Brightwood. Deputies determined they had probable cause to arrest Stephens.
On Thursday, Jan. 9, 2020, an alert crime analyst tipped off our deputies that Reid Stephens had a scheduled court date at the Clackamas County Courthouse. Stephens was there to face the judge following a Dec. 12, 2019 arrest on charges including Forgery, Possession of a Stolen Vehicle, and Theft I.
Deputies contacted Stephens at the courthouse and placed him under arrest. A deputy interviewed him regarding this new string of crimes. They specifically asked about the missing motorhome -- stolen around the beginning of the new year from an address near Lolo Pass Road in Rhododendron.
During that Jan. 9 interview, Stephens denied being involved in any of the crimes, but he made an interesting offer to the interviewing deputy: Stephens denied any knowledge of the stolen motorhome, but told the deputy he knew he would be able to find it for him, if he was given a little time.
Later during their conversation, deputies discovered Stephens was in possession of vehicle keys similar to those for the stolen motorhome.
A Clackamas County detective checked an area relevant to the Stephens investigation, near SE 52nd and SE Woodstock in Portland. The detective found the stolen motorhome in that area.
The keys Stephens had in his possession were determined to be the keys to the motorhome.
Stephens was arrested and booked at the Clackamas County Jail on 11 charges -- including Burglary I, Burglary II, Unlawful use of a Motor Vehicle, Theft I and Theft II.
A booking photo is attached.
Through their investigation, deputies learned Stephens had been spending time in Tualatin, Central Oregon, Rhododendron and Portland during his crime spree. He has been known to drive around the Rhododendron area offering to sell firewood.
Some of the stolen property has already been recovered and returned to its owners. If you have any additional information on Reid Stephens and his exploits, contact our Tip Line at 503-723-4949 or use the online Tip Form at https://www.clackamas.us/sheriff/tip .
[END]
Sgt. Marcus Mendoza
Clackamas County Sheriff's Office
Public Information Unit