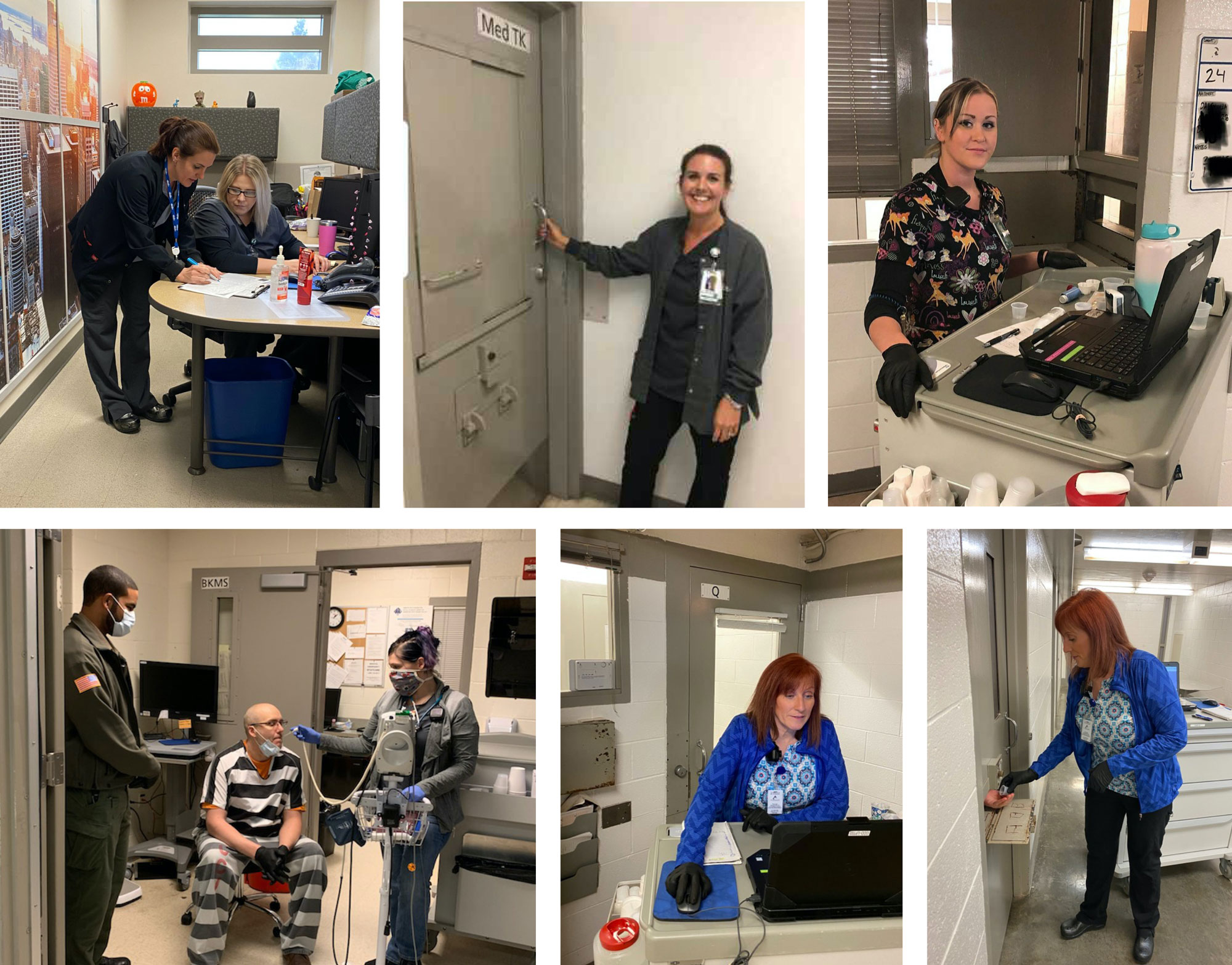 The Clackamas County Jail just earned a rare distinction for Oregon jails: full medical accreditation.
On April 3, the Accreditation and Standards Committee of the National Commission on Correctional Health Care (NCCHC) voted to accredit the Jail for complying with NCCHC's Standards for Health Services in Jails. 
The Jail earned full NCCHC accreditation, with all areas in compliance.
"This is a huge accomplishment for our office, and was directly due to the incredibly hard work of our jail and medical staff," said Clackamas County Sheriff Craig Roberts. "It's a goal we've been working toward for some time."
The accreditation process involved a detailed external peer review — including a site survey — to ensure the Jail met national standards for the provision of health services, as set by the health, legal and corrections professions.
"Our medical staff worked for nine months to ensure our compliance with all 59 NCCHC Standards for Jail Health Services were met," explained Jail Health Service Administrator Melanie Menear. She's referring to the NCCHC Standards for Health Services, which come in separate manuals for jails, prisons, and juvenile detention and confinement facilities. They cover categories including governance and administration, safety, personnel and training, health care services and support, inmate care and treatment, health promotion, special needs and services, health records, and medical/legal issues.
"We broke down each standard and pieced apart our daily operations to ensure everything we did was right from the start," Menear explained. "Our Director of Nursing, Carrie Rall, RN, was an integral part of this process — she worked with me and dedicated a lot of time, attention, and education to the effort."
Only two sheriff's offices in Oregon have earned this accreditation. Earning it is a worthwhile process that sends a clear message: commitment to providing a nationally accepted standard of care in health services delivery. It also signals a constitutionally acceptable level of care for a facility's inmates — which translates into improved health status, fewer grievances and lawsuits, and reduced health risk to the community when inmates are released.
"NCCHC is extremely proud of work done by the correctional and health care staff at the Clackamas County Jail," said Jim Martin, MPSA, CCHP, vice president of program development for NCCHC. "It takes a lot of dedication and hard work to achieve accreditation. COVID-19 has placed jails in historic and unprecedented times. It's why we encourage facilities to embrace the Standards for Health Services in Jails. The commitment to excellence by Sheriff Roberts and his team should be commended."
"Gaining full accreditation — especially on the first try — is no small feat," said Sheriff Roberts. "It wouldn't have been possible without the incredible work of our Jail staff, [medical services contractor] NaphCare, and Jail Captain Eby's focused leadership. I especially want to thank Melanie Menear and Carrie Rall for their tireless, months-long preparation. It's a daunting task with a huge payoff."
"This wasn't just about meeting standards," said Menear. "It was about being the best we can be, and exceeding expectations for what we do every day. And it's about the relationship we've developed with the Jail Division over the past 15 months."
"Our Jail has been a regional leader in its response to COVID-19, implementing effective protocols emulated by jails across the state," said Sheriff Roberts. Among the Clackamas County Jail's COVID-19 precautions:
Staff training on COVID-19 in correctional settings
Procurement/issuance of PPE
Enhanced cleaning procedures
Enhanced screening of custodies during intake, including questions, temperature screenings, and more
Targeted medical screening protocols for Jail Medical staff
Rerouting of transport for subjects displaying COVID-19 symptoms; coordination with all regional prisoner-transport programs
Initiation (as needed) of pandemic protocols, to include negative-pressure isolation areas for airborne contagions
The Jail has also earned full compliance three times since 2015 with the Oregon State Sheriffs' Association Jail Standards, administered through OSAA.
"I had the distinct privilege of leading a group of Jail Inspectors through the process of inspecting the Clackamas County Jail in May 2019," said Lincoln County Jail Commander Jamie Russell, who also serves as OSSA's Lead Jail Inspector. "This inspection is part of a voluntary process Sheriff Roberts and his team participate in. Under the leadership of Jail Commander Lee Eby, the Clackamas County Jail received full compliance on all 315 Jail Standards. Throughout the process, the entire team was professional and courteous, and it was apparent that they take pride in the job they do and the service they provide.
"Managing a jail facility can be very challenging -- particularly when individuals become incarcerated with many different medical and mental-health issues. Taking the extra step to have your facility accredited through the NCCHC shows how progressive and dedicated the organization is to ensuring the safety and well-being of all individuals within the facility."
[END]
Sgt. Marcus Mendoza
Clackamas County Sheriff's Office
Public Information Unit