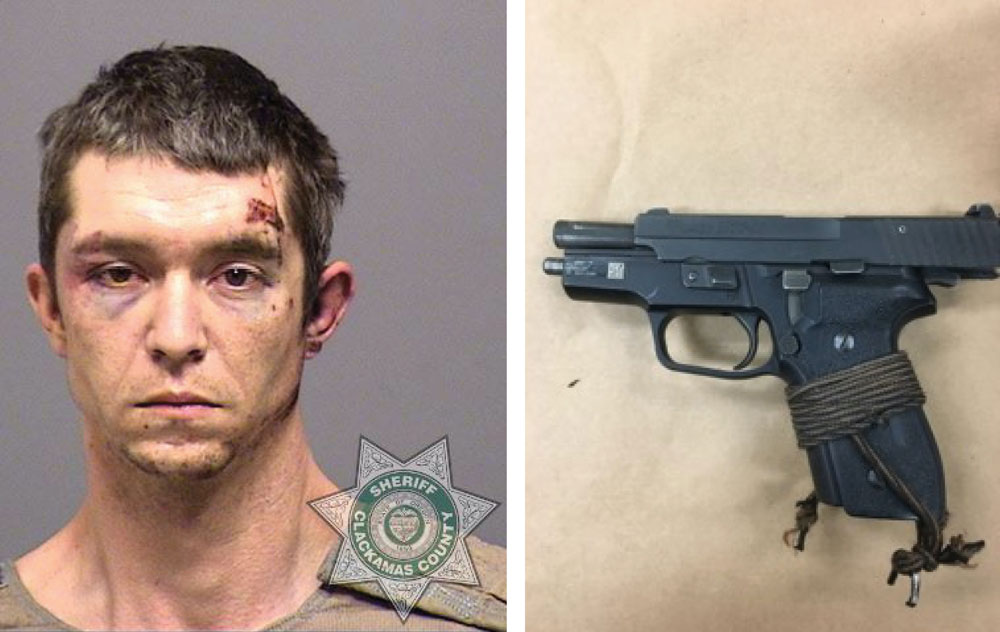 Please reference CCSO Case # 20-010003
Deputies disarmed a man in mental distress on Wednesday in the parking lot of the Kensington Apartments.
At about 6:45 p.m. on Wednesday, May 13, 2020, Clackamas County Sheriff's Office deputies responded to a report of a suspicious person in the parking lot of the Kensington Apartments, located at 9345 SE 91st Ave.
The subject was reportedly in mental distress -- harassing people, knocking on doors, and telling people he had a gun. He was described as a white male adult in his 30s wearing a gray hat, green shirt, and gray jacket.
When deputies arrived, they located the male, identified as Trevor Alan Wagner, 32. Wagner was seated on the porch of a residence, his back to the door. Deputies attempted to speak with him.
Wagner ignored the deputies, stood up and walked toward one of the deputies while keeping his hands concealed in his jacket pockets.
The deputies were able to grab Wagner and hold him down on the ground. Wagner continued to resist, and a deputy could feel one of the subject's concealed hands around a gun.
The deputies managed to handcuff Wagner and remove his grip on the gun, which the subject had further secured to his hand with a makeshift strap (pictured).
Wagner told the deputies he'd wanted to kill them, and that he had been using methamphetamine.
He was placed under arrest for Unlawful Possession of a Firearm, Menacing, Resisting Arrest and Attempted Assault I. He was transported to an area hospital, where he was cleared by a doctor to be booked at the Clackamas County Jail.
A booking photo is attached. His complete booking info is here: https://web3.clackamas.us/roster/#inmates
TIPS SOUGHT: Anyone with information on suspicious or criminal behavior by Trevor Alan Wagner is urged to contact the Sheriff's Office Tip Line — by phone at 503-723-4949 or by using the online email form at https://www.clackamas.us/sheriff/tip . Please reference CCSO Case # 20-010003.
[END]
Sgt. Marcus Mendoza
Clackamas County Sheriff's Office
Public Information Unit