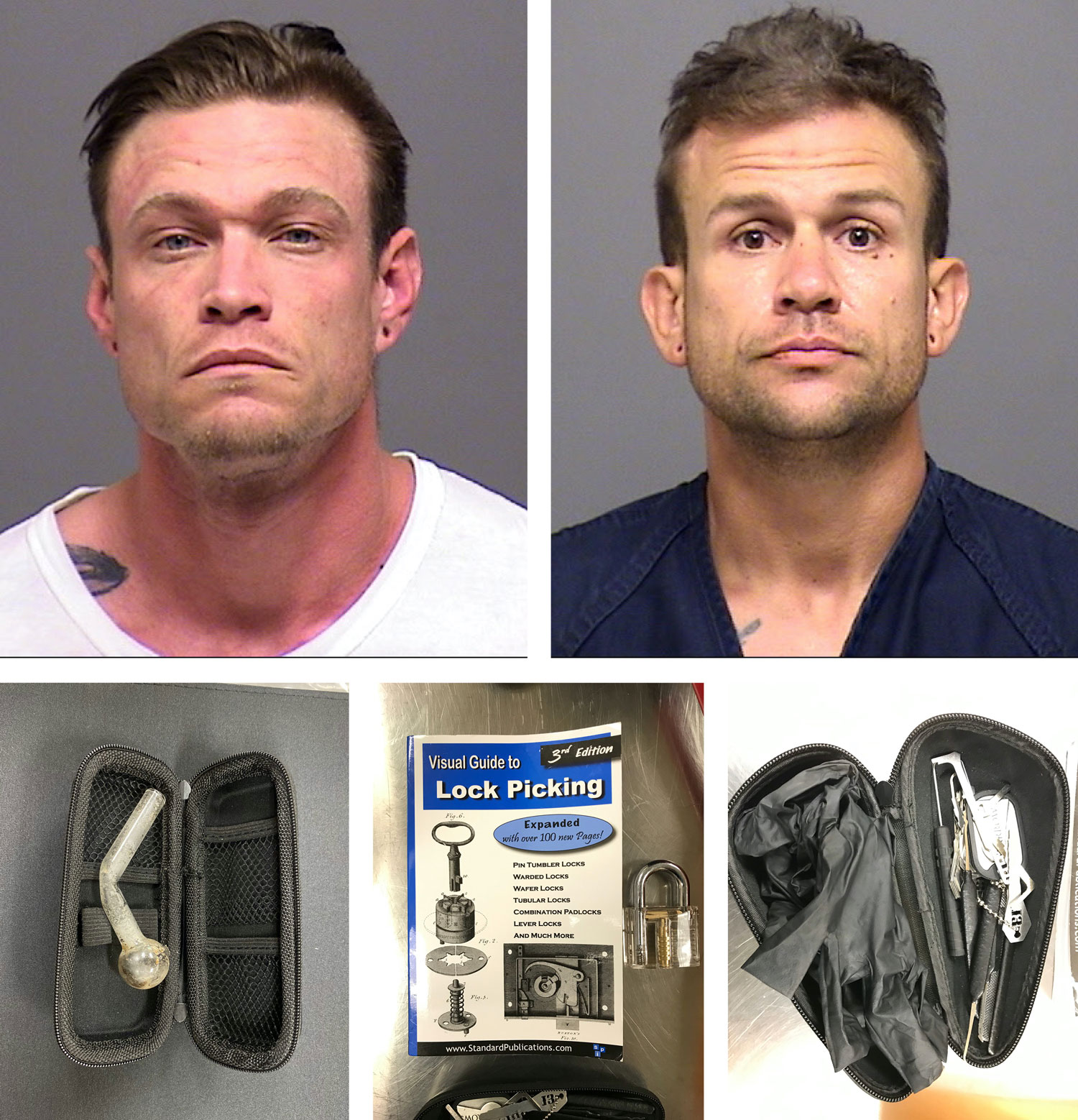 Please reference CCSO Case # 20-011024
On May 28, the Happy Valley Police Department and Clackamas County Sheriff's Office deputies arrested two subjects on several charges after they were seen prowling around a Damascus neighborhood. Stolen property was recovered and some was returned to the owners. Authorities are currently searching for more victims so they can reunite them with their stolen property.
At 2:30 a.m. on Thursday, May 28, 2020, Sheriff's Office deputies responded to a 911 call reporting a subject walking through Damascus' Goosehollow neighborhood checking for unlocked cars. There appeared to be a car following the subject slowly.
(The Goosehollow neighborhood is located in Damascus near SE Eckert Road and Highway 224; it's not to be confused with Portland's Goose Hollow neighborhood.)
Upon arriving in the area, a deputy spotted the suspect vehicle driving without headlights on. The deputy stopped the car on Hwy. 212 near SE 152nd Avenue in Happy Valley to investigate further.
Deputies contacted the two subjects in the car, who were later identified as Casey Lee Murphy, 34, of Portland, and Christopher Duane Holverson, 34, of Wilsonville.
Deputies located what appeared to be several stolen items in the car. Deputies detained Holverson and Murphy without incident after an initial investigation.
One of the subjects was also in possession of another person's identification, which was later determined to be stolen.
As deputies investigated further, they were able to confirm items in the car were stolen. Some of the property was identified as belonging to people who live in Damascus' Goosehollow neighborhood.
Among the items discovered in the vehicle: a lock pick-kit, a book on lock-picking, bolt-cutters, a high-end road bicycle, a drone, a guitar, camping and sporting gear, identifications, checks, credit cards, and methamphetamine. (See attached photos.)
Some of the items had been reported stolen out of the City of Hillsboro. The Hillsboro Police Department helped identify these items.
Deputies also contacted two people at different residences in Damascus' Goosehollow neighborhood and determined the recovered items had been stolen from their cars.
Casey Lee Murphy and Christopher Duane Holverson were booked into Clackamas County Jail on charges of Theft I, Identity Theft and Possession of methamphetamine. Booking photos are attached.
Three Clackamas County cities -- Happy Valley, Estacada and Wilsonville -- contract with the Clackamas County Sheriff's Office to provide municipal police services.
ADDITIONAL TIPS, VICTIMS SOUGHT
The Sheriff's Office is seeking additional information in this case -- and they hope to reunite victims with additional stolen items. Anyone with information on Casey Murphy or Christopher Holverson, or who believes we may have recovered their stolen property, is urged to contact the Sheriff's Office Tip Line -- by phone at 503-723-4949 or by using the online email form at https://www.clackamas.us/sheriff/tip . Please reference CCSO Case # 20-011024
[END]
Sgt. Marcus Mendoza
Clackamas County Sheriff's Office
Public Information Unit