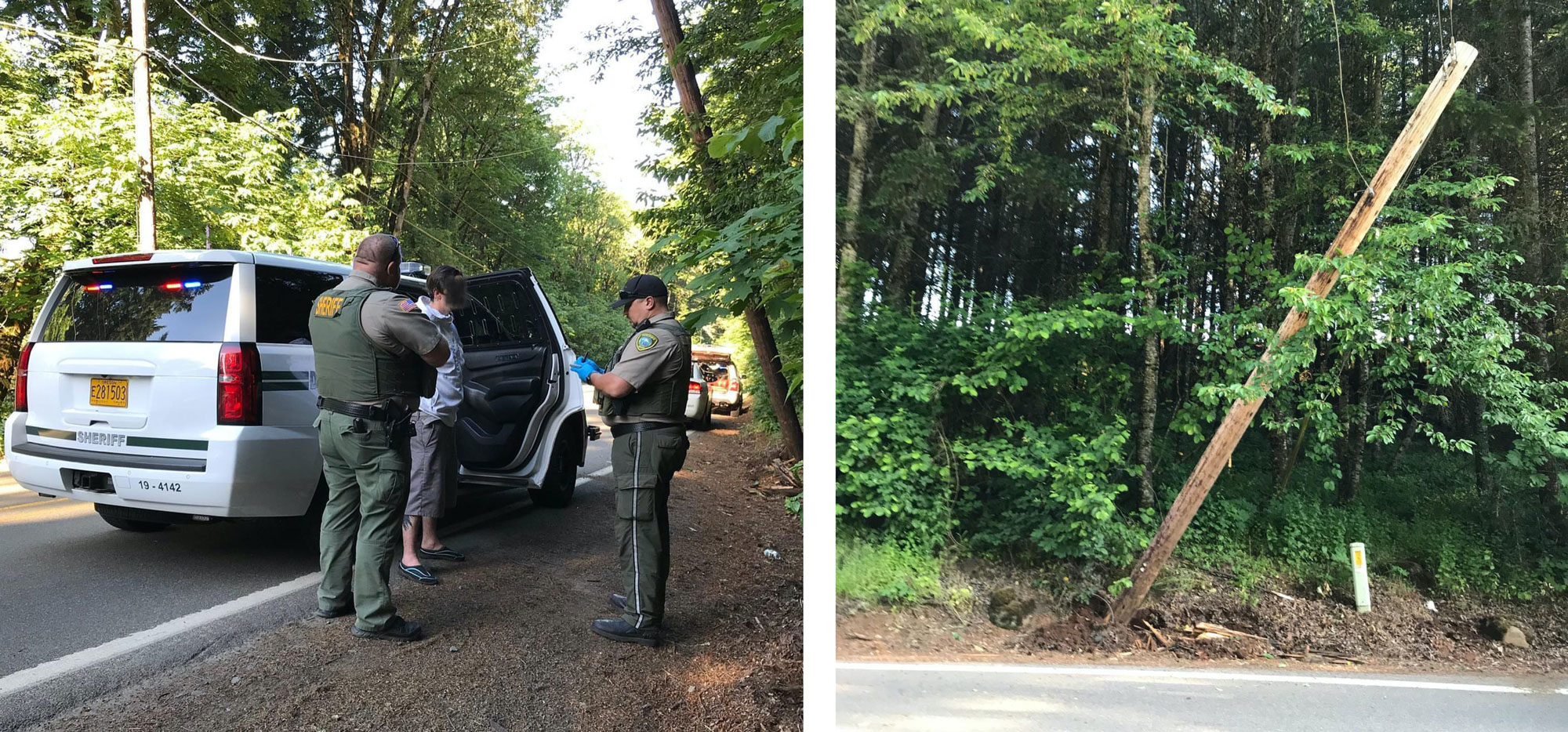 Please reference CCSO Case #20-11118
On Friday, May 29, 2020, Clackamas County Sheriff's Office deputies responded to the report of a subject who had pulled out a large knife and was behaving "strangely" while walking around a gas station in Beavercreek. The subject then reportedly left the scene in a vehicle.
Others soon called 911 to report this person, updating dispatchers on the subject's location.
A deputy located the suspicious person's vehicle on Beavercreek Road near Clarkes General Store -- in time to see the vehicle (photos attached) strike a utility pole
The suspect then attempted to continue driving -- nearly striking the patrol car while attempting to leave the scene of the utility-pole collision.
The deputy stopped the vehicle. Due to the earlier report of a weapon and the erratic actions of the driver, the deputy wisely waited for additional units to arrive.
The subject was indeed behaving strangely, but was detained without further incident. A large knife was in fact located on the floor of his vehicle.
The suspect was identified as Joel Nathan Carrington, 37, of West Linn.
Carrington was subsequently arrested on charges of DUII (drugs) and Driving with a Suspended License under misdemeanor status following refusal of a breath test on a DUII investigation.
PGE responded to repair the utility pole.
ADDITIONAL TIPS SOUGHT
Anyone with information on the whereabouts and actions of Joel Carrington leading up to the crash is urged to contact the Sheriff's Office Tip Line — by phone at 503-723-4949 or by using the online email form at https://www.clackamas.us/sheriff/tip . Please reference CCSO Case # 20-11118.
Photos from the crash/arrest scene are attached.
[END]
Sgt. Marcus Mendoza
Clackamas County Sheriff's Office
Public Information Unit