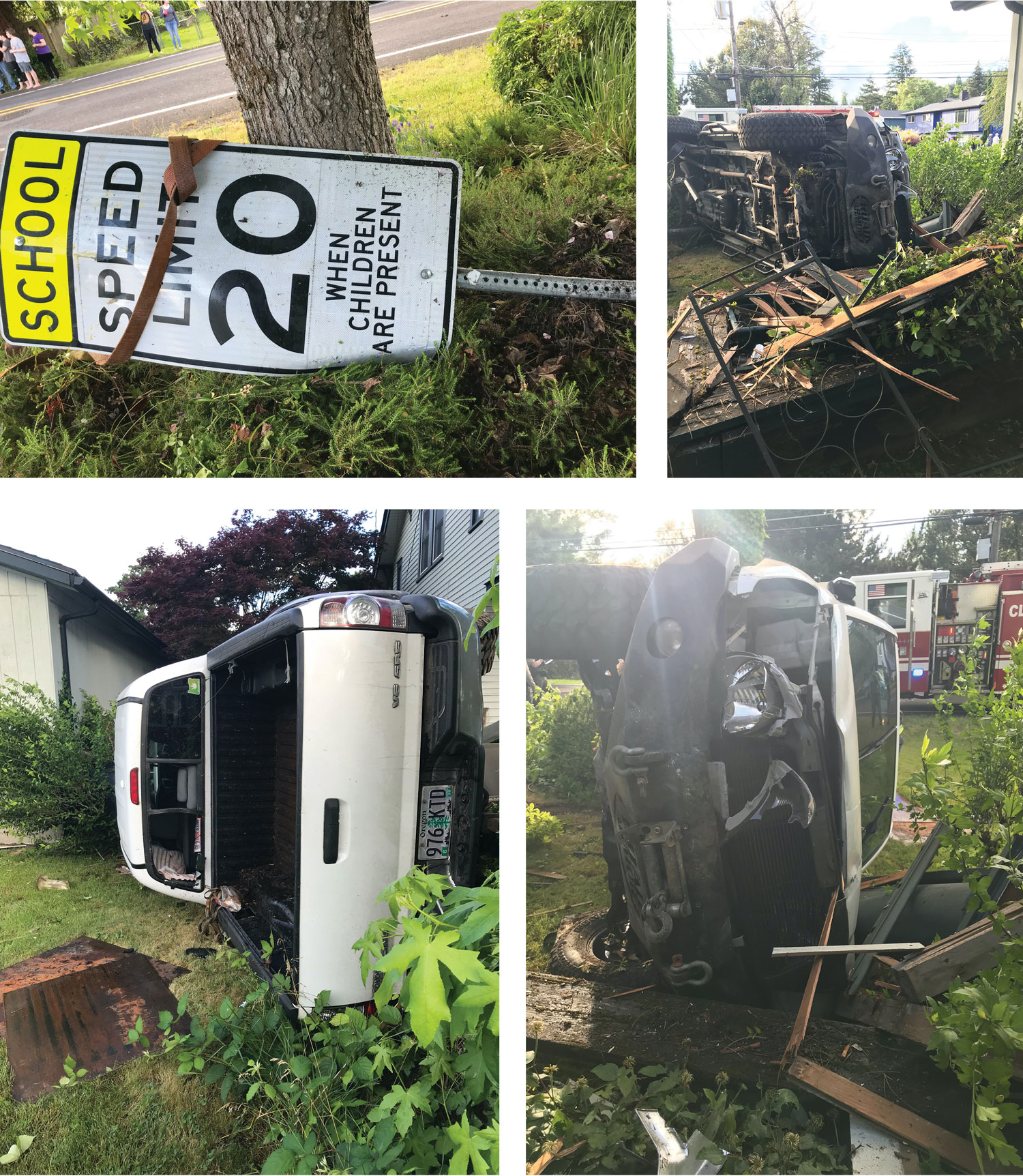 DASH-CAM VIDEO (.mp4 format):
https://www.dropbox.com/s/aguy0ljbrttjkzq/20200613-MediaReleaseDUIITruckrolloverintohouse.mp4?dl=0
At 7 p.m. on Saturday, June 13, 2020, Clackamas County Sheriff's Office deputies were dispatched to the report of a single-vehicle crash into a house on SE Jennings Avenue near SE Oatfield Road in unincorporated Clackamas County.
Several people had called 911 to report that the suspect vehicle had rolled over during the crash into the house -- and that the driver was now attempting to leave on foot.
The first deputy arrived to find a group of people watching while several people prevented the suspect driver from leaving.
The suspected driver was identified as Richard Allen Ellis Jr., 37, of Mulino.
Ellis was agitated, complaining that people were trying to fight him. The responding deputy explained they were trying to keep him from leaving. Ellis confirmed to the deputy that he was trying to leave to go home.
A subsequent crash investigation revealed that Ellis had been travelling east on SE Jennings Avenue in a Toyota truck when he drove off the road near SE Emerald Drive, through a front yard. collided with the front porch of a home, and rolled the truck.
American Medical Response paramedics and Clackamas Fire paramedics were on scene and offered to check Ellis, but he refused, demanding to go to a hospital.
Ellis was transported to an area hospital. While at the hospital, a search warrant was granted to obtain a blood sample to determine Ellis' blood alcohol content (BAC).
Ellis was subsequently arrested on charges of DUII, Criminal Mischief II and Hit and Run.
Thankfully, no one was injured as result of this crash.
Photos from the scene are attached. Dash-cam video from the scene can be downloaded from this Dropbox address:
https://www.dropbox.com/s/aguy0ljbrttjkzq/20200613-MediaReleaseDUIITruckrolloverintohouse.mp4?dl=0
[END]
Sgt. Marcus Mendoza
Clackamas County Sheriff's Office
Public Information Unit