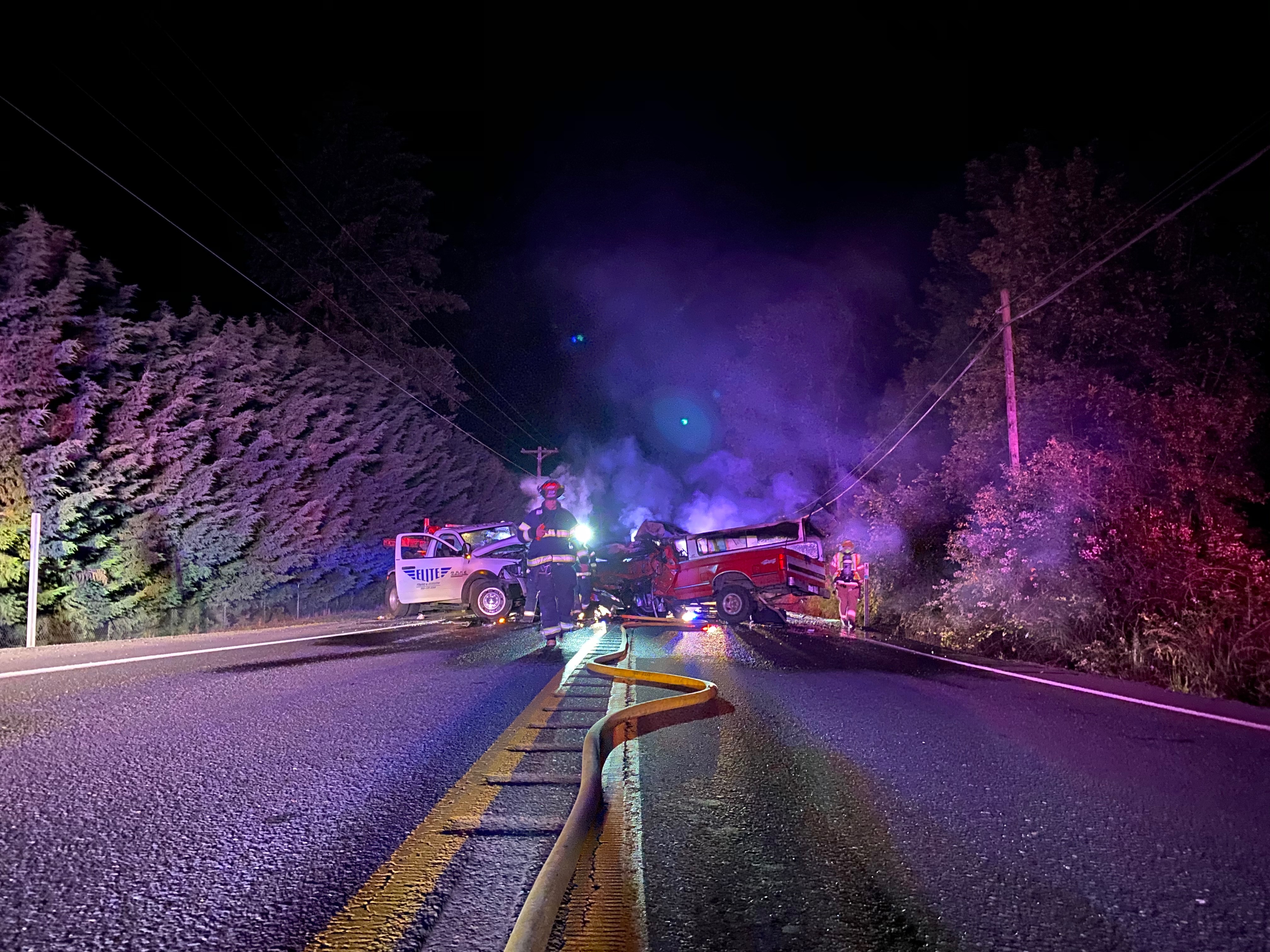 Please reference CCSO Case # 20-012812
Dash-cam video of crash and rescue (.mp4 format):
https://www.dropbox.com/s/s4ilkdc2kcb59wz/20200619_Clean%20Broll_Hwy%20224%20Crash_Life%20Saving_V2.mp4?dl=0
A Clackamas County Sheriff's Office deputy and a bystander pulled an injured tow-truck driver from a flaming head-on car crash on June 19. The other involved driver was killed in the crash.
As detailed in Oregon State Police's original press release on the crash ( https://www.flashalert.net/news.html?id=1002): At approximately 11:23 p.m. on Friday, June 19, 2020, Oregon State Police toopers and emergency personnel responded to a crash on Highway 224 near SE Dale Lane, east of Barton.
A preliminary investigation reveals that a red 1992 Ford F150 pickup was traveling eastbound when for it crossed into the westbound lane and collided head-on with a white 2014 Dodge Ram tow truck. A witness driving an uninvolved car called 911 and told authorities the red Ford pickup had been tailgating the witness driver, and had passed the witness driver just prior to colliding head-on with the tow truck.
The Dodge Ram tow truck was operated by Gary Smith, 56, of Portland. Smith was accompanied by a passenger, Jennifer Sampson, 48, of Vancouver.
The operator of the red Ford pickup -- Kelly Ann Mumby, 59, of Estacada -- sustained fatal injuries in the crash and was pronounced deceased.
When a Sheriff's Office deputy arrived at the crash scene, Mumby's red pickup was fully engulfed in flames -- and both vehicles were spilling fluids. Bystanders told the deputy the driver of the tow truck was still pinned in the vehicle.
The deputy found driver Gary Smith pinned in the vehicle by the dashboard. The tow-truck driver told the deputy his leg was broken and that he was unable to get out of the truck.
Meanwhile, as seen in the above-linked video, the fire from Mumby's pickup was encroaching on the tow truck.
The deputy acted fast. He pulled Smith to the passenger side and extricated him from the truck. With the help of a bystander, the deputy carried Smith about 25 yards away from the truck, laid him on the ground, and supported his neck.
A few minutes later, fire personnel arrived and extinguished the fire. 
AMR arrived and gave Smith medical treatment. He was taken to the hospital with serious injuries.
Tow-truck passenger Sampson was also transported by ground ambulance to Legacy Emanuel with serious injuries.
OSP was also assisted by the Clackamas County Sheriff's Office Criminal Reconstruction and Forensics Team (CRAFT), which  documented and laser-scanned the scene, Clackamas County Fire District #1, AMR and ODOT.
Photos from the crash scene are attached. Video of the fire and rescue can be downloaded from this Dropbox address:
https://www.dropbox.com/s/s4ilkdc2kcb59wz/20200619_Clean%20Broll_Hwy%20224%20Crash_Life%20Saving_V2.mp4?dl=0
[END]
Sgt. Marcus Mendoza
Clackamas County Sheriff's Office
Public Information Unit