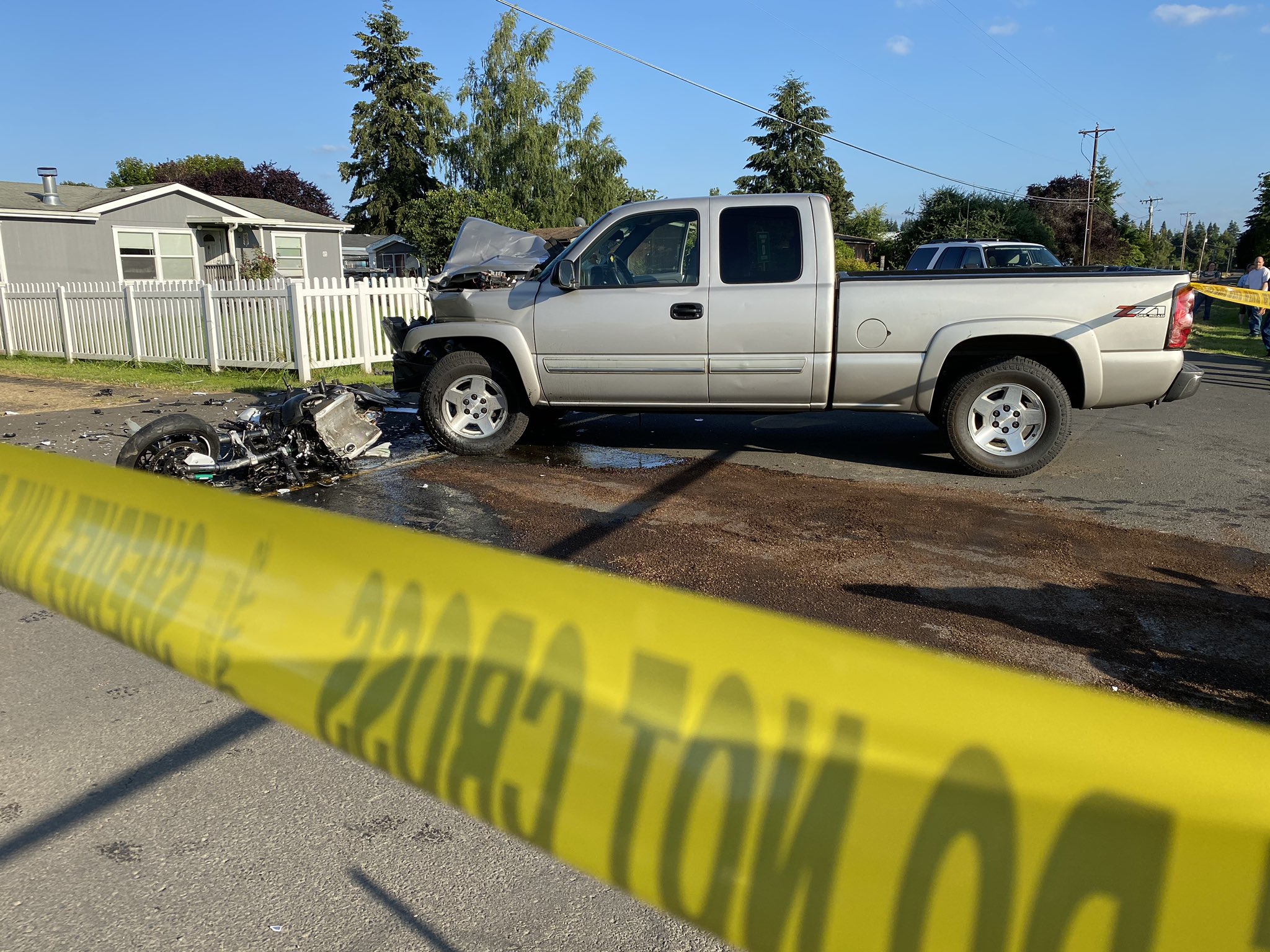 Please reference CCSO Case # 20-013950
Crash-scene photos: [ 1 ] [ 2 ] [ 3 ] [ 4 ]
At 6:02 p.m. on Sunday, July 5, 2020, Clackamas County Sheriff's Office deputies responded to a fatal traffic crash in which a motorcyclist was killed after his Kawasaki Ninja collided with a Chevy Silverado pickup on SE 362nd Avenue in Boring.
As seen in the attached photos, deputies arrived at the 10400 block of SE 362nd Avenue to find a Chevy Silverado pickup and Kawasaki Ninja motorcycle with heavy damage next to a large debris field.
Clackamas Fire and AMR EMTs were already on-scene treating the involved parties. EMTs pronounced the rider of the motorcycle -- Robert W. Burke, Jr., 40 -- deceased at the scene. CPR was not attempted.
SE 362nd was closed in both directions at the 10400 block in Boring while authorities investigated the crash. The Sheriff's Office Criminal Reconstruction and Forensic Technicians (CRAFT) responded to the scene to help. The driver of the truck remained on scene and cooperated with authorities.
Early reports indicate Burke and a fellow motorcycle rider were traveling south at a high rate of speed on SE 362nd when the Silverado attempted to turn northbound onto SE 362nd from the northwest entrance to a mobile-home park. The Silverado stopped abruptly when the driver saw Burke approach, and the deceased rider attempted unsuccessfully to veer around the truck before impacting the front of the Silverado.
A passenger in the Silverado was transported by AMR to a local hospital.
Family notifications are complete.
Photos from the crash scene are linked above.
[END]
Sgt. Marcus Mendoza
Clackamas County Sheriff's Office
Public Information Unit