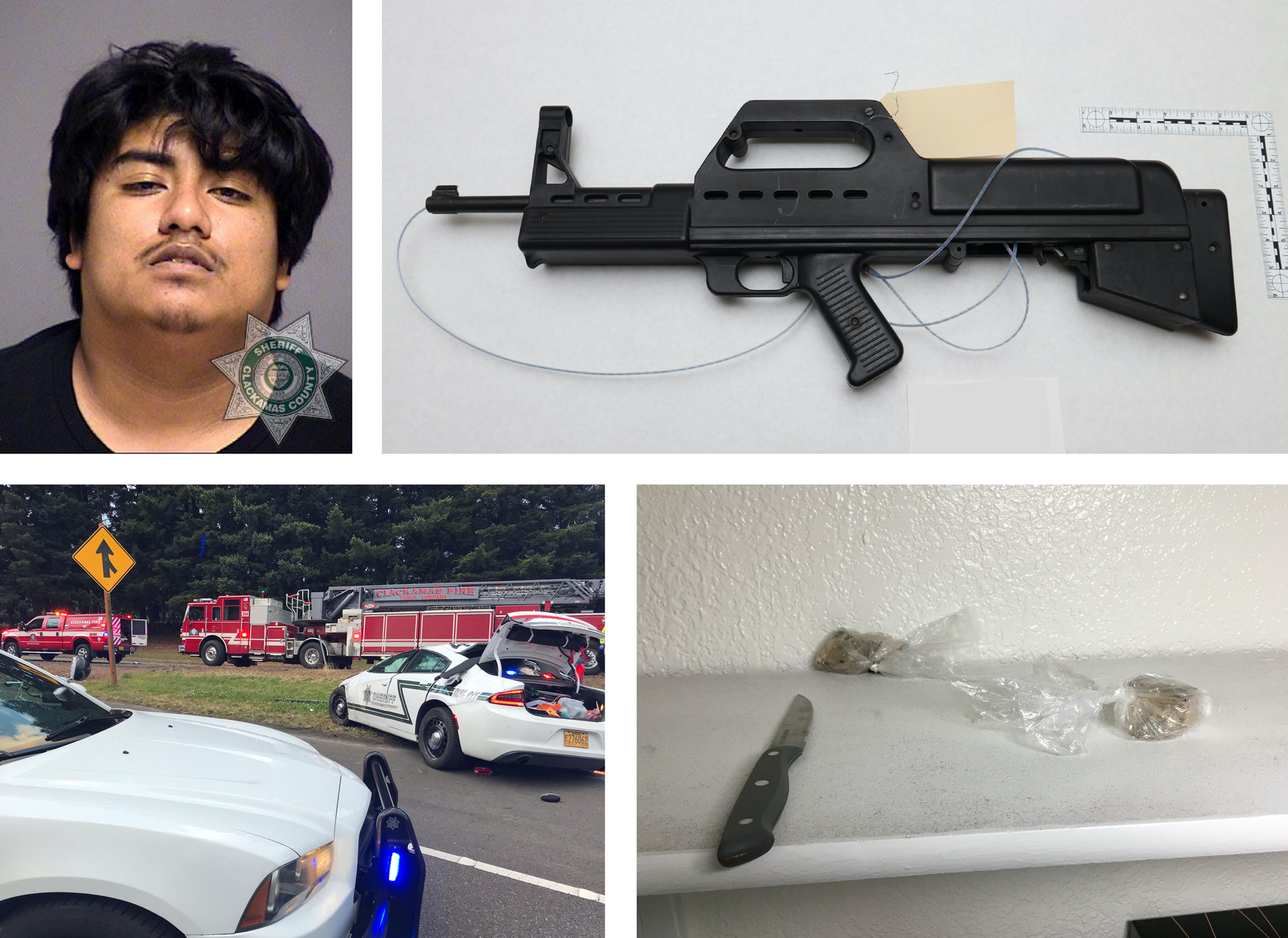 UPDATE (Thursday, July 16) -- SUSPECT ID, CHARGES; ADDITIONAL TIPS SOUGHT
Please reference CCSO Case # 20-014302
The two deputies involved in the crash during the July 9 pursuit were not seriously injured. They are doing well and are expected to return to full duty soon. 
The suspect in the July 9 pursuit can now be identified as CHRISTIAN ARMANDO PEREZ ROBLES, 19, of Gresham. He goes by the nickname "The Penguin." A booking photo is attached.
Perez Robles had sold a Ruger 10/22 rifle with aftermarket stock (photo attached) to members of the Clackamas County Inter-agency Task Force (CCITF), and told task-force members he had access to grenades and AR-15 rifles.
Christian Armando "The Penguin" Perez Robles currently resides in Clackamas County Jail on charges including:
ORS.811.540-2 - ATTEMPT ELUDE POLICE OFFICER
ORS.475.880 - FAILURE TO APPEAR DCS-COCAINE
ORS.811.540-2 - ATTEMPT ELUDE POLICE OFFICER
Bail is set at $120,000.
The CCITF is continuing to investigate narcotics and weapons charges, including distribution of weapons and narcotics and undocumented transfer of a firearm. During an ensuing search warrant, CCITF members also recovered 50 grams of heroin (photo attached) from The Penguin's residence.
The Sheriff's Office welcomes any additional tips on possible criminal activity by Christian Armando "The Penguin" Perez Robles. Anyone with information is urged to contact the Sheriff's Office Tip Line — by phone at 503-723-4949 or by using the online email form at https://www.clackamas.us/sheriff/tip . Please reference CCSO Case # 20-014302.
_____
EARLIER (July 9) -- Sheriff's Office involved in crash on SE 82nd following pursuit; two deputies transported with injuries
At approximately 8:07 p.m. on Thursday, July 9, 2020, Clackamas County Sheriff's Office deputies attempted to stop a vehicle driven by a suspect under investigation for careless driving and possible additional criminal activity. The suspect fled the stop. Deputies pursued south on SE 82nd Avenue.
Deputies used a PIT maneuver in an attempt to end the pursuit. The suspect's vehicle was successfully disabled and came to a stop in the middle of SE 82nd Avenue, just south of the Hwy. 224 offramp.
After performing the PIT maneuver, one of Sheriff's Office vehicles lost control and crashed.
Two deputies in the patrol vehicle were transported to the hospital with non-life-threatening injuries. The suspect was not injured and was taken into custody. One other unrelated vehicle was also involved in the crash, and the single occupant of that vehicle was not injured.
Oregon State Police is investigating the crash with the assistance of the Criminal Reconstruction and Forensic Technicians (CRAFT). Clackamas Fire personnel also responded to the crash scene.
Southeast 82nd Avenue between SE Sunnybrook and Hwy. 224 will likely be closed several more hours during this crash investigation. Please avoid the area.
Investigators can release no further details at this time.
[END]
Sgt. Nathan Thompson
Clackamas County Sheriff's Office
Public Information Unit