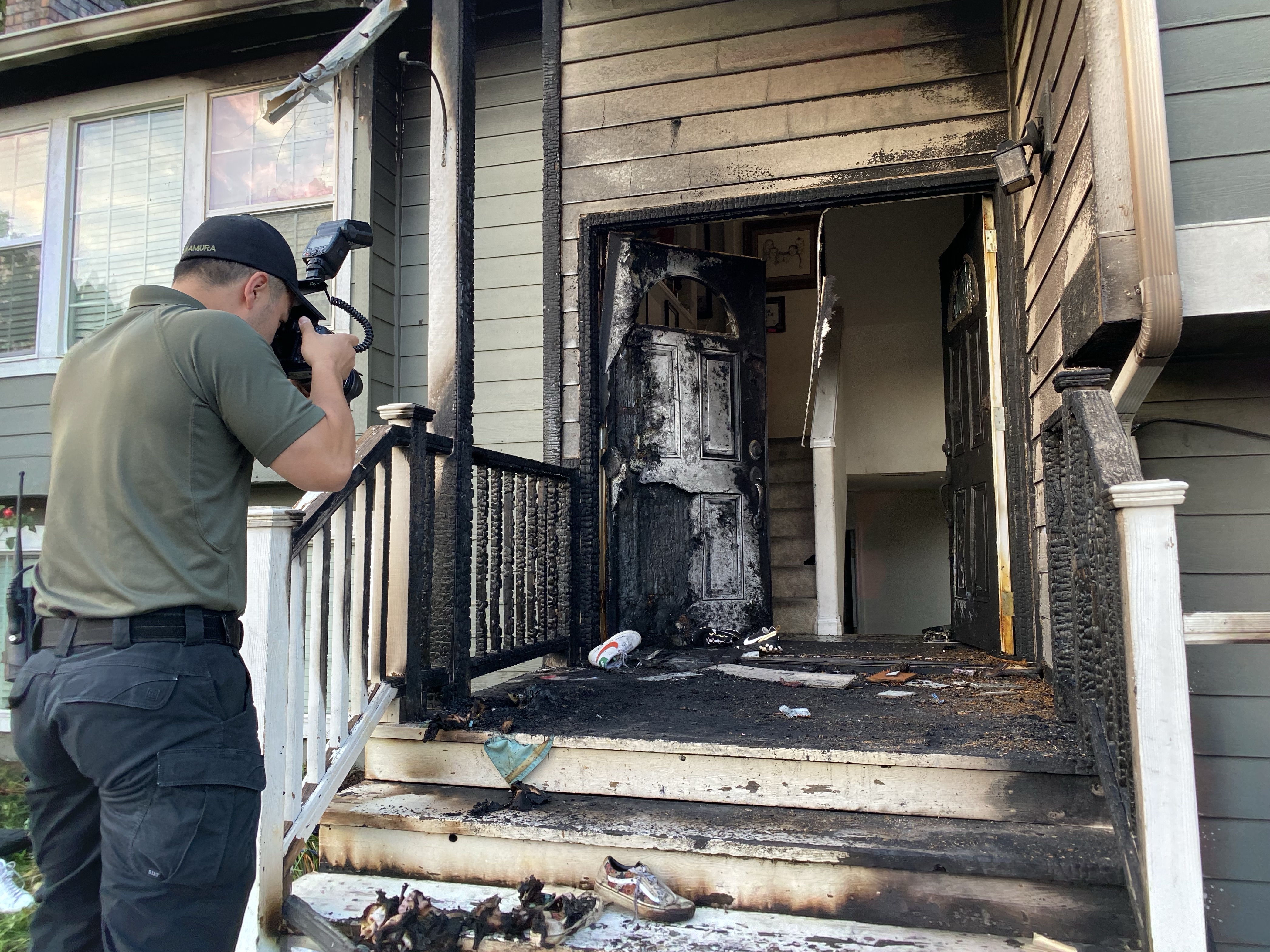 Please reference CCSO Case #20-015960
Fire scene photos: [ 1 ] [ 2 ] [ 3 ] [ 4 ] [ 5 ] [ 6 ] [ 7 ] [ 8 ] [ 9 ]
SURVEILLANCE VIDEO OF ARSON / B-ROLL OF FIRE RESPONSE (.mp4 format):
https://www.dropbox.com/s/9q83o6u821jpp5h/20-015960-ArsonInvestigation.mp4?dl=0
At 5:10 a.m. on Thursday, July 30, 2020, Clackamas Fire District #1 firefighters and Clackamas County Sheriff's Office deputies were dispatched to a report of a residential fire on SE 121st Pl. in Clackamas.
The homeowner told 911 dispatchers he had seen someone starting a fire on his front porch. The homeowner identified himself as Alphonse Cardens, 38, of Vancouver. Cardens said he the suspect starting the fire via a Ring surveillance camera.
This Ring footage can be downloaded from this Dropbox address:
https://www.dropbox.com/s/9q83o6u821jpp5h/20-015960-ArsonInvestigation.mp4?dl=0
Firefighters and deputies responded to the location to find the front porch and the front part of the structure on fire. Firefighters quickly put out the fire and ensured everyone was evacuated from the residence. No one was injured.
Deputies began to investigate. Cardens -- owner of the SE 121st property -- came to the house and provided deputies with a copy of the Ring surveillance video.
The suspect is only partially seen in the video for a few seconds. He is described as a young white male with brown hair wearing a red t-shirt. The suspect is seen pouring what appears to be an accelerant on a fire that had already been started.
The suspect is believed to have fled on foot East on SE Mel Brooks Way to SE 122nd Avenue before continuing east on SE Mather Road.
The Clackamas County Sheriff's Office is investigating this as an arson. Deputies are asking for the public's help to identify the suspect.
TIPS SOUGHT: If you saw anything or have video surveillance of the suspect in the area of the crime around 5 a.m. on Thursday, July 30, you are urged to contact the Clackamas County Sheriff's Office Tip Line — by phone at 503-723-4949 or by using the online email form at https://www.clackamas.us/sheriff/tip . Please reference CCSO Case #20-015960.
INTERVIEW OPPORTUNITY: The owner of the residence, Alphonse Cardens, is willing to speak to media outlets. Please contact PIO Sgt. Mendoza if interested.
Photos from the fire scene are attached.
[END]
Sgt. Marcus Mendoza
Clackamas County Sheriff's Office
Public Information Unit